Pete and Alice in Maine
By Caitline Shetterly, HarperCollins (2023)
REVIEW BY CARL LITTLE
The pandemic interrupted the lives of many families, including the foursome that take center stage in Caitlin Shetterly's first novel, Pete and Alice in Maine. The title's couple and their daughters, Sophie, 11, and Iris, 5, flee New York City at the beginning of COVID, finding refuge in a summer home on the Blue Hill Peninsula overlooking Eggemoggin Reach.
From the outset, a certain dysfunction reigns as the household experiences various ups and downs—the abrupt move, shifting personal dynamics, isolation, homeschooling, lack of internet service, etc. At the same time, as Alice thinks early on, the family's "privilege" is "clear, almost criminal." Theirs is a first world challenge.
While the parents try to work out their issues, including Pete's affair with a woman Alice refers to as "The Her," their children to a certain extent steal the show. Shetterly captures youthful traits—squabbling, sulking, sighing—with pitch perfection. Sophie and Iris serve as brokers and liaisons—voices of reason and unreason.
"We are forever suspended in the unrelenting quotidian of life on pause."
The chapter titled "Solastalgia" delves into its namesake condition, "the distress… produced by environmental change" (had to look it up), brought on by height of summer.
"It's too much to bear in this heat," thinks Alice, "in this strange hovering place we're in." She goes on: "We are forever suspended in the unrelenting quotidian of life on pause"—an inspired reflection on the pandemic condition.
Shetterly's narrative is peppered with diverse cultural references, from Virginia Lee Burton's picture book The Little House and Talking Heads to Robin DiAngelo's White Fragility and Slack, the messaging program. Some were lost on me, sending me to Google to discover that Ryan Bingham is a singer-songwriter and Tomten is a character in an Astrid Lindgren children's book.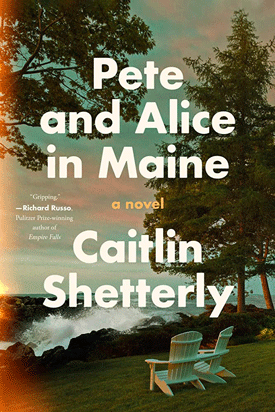 In an episode that was, as it were, ripped from the headlines, someone cuts down two trees across the family's driveway so they can't get out—an unsubtle signal from locals that infected New Yorkers should stay put. Such an incident garnered national attention in March 2020 (plug in "tree blocks driveway in Maine" in your search engine).
One nit to pick: the occasional insertion of native Mainer language written phonetically ("keep ta yoah-selves"). It seems patronizing and somehow inauthentic.
Some of us may not want to be reminded of the pandemic years—the quarantines, the masks, the Zoom family gatherings—especially as the virus hasn't entirely receded from our lives. That said, Shetterly hits at the heart of the plague in her lively narrative. At one point she has Alice repeat a line from Philip Booth's poem "First Lesson" about teaching his daughter how to swim: "lie up, survive, lie up, survive, lie up, survive."
Shetterly comes to fiction well-prepared. Editor of the anthology Fault Lines: Stories of Divorce and author of two memoirs with messages, Made for You and Me: Going West, Going Broke, Finding Home and Modified: GMOs and the Threat to Our Food, Our Land, Our Future, she's a natural to take on a tale of COVID distress. Pete and Alice in Maine is a splendid debut.
Carl Little is curating two shows this summer: "Generations" at the Maine Art Gallery in Wiscasset and "Avian Artistry: Treasures from Maine Collections" at the Wendell Gilley Museum in Southwest Harbor.