Sears Island and I have a history.
This 941-acre island, accessible at low tide from Searsport and then by a causeway built in the 1980s, seemed destined to be the spoils in a war between conservation and transportation interests.
As it turns out, the fight ended with a kind of draw, but conservationists may see a recent development as a breach of the hard-won peace.
In part because of its access to a protected, natural deep-water anchorage, Sears Island has drawn interest for substantial development over the last 50 years. An industrial park was proposed in 1969. One of the tenants wanted to build a nuclear power plant and an aluminum smelter.
A moment of clarity for me came when a legal expert spoke to the group…
In 1971, an oil desulphurization refinery was proposed, and then Central Maine Power made its own bid for a nuclear power plant on the island.
Perhaps surprisingly, Searsport residents supported the nuke idea in a 532-182 vote in 1975. When a fault line was discovered under proposed location, CMP returned with a plan for a coal-fired plant.
All the plans failed to win approval or were withdrawn.
Then, in the 1980s, the state Transportation Department announced it would build a six-berth container port on Sears Island. The lawsuits began to fly, and one of the opponents succeeded in winning a restraining order.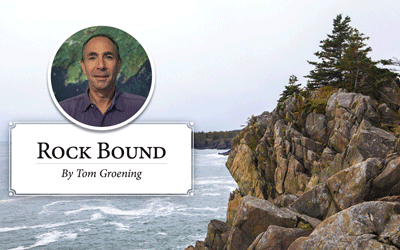 One day in 1988, I was returning to Belfast and the Republican Journal office from an interview in Frankfort, and I stopped near the shore for lunch in my car. I noticed dump truck after dump truck headed toward the island. Apparently, the restraining order had been lifted, and before another could be sought, the state was going great guns on the port plan.
As I recall, I took a photo that documented the beginning of the construction of the causeway which, to this day, fails to include culverts to allow the tide to flow through, thereby turning Stockton Harbor into a less biologically productive body of water.
I have a personal relationship with the island, too. I have walked around it, 5 miles on the shore, probably 50 times. I once counted 17 distinct coves, each different—steep clay banks in one, rock cliffs in another, large oak trees here, alders and fir there.
If you plan on walking there, remember what someone told me when I explored the shore below Grand Manan's cliffs: Mind the tide.
I also have mountain biked its trails and roads and snowshoed its changing inland terrain. You can't get lost, because sooner or later, you cross the road that runs down the island, or see the shore.
I take issue with colleagues who repeat the conservationist's line that Sears Island is "the largest undeveloped island on the East Coast." In addition to the causeway, there's a rock jetty, a paved road that would allow two 18-wheelers to pass, a communications tower, an old gravel road, cleared meadows, and cellar holes.
In the late 18th century, the island was owned by Gen. Henry Knox, George Washington's first secretary of war. In those years, it was known as Brigadier's Island.
An 1880 survey noted that 75 sheep and about 30 cattle grazed on the island. In the early 20th century, an amusement park was built there. The state ended up buying the island—renamed for one of its owners, David Sears.
When I was with the Bangor Daily News, I covered a protracted process that gathered conservationists and transportation advocates which resulted in a compromise—put 600-plus acres into permanent conservation but set aside another 300 acres for a port facility, if one was needed.
A moment of clarity for me came when a legal expert spoke to the group, explaining that the state could seize Popham Beach State Park and turn it into a ferry landing if necessary. Obviously, such a move wouldn't fly with the public, but if there were a critical need for a ferry landing, well…
Late last year, the dailies reported that the state might use the jetty area to store and then ship parts for the floating wind energy project. In addition to the deep water, a rail line runs to Mack Point on the mainland, just 400 yards from the jetty.
There are many questions to be answered before turbine blades are stacked on the island, but the hard lesson is that those in power determine what is in the public good. And to be honest, I can see merits both in leaving the island alone and in using its shipping potential.
Time will tell, but I remember the headline an editor wrote on a story I wrote about the island for the BDN: "Survivor island."
Tom Groening is editor of The Working Waterfront. He may be reached at: tgroening@islandinstitute.org.