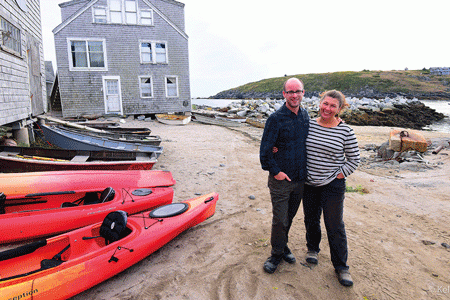 KELLI PARK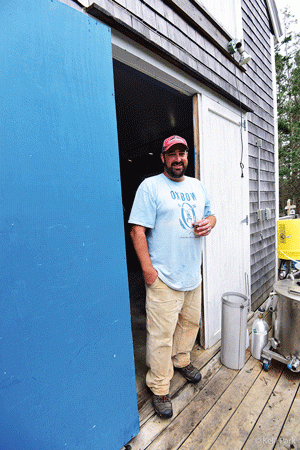 KELLI PARK
Story and Photos by Kelli Park
What's the word on Monhegan? The answer, offered this summer by an island businesswoman, was to the point—beer, coffee, and chocolate.
In recent months, an island-based coffee roaster and a chocolatier have joined Monhegan Brewing in providing products that make life a little, well, finer.
The entrepreneurial spirit is a natural fit for islanders in spite of, or maybe because of, limitations and obstacles. The island is facing an ongoing water shortage because of concerns about salt water incursion into the aquifer. The cost and effort to ship products off the island and receive ingredients is also an impediment, as is the lack of commercial and residential space. Add in a small labor force and short tourist season, and the islanders are pushed to be creative.
"Being out here, there's space for creativity," explains Mandy Metrano, who co-owns La Nef Chocolate with her husband Dylan, and is also the island's school teacher.
"There are so many people walking down this one road," which provides opportunity, she says. "There are all these things that I can't do, but what can I do? What's missing that we can provide?" 
Monhegan Brewing Company, in business now for five years under the guidance of Danny McGovern, and Matt and Mary Weber, has played a pivotal role in inspiring new business ventures. "It's become an integral part of what's happening on Monhegan now," says Dylan Metrano. "People starting businesses from scratch, doing something that hadn't been on the island before, using local resources to create something they didn't know they were missing out on. Now it's hard to imagine the island without these things."
The brewery has boosted the island's already robust tourism by offering craft beer for visitors. Hikers, visitors, and locals enjoy 4-5 different varieties of craft beer on tap from Memorial Day to Columbus Day, each of them aptly named for aspects of island life: Trap Stacker Special Ale, Crow's Nest IPA, Lobster Cove American Pale Ale, and Island Farm Double IPA (just to name a few).
Island Farm Double IPA is named for its connection to the island's community farm, which uses the brewery's spent grain and grows hops specifically for the IPA. Over 20,000 people visited the brewery this summer, establishing Monhegan as a destination for craft beverages while creating opportunity for other niche markets.
Matt Weber says the brewery's success has been "more than we expected and more than we ever hoped for."
TIME TO MAKE THE COFFEE
Carley Mayhew and Mott Feibusch started Monhegan Coffee Roasters last fall as a creative solution to a simple problem: a lack of fresh coffee. As former residents of Philadelphia, where access to a diverse selection of fresh, quality coffee was part of their daily routine, Mayhew and Feibusch began roasting coffee at home for themselves, and as word spread, for friends and neighbors. "It just kind of expanded into a business," said Mayhew. "A lot of things on islands happen that way, where you just fill a need that already exists."
The coffee roasters strive to support sustainable farming practices by infusing the island with organic, fair-trade coffee from around the world. Feibusch describes the nature of coffee as an exploration of influences, origins, flavors, and roasts, and hopes to share that with local coffee drinkers.
"You have a different experience with each cup of coffee. Those experiences led to where we are now," says Feibusch. Monhegan Coffee Roasters hopes to open a cafe in the next three years, which would not only create a year-round gathering place for community members and events, but would also increase employment opportunities and draw new residents to the island.
CHOCOLATE
Beer, coffee, and, last but certainly not least, chocolate. La Nef Chocolate began as a way to explore "art for various senses" while generating a sustainable, supplemental income, according to Dylan Metrano.
He and wife Mandy Metrano spent last winter studying the art of chocolate-making with an online course, experimenting with confections and local flavors. They use local ingredients whenever possible, including sea salt harvested directly from Monhegan waters and pepitas (toasted pumpkin seeds) from the island's community farm. The chocolatiers currently specialize in three products: an assortment of chocolate bars, truffles with ganache, and Sea Legs, pieces of candied ginger dipped in dark chocolate.
Sea Legs are the top seller and are only available at The Barnacle, often the first stop for ferry passengers in search of a remedy for seasickness—lo and behold, chocolate dipped ginger. The chocolate makers enjoy the unrestricted creative process of developing new combinations and flavors, and find great value in sharing their creativity.
"Chocolate is accessible to a lot of people," Dylan Metrano says. "A lot of artists price a piece of art outside of what people can afford, then one person buys it and you never see it again. With something like chocolate, someone can spend a few dollars and everyone can try it," explains Dylan. 
Island entrepreneurs seize opportunities to support each other with practical solutions to logistical obstacles. La Nef and Monhegan Coffee Roasters currently alternate production schedules to share a commercial space. They also collaborate on coffee-flavored chocolate confections and holiday gift packages with local artist Joan Brady.
Monhegan Brewing Company created Mad Cow Milk Stout with cold brew coffee from Monhegan Coffee Roasters and recently hosted the extremely successful Flights of Fancy, a beer and chocolate pairing event with La Nef Chocolate.