In Steve and Miranda Batiste's home in Vermont was an old claw-foot, cast iron bathtub. It was something to look at but when in use left much to be desired. The heat radiated right out of the cast iron. Tired of chilly baths, the couple decided to resurrect an idea from their youth: to build wooden bathtubs.
"A wooden tub keeps heat in. Wood is a wonderful insulator," said Steve Batiste, 69, co-owner with his wife Miranda, 61, of Bath in Wood, a luxury wooden bathtub business operated from the barn of the couple's Swan's Island home.
The idea of building wooden bathtubs as a business came to Batiste in the 1970s, when the couple was running a theater production company in their native home of England and indulging in their passion for wooden boats by partially rebuilding a 43-foot wooden boat originally built in 1906.
"Wood is so incredibly—what's the word? It's almost responsive," he said. "It's almost alive. The touch of it is so beautiful. The look of it is beautiful. The water is gorgeous. It's a very fulfilling experience having a bath in a wooden bathtub."
For a place like Maine with its wooden boatbuilding heritage, bathtubs made from wood may not be a stretch of the imagination, but in the worldwide history of bathtubs, they're rare. The most prominent wooden bathtub has been the Japanese soaking tub, which are not suited to how Americans bathe because they are made from unsealed soft woods that cannot stand up to soap and other bathing products commonly used in the American bathing market, explained Batiste.
Today, modern wooden bathtub makers have transformed the traditional Japanese soaking tubs into functional art. They are slowly growing in demand in the luxury market, said two clients who have worked with the Batistes.
"Honestly, a lot of people don't understand the concept because they don't know about it," said Michael Moore, a Manhattan-based interior designer and founder of J. Michael Moore Design. But, he noted, with more people wanting a spa-like retreat in their homes and with interest in natural and organic products increasing, wood bathtubs are becoming a phenomenon.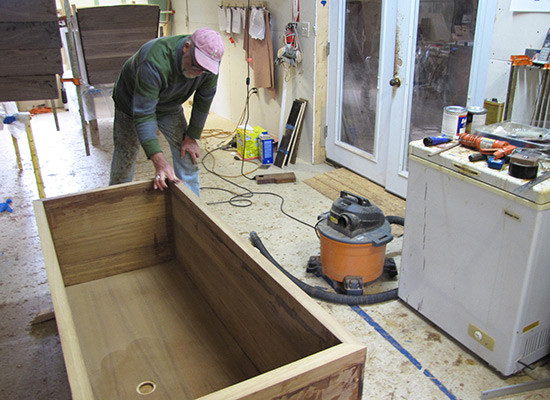 The natural beauty and feel of wood are what drew Germano Botelho to the idea of having a wooden bathtub. Botelho, co-founder of BotelhoWood Architects in Bermuda, commissioned a walnut tub from the Batistes.
Botelho, like many who first hear of wooden bathtubs, wasn't so sure about the idea. Would it mildew? Leak? Crack?
"Before having a wood tub of our own, we would be hesitant of recommending the tub to our clients," Botelho wrote in an email from Bermuda, "but after having one and experiencing ours we can now confidently recommend a wood tub."
The Batistes' tubs are custom built but often look similar to miniature wooden boats. They can be made from a variety of hard woods. Their secret sauce is a trademarked sealant they developed that ensures the wood tubs are functional in the American market. That means their tubs can be used with soaps and the other bath products common in American homes.
It took about a year to perfect their wooden tub design and the sealant.
"It had to work exactly like any other bathtub," said Batiste. "I didn't want any compromises in the design at all."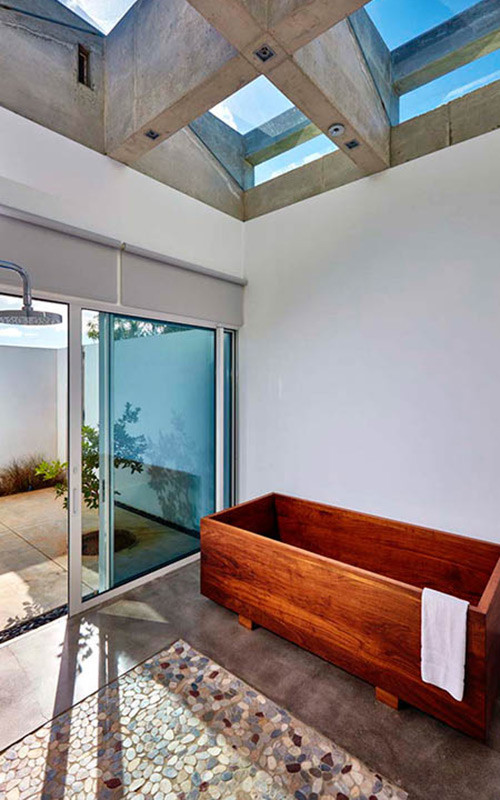 They got their first order just as they finished perfecting their design and they've been off and running ever since. When they first started making the custom-built wood tubs, which start in price around $7,750, they built one every two or three months. Today, they build four or five at a time. They are in homes in nearly all the states and around the world, including in Russia and Canada.
While their business is global, the Batistes make a deliberate effort to meet as much of their business needs as possible in Maine, he said. They work with millworkers based in Brewer and all of their supplies (with the exception of one) are from Maine companies.
Besides their design, the biggest key to their success, Batiste said, is that they're based in Maine.
"You'd be amazed how good the reaction is to the fact that we're in Maine," he said. "The whole Maine ethos has been enormously helpful in marketing our product."
For more information about the tubs, visit bath-in-wood.com.