Cold Spell: The View from the End of a Peninsula
By Todd Nelson (Down East Books 2022)
Review by Carl Little
When asked what they love about New England—or miss, if they've moved away—more often than not folks will say the seasons. Todd Nelson underscores this notion in his new collection of 50 or so short essays, Cold Spell: The View from the End of a Peninsula.
From his home in Penobscot, the writer studies his surroundings through the lens of Carole King: "Winter, spring, summer or fall / All you got to do is call…."
Another cliché is the recurring question seasonal visitors ask of year-rounders: "What's it like in Maine in winter?" As if in response to this annoying query, Nelson begins his collection in the off season, acknowledging that "everything in Maine life is sequelae of cold."
While winter is "a source of pride and complaint, pleasure and pain, hibernation and exuberant embrace," it also has a Stephen King quality, "always out there, watching and waiting for its chance to return."
Nelson loves his adopted town, be it the elms that live on despite disease and age or his students at the Adams School…
To such time-honored New England subjects as picking out the Christmas tree, monitoring the woodpile, surveying rock walls, picking blueberries, and maple syruping, Nelson brings fresh perspective and prose, personal and universal.
He also adds out-of-the-ordinary items to the list. His tribute to a winter clothesline, for example, is just plain gorgeous, an accumulation of ways in which this humble cord enhances our lives, including aesthetically:
"The clothesline has a graphic allure. Our favorite paintings in any medium are clotheslines. Perhaps even in their static, two-dimensional state, they inevitably suggest motion, wind power, and the alchemy of evaporation."
Nelson's riff on the Cape Racer sled is equally memorable. The sound of it sliding prompts him to consider "a hidden extinction," namely, "the lost sounds familiar in former times."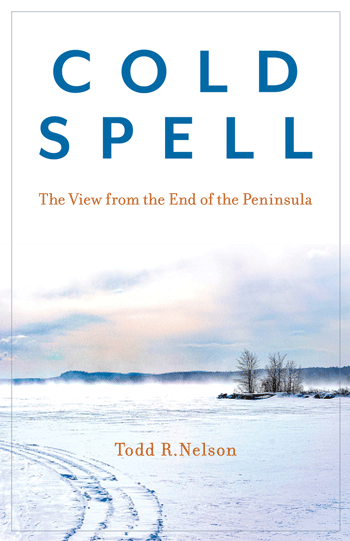 The piece sent me to Daniel Hoffman's poem, "The Cape Racer," in which he immortalizes the sled, "so sleek it seems prepared for flight / over the clouds as well as the frozen hills."
In "My Next Bear," Nelson describes a "persistence of vision" that compels him to look at the same spot in the landscape where he last saw a bear. Again, his becoming prose led me to a poem: Philip Booth's "How to See Deer" with its advice, "Expect nothing always; / find your luck slowly."
Booth, Thoreau, Dylan Thomas, Robert Frost, E. B. White, John McPhee, e. e. cummings, E. O. Wilson—these writers and others are Nelson's gods. Like them—and Rob McCall, Cherie Mason, Susan Hand Shetterly, Don Small, and other area writers—he is a great appreciator, of life, nature, family.
"On some mornings," he writes of his son Spencer, "his fishing stance was more reminiscent of playing air guitar than fishing, as he strode the dock with the rod perched over his shoulder and twirled around as he reeled and plucked the line."
With humor and fine word-smithing, Nelson brings insight to our shared wonder and, sometimes, despair. Describing his sadness when an excavator begins to dig the hole for the basement of his future home—"This land will never be the same again," he thinks—brought back my own memories of feeling guilty at the clearing we made for our house.
"I must be satisfied that our dwelling will eventually harmonize with the landscape," Nelson writes. "After all, the house is a stationary object. The forest is dynamic."
All but one essay—"Time, Tide, and Tuscany"—take place in and around Castine. Nelson loves his adopted town, be it the elms that live on despite disease and age or his students at the Adams School where he was principal for six years (2004-2010).
Cold Spell opens with a beloved observation from E. B. White: "I would really rather feel bad in Maine than feel good anywhere else." Nelson adds his own bon mot to the canon: "Maine doesn't leave you as it found you." No, it doesn't.
Carl Little's latest book is Mary Alice Treworgy: A Maine Painter.