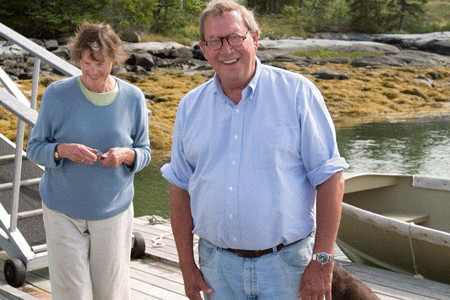 PETER RALSTON
By Stephanie Bouchard
The seed to make a difference in the world was planted at a young age for Horace "Hoddy" Hildreth Jr. It has remained firmly rooted throughout his life. In October, the Natural Resources Council of Maine (NRCM) recognized Hildreth's dedication to Maine's environment by awarding him a Lifetime Achievement Award.
Now 86, Hildreth was steeped in public service as a child. His father, Horace Hildreth Sr., served in the Maine House of Representatives and Maine Senate before becoming the state's governor in 1945 for two terms and ambassador to Pakistan in the 1950s.
Living in the Blaine House as a teen and encountering a different culture abroad as a young adult had their impacts, but it was his time on Saturdays with his father, hunting duck, partridge, and woodcock, that made the most difference to him, he said in an oral history created for his alma mater, Bowdoin College, in 2009.
After getting a law degree and working on non-forestry issues as a lobbyist for law firm Pierce Atwood's paper industry clients, Hildreth strove to shape environmental legislation as a state legislator in the 1960s and as a lifelong advocate through his own lobbying efforts and his involvement in numerous conservation organizations, including the Island Institute, publisher of The Working Waterfront.
"As a lawyer, legislator, activist, business leader, spokesperson, and philanthropist, Hoddy's passion for Maine's environment has helped protect our lakes, rivers, streams, forestlands, wild lands, and wildlife," said NRCM in its recognition of Hildreth. "He speaks from a place we all recognize: a place of true, deep caring for Maine people and this state." 
"He just always cared about environmental protection," said his son, Daniel Hildreth, reflecting on his father's lifetime achievement recognition. "I think he feels like that's a really big part of what makes Maine a great place. He has always wanted to protect that as much as possible."
To that end, he crafted or helped shape environmental regulations that still impact the state, including an early draft of the legislation creating what is today's Land Use Planning Commission (LUPC) and the Site Location of Development Law (better known as the Site Location Law), which reviews development projects that have significant impact on the environment.
While he has cut back on his involvement in conservation organizations due to advancing age, said his son, the environment is still never out of his thoughts. These days, his interest is more on building awareness through advocacy than in actually conserving acreage, his son said. He is concerned, said his son, that people don't realize how important the environment is, and how much is being lost or could be lost.
NRCM'S other leadership awards
In addition to the lifetime achievement award given to Hildreth, the Natural Resources Council of Maine honored:
Sandy and Ole Jaeger of Georgetown,fearless advocates for Maine's natural resources, for exemplifying an informed and highly engaged citizenry necessary for holding their elected officials accountable;
Bill Mook of Walpole, a shellfish grower turned climate activist, for putting his real-life experience as a shellfish grower and business owner into advocacy work for clean water and a healthy climate;
Robin Robinson of Brunswick, this year's winner of the People's Choice Award, for creating and managing the 18,000-member Facebook group, MaineBirds.