For Sirohi Kumar, a senior at Mount Desert Island High School, seemingly overwhelming challenges become less daunting once identified.
"Once you know that a problem exists, then you can start crafting solutions," she says.
Her words—and work—on climate and racial justice activism have gained attention at the national level. Kumar was one of two Maine students recently named a U.S. Presidential Scholar.
"Our 2022 Presidential Scholars represent the best of America, and remind us that when empowered by education, there are no limits to what our young people can achieve," said U.S. Secretary of Education Miguel Cardona. This year's awards "celebrate a class of scholars whose pursuit of knowledge, generosity of spirit, and exceptional talents bring our nation tremendous pride," he said.
Also named a Presidential Scholar was Brett Palmer, a senior at Gardiner Area High School.
Her work … helped established solar panels that now provide the school with 100% of its electricity.
The White House Commission on Presidential Scholars selects students annually based on academic success, artistic and technical excellence, essays, school evaluations and transcripts, and a demonstrated commitment to community service and leadership.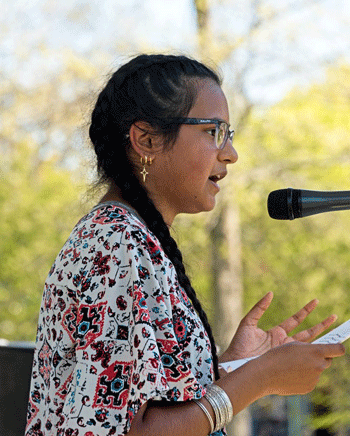 Kumar is a facilitator of Girls Who Code Bar Harbor—a Mount Desert Island group interested in learning programming to decrease the gender gap in computer science and create a supportive network for women in the field on the island.
In 2020, she was one of six winners of The Brookie Awards, an honor given by the Natural Resources Council of Maine, recognizing the state's young environmental leaders aged 15-30.
Kumar interned with A Climate to Thrive, an MDI group seeking to achieve energy independence for the island by 2030—an experience that sparked a passion for climate activism.
As a founding member of the Mount Desert Island Climate Emergency Action Coalition, she's taken leadership positions in forming and serving as the youth representative to the Bar Harbor Task Force on Climate.
She was one of a group of MDI High School students who helped guide the town of Bar Harbor to declaring a climate emergency in 2019. Following the declaration, she has been leading a group from the neighboring town of Mount Desert to build support for its emergency declaration.
Her work with the Mount Desert Island High School ECOteam helped established solar panels that now provide the school with 100% of its electricity.
Seeking to spread the movement, she wrote a guide on how to declare a climate emergency in any Maine town and co-authored a white paper on the role of youth activism in installing solar panels at schools.
The goal of her climate activism is to reduce carbon emissions, raise public awareness, and guide policy.
"It's like a car crash in slow motion," Kumar said of the climate emergency.
Kumar began her activism steeped in pessimism, given the global impact and systemic nature of the problem. That changed when she realized that societies most impacted by climate change didn't have the option of giving up—and nor should she.
"The idea that climate change is inevitable and we should just give up now comes from a position of privilege," she said. "You can't be pessimistic."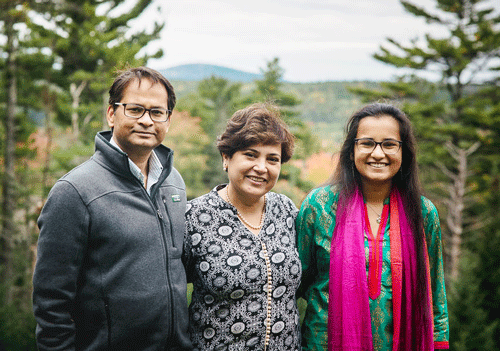 As the youth representative on the Bar Harbor Task Force on Climate, she helped create recommendations for municipal government to carry out in sectors including transportation and housing to decrease carbon emissions.
The town is now focusing on public education initiatives and incentives for members of the public to reduce emissions. Other towns are emulating the work, she said.
Her work in racial justice since 2020 has included helping organize several rallies in Bar Harbor and helping create an anti-racism task force for her school district. The goal is to ensure concerns are heard.
Enrolled at Smith College for the fall term, she has a particular interest in the intersection of data science and statistics with law, policy, and ethics, all aimed at making change.
"One of the things I've taken away from my last four years is that these problems are everywhere," she said. "The climate crisis isn't something that's going to go away in a couple of years."
The Presidential Scholars Class of 2022 will be recognized this summer with an online recognition program.