By Sally Noble
Seaweed was once that annoyingly crunchy dried stuff that Maine vacationers avoided on a summer beach. No longer. The hot new superfood is kelp, a large seaweed highly praised by national food writers at Vogue, The New York Times, Martha Stewart's Civil Eats, Restaurant News and the Knorr Future 50 Report.
And a new Maine company, Ocean's Balance, is riding the fast track to turning seaweed cultivated in the famously pristine waters of Casco Bay into sprinkles and puree—condiments the national consumer can simply slip into soup, smoothies and really, quite anything. 
Ocean's Balance just won this year's award from Greenlight Maine, a statewide group focused on promoting new businesses. The company's ten products range from $6.50 seaweed sprinkles in bonito and shitake flavors to $14 organic seaweed flakes in re-usable metal tins, available in dulse, kombu, and wakame flavors.
Made to enhance the taste of food, these condiments of dried, whole-leaf sugar kelp are also highly nutritious. And this sea vegetable becomes a triple hitter, because cultivation of the red or brown long seaweed reduces ocean acidification.
Who knew that a little kelp snack could do so much for both the body and the environment?
A dollop of puree slipped into the sauce is "like feeding yourself a multi-vitamin that makes your food taste better," explains Tollef Olson, Ocean's Balance president and a longtime fixture on the Portland waterfront. "And if the world is in a food crisis, seaweed is one nutritional solution."
Websites and studies abound touting kelp's nutritional value. Food expert Tamar Alexander contemplated whether kelp was a perfect food, writing in the February Vogue: "With an extraordinary amount of calcium, vitamins A, C, K, and B12, and iodine, potassium, and iron at ten times the levels of land vegetables, protein content to rival soy, and long-chain omega-3 fatty acids comparable to those in fish oil, seaweed is the ne plus ultra of nutritiousness."
So what about the taste?
Olson's first seaweed farm, established in 2009, yielded a blanched, flash-frozen product. Not so yummy. Then in 2016, he met social impact investor Mitch Lench, who reconnected with Lisa Scali, marketing and sales pro. The three relied on each other's strengths to make a move and make it fast. 
Ocean's Balance is rapidly expanding distribution nationally, for example expanding the business with KeHE, a large specialty fresh, natural, and organic wholesale foods distributor. In Maine, the products are available in healthy food boutiques, like Lois' Natural, as well as seafood emporiums, like Harbor Fish.
Kale may be tough or astringent, Vogue'sAlexander reflects. But kelp, she writes, is "seaweed truffle delicious, MSG delicious, meaning it produces that fifth taste—also in mushrooms and soy sauce, Parmesan cheese and anchovies—known as umami."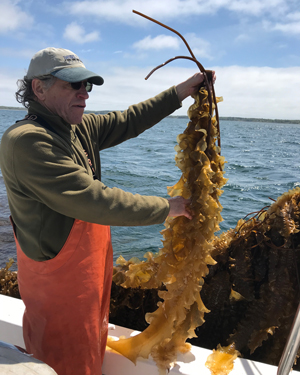 Kelp is now all about the umami.  
"We don't really have an adequate vocabulary for describing taste sensations," ruminates Sam Hayward, chef-partner of the prestigious Fore Street Restaurant. "My chef and I use Maine sea salt combined with sugar kelp dried and then pulsed in a food processor. Then that kelp salt is sprinkled on a wide variety of seafoods."
The better the seaweed, the better the umami. Ocean's Balance's Olson uses everything from a hook to scuba gear to harvest raw seaweed from his four-and-a-half acre aquaculture farm with leases from Casco Bay to the Saco River. Then they hang it to dry from the 15-foot-high rafters of a former greenhouse.
The cash infusion from Greenlight Maine ($100,000, plus a share in the more than $1 million donated by investors intrigued by the 26 contenders showcased on NewsCenter Maine, WCSH-TV) will go to "purchase manufacturing equipment that would help speed up production," says Scali, the head of sales and marketing. Olson explains that they need a filling machine for their flakes and sprinkles—currently being accomplished manually.
Their kelp puree is made in Gray. The anticipated new packaging equipment will soon join the tanks used to grow seaweed sprouts from tiny seed in the company's 3,000-square-feet  space in Biddeford's North Dam Mill. Ocean's Balance official address is Cape Elizabeth.
Exactly what nutrients kelp provides is really a question for the scientists.
"A picky eater averse to vegetables and seaweed can gain some nutritional value by eating a little seaweed snack or kelp puree in a sauce," says Nichole N. Price, senior research scientist and director of the Center for Seafood Solutions at Bigelow Laboratory for Ocean Sciences. "However, there's a hole where we need to explore the nutritional value of seaweed," Price continues. "We're working on studying the elemental composition of seaweed prepared in any way."
This is when the seaweed story becomes more complicated.
From a food standpoint, however, kelp, the hot new food trend, is providing work on Maine's waterfront.
"Maine seaweed is going to be another iconic food product from Maine, like blueberries and oyster," sums up Hayward.