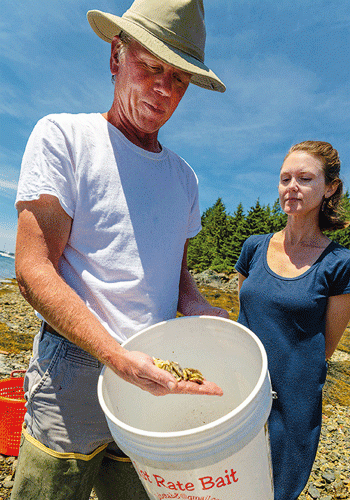 DALE JOYCE/HARBORVIEW STUDIO
By Jennifer Helman
Ask a financial expert for the key to a successful portfolio and the response will be "diversification." Having a wide range of products in your portfolio helps hedge against downturns in specific markets.
The same is true for the financial prosperity of a community. Many coastal towns rely almost exclusively on lobstering. The volatility of the annual catch can lead to uncertainty and upheaval for residents and entire communities.
Several entrepreneurs on Swan's Island have decided not to wait for an upturn in lobster landings and value. After all, lobsters aren't the only fish in the sea.
When restaurant patrons order oysters, they likely expect them to come from the Gulf of Mexico. They may be surprised to learn that many are harvested in the Pacific Northwest and parts of Canada, especially Prince Edward Island. Now, a growing number of forward-thinking Mainers are also entering the oyster cultivation industry.
While kelp is not new to the aquaculture world, it, too, is beginning to take hold as an industry on the island. With species such as sugar kelp, winged kelp, and dulse ideally suited for chilly Maine waters, more people are getting into the growing business.
Jason and Josh Joyce, cousins and life-long island residents, have been two of the first to venture into oyster farming. Their families have been on Swan's Island for eight generations and have fished for a variety of species like shrimp, scallops, and urchins, based on supply and demand.
Jason Matthews is another lobsterman looking toward the future by experimenting with oysters. He's using a method different than the Joyce's because it's easier for him to maintain. His version of "oyster ranching" requires culling of the "condos" (specially designed lobster trap-like devices). He periodically goes through the growing oysters and sorts them by size. If sizes are left mixed together, the large ones tend to starve out the small ones.
It can take two to five years for an oyster to reach table size, depending on water temperature, salinity, disease, and other factors. With 20,000-50,000 oyster babies, it's not uncommon to lose 10 percent to 20 percent. Growers can expect to get 30-40 cents per oyster and have the option of selling directly to regional restaurants and stores or working through brokers.
Wayne Lemoine, along with his wife, Laurel, and son Shane are also diversifying.  They will be the first folks on the island to commercially farm kelp. With a growing fan club because of its versatility and numerous health benefits, kelp is now thought of as "the new kale."  One of the primary benefits of kelp farming is that the season runs October-April, opposite that of lobstering, so they can fill out a year's work.
These three self-starters are taking different approaches, but share a commitment to conservation. All are using methods that respect and protect the sea.
Oyster and kelp farming require no foreign feed and the kelp beds actually have positive effects on the other fishing industries by removing harmful nitrogen from the water and neutralizing acidity, which helps lobster larvae and improves the shell life of mussels and clams.
No one wants to see lobstering end as a way of life. Rather, these entrepreneurs hope their efforts will help sustain it.
As Laurel Lemoine said: "This is my community.  I don't want to see it die."