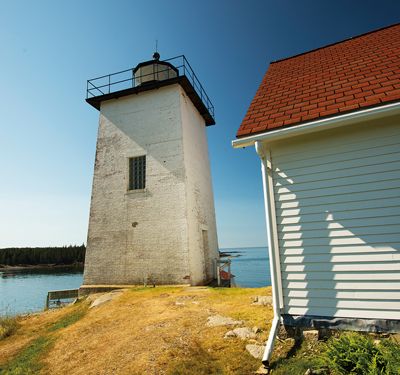 By Jennifer Helman
Photos by Dale Joyce
After withstanding coastal Maine weather for almost 150 years, the Swan's Island Lighthouse is getting a much-needed facelift. The rehabilitation project consists of three phases: bricks, mortar and metal; foundation and drainage; and catwalk restoration.
Tito's Masonry of Portland is doing the first two stages of the project and had been working on the structure and façade for about a month by late June. Wrapping the tower and scaffolding in heavy duty plastic is allowing the contractor to work in all weather conditions, and some 300 bricks have been replaced. Extensive repointing and reinforcing has also been completed. 
All the materials being used are historically correct.
John Follis, an island resident and the clerk of the works on the project, estimates completion of the first two phases before tourist season is in full swing. The work is partly funded by a grant from the Maritime Heritage Program of the National Park Service. The Friends of the Swan's Island Lighthouse landed the funding and is overseeing the project on behalf of the town of Swan's Island.