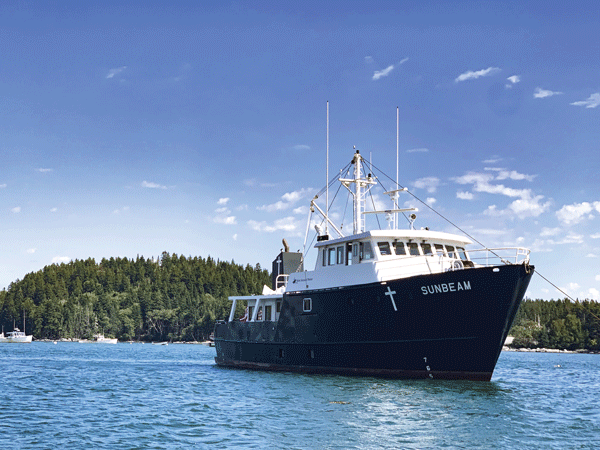 At the end of July, Maine Seacoast Mission's flagship vessel, the 74-foot Sunbeam, will host two open houses in the Falmouth-Portland and Boothbay Harbor regions. Both events are open to the public. Visitors can tour the boat and learn about the Mission's continued commitment to Maine's outer islands and the Downeast region.
The first open house will be held Wednesday, July 26, 5-7 p.m. at the Portland Yacht Club in Falmouth. The second open house takes place Saturday, July 29, 4-8 p.m. at Brown's Wharf in Boothbay Harbor. Hors d'oeuvres and beverages will be served.
This is the first time in six years the Sunbeam has traveled to this area of Maine. Visitors on July 26 should plan to shuttle to the Sunbeam via skiff.
"We are excited to sail the Sunbeam to southern Maine," said John Zavodny, president of the Maine Seacoast Mission.
"The Mission has so many friends living further down the coast. We're excited to give them a chance to tour the boat and learn more about the difference our programs make in our communities," he said. "We are glad to be able to make this journey."
Islands served by Maine Seacoast Mission programming include Chebeague, Cliff Island, Frenchboro, Great Cranberry, Great Diamond, Isle au Haut, Islesboro, Islesford, Long Island, Matinicus, Monhegan, North Haven, Peaks, and Swan's. In 2022, the Sunbeam regularly visited five unbridged islands and welcomed more than a thousand residents onboard for community and health services.
Director of Island Services Douglas Cornman provides service through counseling, education initiatives, and support to anyone who needs to talk and also offers movement and yoga classes for students at island schools. Sunbeam nurse Simone Babineaux offers flu and Covid vaccination clinics, leads a network of eldercare facilities, provides healthcare check-ups, and connects residents to mainland specialists and provides.
The Mission also reaches Washington and eastern Hancock communities through its Cherryfield location. This campus is home to a bustling food pantry, a volunteer-supported housing improvement program, and educational programs for children in kindergarten through 12th grade as well as scholarships for post-secondary endeavors.
Rooted in a history of compassionate service and mutual trust, Maine Seacoast Mission seeks to strengthen coastal and island communities by educating youth, supporting families, and promoting good health. For more information, please visit https://www.seacoastmission.org/