The first part of the title of the gem of a show, "Stitching Ourselves Together: Mi'kmaq Porcupine Quillwork" at Bar Harbor's Abbe Museum resonates with multiple meanings. Yes, it refers to the 30 or so quillwork objects on display and their intricate stitchwork, but we also learn the cultural implications of the phrase: For today's Mi'kmaq artisans, working with quills is both a way of revitalizing an art form and a means of cultural survival.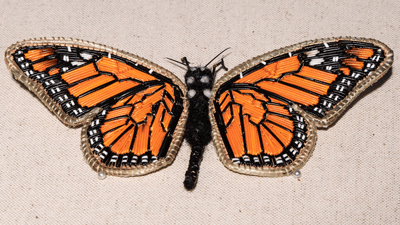 The exhibition showcases the work of a group of "emerging" quill artists, all women, and their instructor, Tara Francis, from Fredericton, New Brunswick. Calling themselves Quillers of the Dawn, they formed a collective of porcupine quill artists as part of the National Park Service's Tribal Historic Preservation grant program to revitalize quill embroidery in the Mi'kmaq Nation of Presque Isle.
The exhibition showcases the work of a group of "emerging" quill artists, all women…  
Each artist offers a "practice card," which features examples of various quill techniques: cross-hatching, stitching, overlays. Alongside these samplers are finished pieces: a floral pin, medicine pouch, barrette. Especially stunning are Tara Francis's Four Sisters Monarch, Norma Jean Saulis's Floral Medallion, and Sandra Pictou's Turtle Medallion, all of which include beadwork and other decorative elements.
To provide historical/cultural context, the exhibition features quillwork pieces by unnamed Mi'kmaq ancestors, most of them dating to the 1800s, from the Abbe Museum collection. Vintage and contemporary quillwork draws on a variety of motifs, many geometric, including chevrons, triangles, squares, semi-circles, and eight-pointed stars. The last is closely associated with the Mi'kmaq people's legend of Kokwit, a star that fell into the sea and then emerged from the water as a starfish.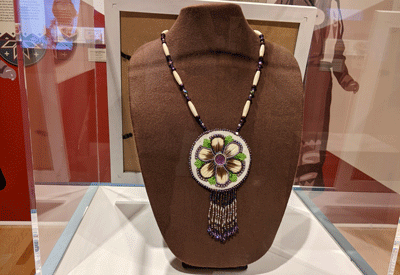 In one of six short videos that accompany the show, community curator Jennifer Pictou, a Mi'kmaq tribal member, explains how, beyond their beauty, these designs represent landscape and community and, more broadly, cultural "worldviews and lifeways." Her prime example is an intricately quilled high-back chair, the centerpiece of the show, made sometime in the 1860s-1890s.
Pictou notes how the chair's stylized renderings represent lightning bolts, wigwams, the sunrise, and other "ideas of our cosmology." She considers the piece an act of resistance to the colonial oppression. At the same time, the chair is like a portal in time and "a testament to our survival."
Handsomely installed, with a repeated image of a woman in tribal garb on the gallery walls, the exhibition is all about raising awareness of quill art and its cultural legacy.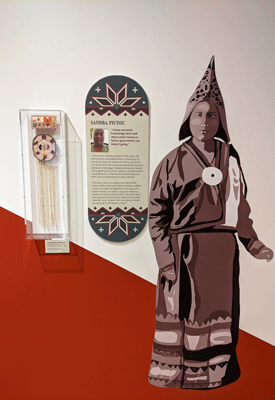 Once again, the Abbe Museum makes a point of drawing on Native people's knowledge and perspective as part of its mission to decolonialize the institution. As Pictou explains, "When we, as Mi'kmaq people, are involved in the curation and narration of our own history, we are able to correct the incomplete and often erroneous narratives assigned to our existence."
While at the museum, make sure to check out the annual Wabanaki student art show across the hall. Now in its 20th year, the exhibition highlights the creativity of these pre-K through 12th-grade artists from the Houlton Band of Maliseet Indians, Passamaquoddy Tribe at Motahkomikuk (Indian Township) and Sipayik (Pleasant Point), and Penobscot Nation at Panuwapskek (Indian Island).
From Xavier Newell's sweetgrass and ash Pieskomonis/Little Corn baskets to River Dana's digital Galaxy Animals and Eben Francis's multi-colored marker portrait Barack, these students draw on their culture while exploring new media and subjects. This show never fails to amaze and inspire.
"Stitching Ourselves Together: Mi'kmaq Porcupine Quillwork" runs through January 2023. The museum is open 10 a.m.-5 p.m., Monday-Wednesday. Masks are required. For more information, visit www.abbemuseum.org.