In his autobiography Overworked Guardian Angel, published posthumously in 2009, the painter Stephen Etnier (1903-1984) paid homage to the stretch of the Maine coast around South Harpswell where he lived and which he haunted for a good part of his life. This "series of coves and inlets with fingers of land jutting into the sea," he wrote, create "the loveliest of vistas."
Etnier considered Harpswell Neck to be one of those "magic configurations," the result of "the roll of massive glaciers thousands of years ago." Here, he declared, houses and boats could "coexist" and become "a comfortable family of land-lovers and sea-lovers, each with its own privacy; each with its own special individuality."
Proof of Etnier's passion for this place can be found in his paintings. Over the years he painted at multiple points along that coastline, in love with the particulars of wharves and sheds, boats and buoys. As seen in the photograph by Robert Solotaire from the 1960s, he would set up his easel on a dock and get to work.
Writing about Etnier's work in 1989, critic Edgar Allen Beem stated that "no one in Maine" had lived closer to the sea, "literally and figuratively speaking," than this painter. He made special note of the quality of light in the canvases.
He painted at multiple points along that coastline, in love with the particulars of wharves and sheds, boats and buoys.
"Inside Haskell's" (1969) underscores Etnier's signature sense of light and his attraction to Maine's working waterfront. The painting pays homage to a simple and iconic arrangement of docks and sheds bathed in late day sunlight. The "inside" in the title refers to the locale: inshore of Haskell's Island in the distance.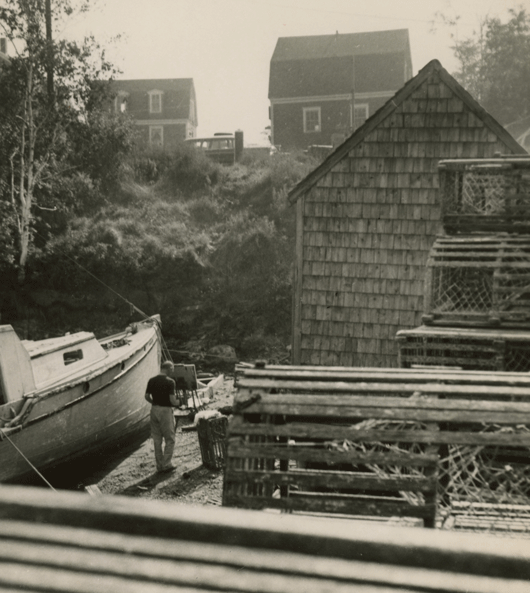 Etnier's son David, a photographer, knows the spot intimately as he used to leave from that same shore as a sternman starting in high school.
"It is on the northerly side of Potts Point in Harpswell," he explains, "facing west." He recalls that a handful of lobstermen, including several members of the Bibber family, worked out of that cove.
David Etnier has always thought his father was a pioneer painter of the working waterfront, taking up the subject "decades before the phrase was coined." Indeed, it is hard to find a Stephen Etnier Maine coast scene that doesn't feature some aspect of its fishing culture.
A profound appreciation for Maine's working waterfront passed from father to son. While in the Maine legislature, David Etnier brought forth the constitutional amendment to allow for "current use taxation" for working waterfront properties. The amendment passed in the House and Senate but failed the needed statewide vote. The second time around, with Dennis Damon sponsoring, the amendment passed.
Etnier also proposed the legislation that created the Working Waterfront Access Pilot Program. When he became deputy commissioner at the Maine Department of Marine Resources, he put the program in place as part of the Land for Maine's Future initiative, using bond allocations to permanently preserve eligible working waterfront properties.
By way of policy and paint, the Etniers' legacy of preservation of place lives on, up and down the coast of Maine.
Islandport Press will be publishing Carl and David Little's The Art of Penobscot Bay in the fall.