Her given name is Florence, but having arrived in the world five days before Christmas, her parents had the seasonal spirit when they gave her the middle name Joy.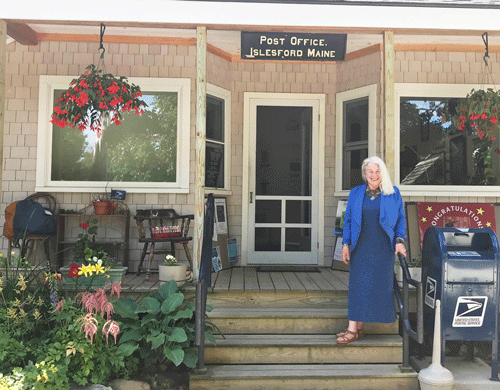 In a phone conversation, Florence Joy Sprague wonders about the idea of people living up to their name. No wondering for me. Sprague exudes joy as she enthusiastically discusses her work as postmaster on Islesford (Little Cranberry Island), a job she has held for 45 years.
Earlier this year, she was named Postmaster/Manager of the Year at the Maine State Convention of the United Postmasters and Managers of America at an event in Skowhegan.
The plaque presented to her reads: "In appreciation and recognition of commitment to excellence, contributions to community, to the USPS, and to others, thereby reflecting credit upon themselves and the entire USPS organization."
In addition to her nearly half-century as postmaster, Sprague is an island native. Born in the hospital in Bar Harbor, she arrived on the island five days later and never left. Well, she did the four high school years off-island, at Lee Academy, coming home every two weeks, and then at Mount Desert Island High School in Bar Harbor, staying at the home of the Rev. Stan Haskell.
"I just couldn't stand being away," she remembers, and so she returned to the island where she hustled to make a living, doing everything from painting lobster buoys to baking and selling bread.
When the island postmaster Natalie Beal sought someone to fill in for her, Sprague jumped at the opportunity.
"I thought, 'That sounds like fun!'"
The part-time work meant Beal was able to train her for the job, and when Beal retired, Sprague applied. But so did others.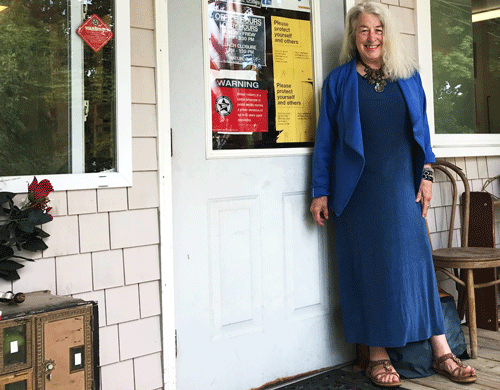 "A lot of people wrote letters supporting me," she remembers, and on Dec. 3, 1977, she was appointed postmaster for Islesford. At 17 days shy of her 21st birthday, she was the youngest postmaster in the U.S.
Does she regret never leaving the island?
"No, no, not at all!" she says. She did complete a 25-day Outward Bound course—"To see if they could teach me anything I didn't already learn from living on an island"—and attended the Haystack Mountain School for Crafts on Deer Isle to learn quilting.
Those island roots run deep. Her father was a lobsterman who served in the U.S. Marines during the Korean War. He was on leave and visiting Myrtle Beach, S.C. and noticed and introduced himself to a young woman who was vacationing there from Virginia.
"They exchanged letters and fell in love through the mail," Sprague says, even becoming engaged by letter, a detail that makes her smile given her career choice.
The story doesn't have a happy ending, though. Her father, Roland, and his sternman, Fred Fernald, perished while moving lobster gear during a storm in 1959. Her mother Betty's family back in Virginia urged her to return there with her two young daughters. No, she decided. Roland would've wanted the girls to be raised on the island, so she stayed.
"My mother was so strong," Sprague remembers.
Though she has remained on the island all these years, her work at the post office has traveled the world.
Mindful of ways to increase revenue, she expanded the "stamps by mail" program begun by her predecessor by which customers can order stamps from an individual post office—in this case, a small island one. Islesford was fourth in the state in stamp sales by mail.
She started a monthly newsletter sent to those stamp-by-mail customers. Down East magazine wrote about her and the newsletter in 1974.
"I started hearing from people in Turkey, Nassau, Saudi Arabia."
And those stamp customers would actually travel to the island.
"There would be someone over there grinning at me," she explains, and when she greeted the person, he or she would say, "I came to Maine just to meet you!"
With stamps selling in packs of 200, the revenue adds up.
"I feel like I'm the unofficial ambassador for the U.S. Postal Service," she says, a role she embraces.
She also injects fun into the job.
On the 50th anniversary of the first manned moon landing when the postal service issued a commemorative stamp, she dressed up like an astronaut and picked up mail at the landing in costume, enjoying the raised eyebrows. When the Woodstock music festival was commemorated with a stamp, she dressed like a hippie. When a stamp honored Edna St. Vincent Millay, Sprague recited her poetry.
"This is almost like a stage," she says.
But the work, of course, is real, and involves lugging bags of mail and packages from the dock to the post office. An old station wagon and a golf cart have helped, but Sprague still has to wrestle with arriving freight, like the recent delivery of a composting toilet.
Her approach is simple: "My philosophy is I treat every customer the way I would want to be treated. I just want to give high quality service."
And since the postal service is essential for many on-island businesses, she makes a point of explaining shipping options to her customers.
Sprague also is invested in the community, now serving her third term as a member of the select board, served as president of the island church, and is active with the historical society. Sprague, who with three other women fully immerse themselves in the ocean each month of the year, spent one summer swimming every day. She also has run a half marathon on the island.
But the joy Sprague finds in her job comes from people.
"They fill my heart."