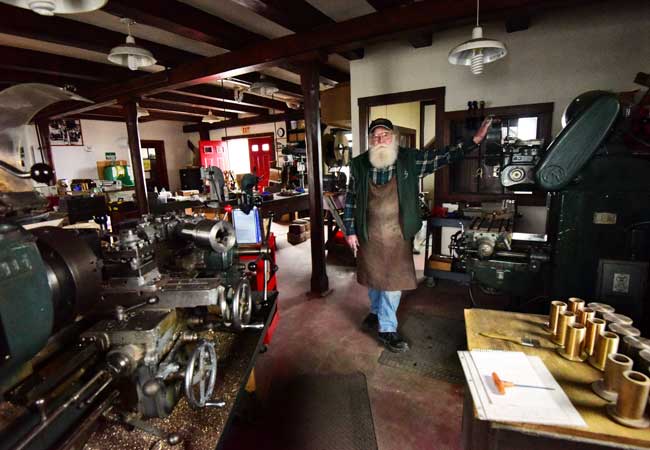 Skip Collins in the Spartan Marine shop.
Story//Photos by Kelli Park
In a world churning with change, there is a workshop in a cove in Georgetown where the strength of bronze has withstood the test of time. Spartan Marine makes the case that there are some things better left unchanged.
"The marine hardware business has endured," says Neil Collins, general manager at Derektor Robinhood Marina, which owns and operates Spartan Marine.
"We make deck hardware that really speaks to a different time in the marine industry," he continues. "There's not a whole lot of people making bronze hardware anywhere anymore. I think we're the only ones who make it in the States with these kinds of offerings." 
The story of Spartan Marine begins in 1963, when Andy Vavolotis founded Cape Dory Yachts in Massachusetts, which produced thousands of yachts over the course of 30 years.
"Andy was dissatisfied with what was available for deck hardware, so he designed his own," Collins said. "That's what we still make. He started a bronze hardware business (Spartan Marine) for his own vessels," and then sold the hardware to other yards.
"They did everything from sailboat masts to tables to architectural pieces. They did a lot," said Collins. 
And they stuck to proven designs, explains Skip Collins (no relation to Neil), machinist at Spartan Marine and the man behind the metal since the 1980s (off and on).
"The hardware has stayed the same since 1963," he said. "This hardware was in use in the 1800s. The cleats and everything have been like this for 300 years."
Skip Collins, whose father ran what was formerly known as Boothbay Region Boatyard, has spent the past 60 years working in Maine's maritime industry. He started out as a dock boy and remembers working at the boatyard in Cozy Harbor, where they "hauled boats out with a 4-wheel drive and a winch." 
The casting for Spartan's hardware is done at a foundry in Massachusetts, after which the pieces are transported to the workshop in Georgetown for Skip Collins' finishing touches. He uses machinery from circa 1942 to shape and refine a variety of bronze marine hardware pieces, including cleats, ports, seacocks, and outboard motor mounts.
"We have an excellent reputation in the industry for our opening ports, which are really the finest made anywhere in the world. They're incredibly strong," said Neil Collins. "Our outboard brackets were adapted from a turn-of-the-century design. We're the only ones that make these. These are very popular with people who have traditional looking boats, but still want to be able to get off and on the mooring."
Although the hardware remains the same, the business has changed a bit with the times. In 2018, Spartan started a website for online ordering, and it uses distributors in Europe and Australia. In a time when 3-D printing is changing the concept of production and redefining the notion of efficiency, and electronics and composites are taking over more traditional aspects of the maritime industry, Spartan Marine still relies on classic craftsmanship to create works of art with a purpose. 
"A lot of it hasn't changed at all," said Skip Collins, whose hands are weathered by bronze. And for now, the Bronze Age continues to live o