Bar Harbor is Maine's top cruise ship port, with 165 visit scheduled this year, bringing 226,846 passengers—up from 121 visits and 159,515 passengers in 2016. On cruise ship days, the waterfront and downtown are packed with visitors tendered in from ships at anchor. Many hop on buses that head to Acadia National Park; other enjoy the downtown scene and benefit local shops and eateries.
It's a scene that prompts debate among residents, who lament the crowds but see economic benefits.
That discussion has traveled to MDI's opposite side, where residents of Southwest Harbor this year find themselves debating the merits of cruise ships in their town. At two well-attended meetings in July—one packed to overflowing—they came out with a resounding "no" and cited Bar Harbor as an illustration of cruise ship overload. And then at an Aug. 17 special town meeting, Southwest Harbor residents approved a 180-day moratorium on cruise ship activity. The vote was unanimous.
The discussion initially arose at the harbor committee level, said Harbormaster Adam Thurston—ever since a small cruise ship, the 325-foot Pearl Mist, carrying 210 passengers and 65 crew members, steamed into Northeast Harbor last summer.
"We brought it up as we became aware of what was happening in Northeast Harbor last year," Thurston said. "But this is the first time we've had a company contact us about coming in. The harbor committee recommended against it because they feel like they want to protect our traditional ways in town. We have a large fishing community and a large sailboat community. Just trying to maintain the activity we have now, we think it's best for the town to maintain its traditional activities. I also have serious safety concerns with a vessel that large navigating and anchoring around Southwest Harbor because of all of our current small vessel and commercial traffic."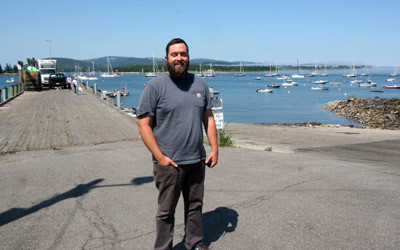 LAURIE SCHREIBER
Durlin Lunt, the town manager of Mount Desert, which includes the village of Northeast Harbor, said the Pearl Mist arrived last year when it wasn't able to schedule Bar Harbor as a port of call, due to Bar Harbor's per-day cap on cruise ships. The ship tendered passengers to the town's commercial dock, and they stayed in the village to do some shopping. After that, he said, Pearl Seas Cruises approached the town about making it a port of call. At an October 2016 meeting, the proposal didn't go well with the community, he said, and the  board of selectmen voted not to allow cruise ships in the future.
The matter took on urgency for Southwest Harbor residents when Pearl Seas Cruises earlier this year approached the town to request a one-time visit, in September, due to a similar situation: Bar Harbor was overbooked. However, with Bar Harbor still listed as the port of call, the plan was to tender passengers to a privately held commercial wharf, then bus them across MDI to Bar Harbor.
At the meetings, the consensus was that the town lacks adequate infrastructure to handle a huge influx of passengers, that such an influx would overwhelm this small town's neighborly character, and that cruise ships would threaten lobster gear and recreational boating that packs the harbor with activity spring through fall.
"This is not a good fit for Southwest Harbor," said Harbor Committee member Corey Pettegrow. "It's unsustainable for our fishery and we also don't have the infrastructure on land to sustain this activity."
One lone voice suggested that cruise ships can be a benefit for the local economy, without bringing cars into town, and added the town could set limits on cruise ship numbers and size.
But everyone else agreed with another speaker. The long-time summer resident who also lives in Charleston, S.C., said cruise ship impacts on that city have resulted in a "severely degraded" quality of life and hasn't benefited local business owners. "I love this part of the world," he said. "I hope to God you will learn from what other people have gotten insanely wrong and keep this place as it is, for your own well-being and for all our enjoyment."
With agreement from the harbor committee, selectmen voted to establish a six-month moratorium to ban cruise ships with more than 50 passengers. The cap was based on passenger numbers seen on windjammers and tourboats that currently visit the harbor.