By Kelli Park
Planting and maintaining a garden can help those recovering from addiction. The recovering person learns responsibility while cultivating, nurturing, and investing time and effort, during which the individual grows along with the garden.
Colleen Francke has taken this concept and adapted it to the ocean, planning an aquaculture farm in which women recovering from addiction can heal and grow while cultivating kelp, oysters, and mussels. Francke recently put her plan into motion with the creation of Summit Point Seafood, an aquaculture farm that would operate off Sturdivant Island in Cumberland for women who are in recovery and learning to live without substances. Salt Sisters is the fundraising campaign that supports the project.
Francke is committed to providing women with a safe work environment as they navigate the recovery process and learn about aquaculture.
"I decided in early 2016 to stop using substances to cope with life. During that process, I met a lot of women who helped me through that really difficult transition," she remembers.
"When I started this process, someone said to me, 'There are things in your life that alcohol took away from you. What are those things?' My dream to finish college was one of them, my art was another thing, and going further with aquaculture was another one. So I looked at that and said, 'I'm going to go for it. I'm going to start taking the steps to do this project and build a farm,'" she says.
Francke, 32, has spent most of her life around the water. Growing up in Eastham on Cape Cod, her first job was cutting fish and cooking lobster at a local fish market. After she moved to Maine, she learned about aquaculture while working on a mussel farm in Casco Bay. These days, she lobsters offshore aboard the Linda Kate out of Portland, while planning the future of Summit Point Seafood and Salt Sisters.
On board the Linda Kate, Francke moves with a quiet confidence, tacking tasks swiftly and gracefully, revealing her comfort on the water. She's in her element.
When she talks about her vision for the aquaculture operation, there's an energy and joy that show in her smile.
Inspiration from her surroundings came at an early age, she explains, and her connection to the sea informs her goals.
"There was a landing in the town that I grew up in and there was a woman who used to dig clams there. I remember her coming in every day, carrying her catch in bright orange baskets," Francke says.
"I'd never really seen a woman like that. She was independent and she was stunningly beautiful. She was strong and she was free. I remember watching her and wanting to be exactly like her someday. She had her little skiff and she was happy."
Those traits can help in recovery.
"Recovery is self-reflective, basically," she says. "You're looking at what you're doing in the world and how you're feeling, and affecting relationships."
But as noble as her goals are, Francke has learned that achieving them means relying on others.
"It felt really selfish and ego-driven to say this project is something that I've always wanted, and I'm just going to go for it by myself. It just felt like a really shallow endeavor. I wouldn't have this opportunity without having these other women guide me into this new life that I'm living now," she says.
"Once I decided to make it a recovery-based program, that's when the whole thing opened up and got some life to it," she continues. "Women who are new to recovery can have this place as an outlet, even if they don't want to work on the farm. They can come hang out and realize that, if I can do this, even if your dream isn't aquaculture or fishing, there are means in which you can make it happen. If I can do it, you can do it."
A friend and fellow "salt sister" gives Francke a hearty endorsement.
"Colleen is a frigging powerhouse," says Mary Taylor of Chebeague Island. "She's a hard worker, she knows her sh–, she's good on deck and she's got a good vision. She wants to be on the water. I'm proud of her with her sobriety. Her vision is true and pure, and she has good intentions. I'd go anywhere on a boat anytime with her," Taylor, who also lobsters, said.
Francke is already looking beyond the farm.
"Down the road, the idea is to have this fundraising campaign, Salt Sisters, turn into its own nonprofit. At that point, Summit Point would be running like a flagship farm, and then Salt Sisters, as a nonprofit, can go to Cape Cod and get farms started there for women in recovery, or go to California, where ever there's a need. That nonprofit will be able to say, we're going to help these women if they want help with doing the paperwork, lease applications, funding, etc. If these women are in the same position that I'm in now, they'll keep paying back. It starts a cycle bigger than itself," she explains.
Francke has submitted an aquaculture lease application to the Department of Marine Resources and has raised $2,000 toward her initial $50,000 goal. For more information , see www.summitpointseafood.com or Summit Point Seafood on Facebook.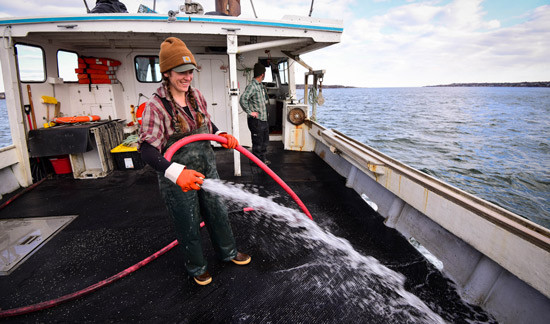 KELLI PARK