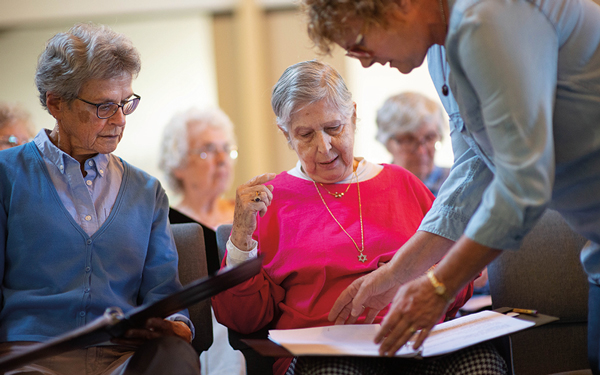 Members of the chorus are given their lyric sheets.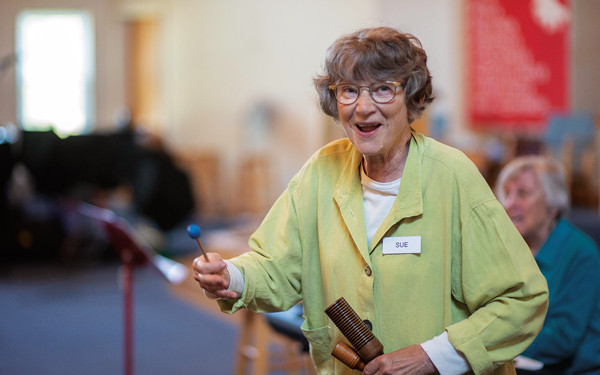 MICHELE STAPLETON
Ten people file into the nave of Brunswick United Methodist Church on a Tuesday afternoon in early September and take their seats in rows facing the altar. Everyone is over the age of 65, some considerably older. About half of them are members of "the Club"—a social group run by Brunswick Area Respite Care—and have varying degrees of memory impairment. The other half are caregivers—either associated with the respite care program or family members.
They are in the nave not for a religious service, but to sing. The respite care program offers sing-alongs several times a week, but this particular sing-along has a specific focus. The singers will be performing as a chorus, the Harmonaires, in two weeks' time.
Unlike the regular sing-alongs, the Harmonaires chorus isn't an ongoing activity for Brunswick Area Respite Care, or BARC. Founded by retired music educator Jane Hardy, 79, of Brunswick, it pops up from time to time for special occasions. This time around, the special occasion is to mark BARC's 30thanniversary. 
Long before the conversations about how communities will meet the needs of their aging populations that persist today, BARC was created in recognition of the need for social support for elders in the community—especially those with memory impairment—and their caregivers. 
"It's stimulating and people make friends," said Nancy Herk, BARC's executive director. "And of course, the person who's caring for their loved one gets a little time away." 
BARC, a nonprofit, serves the communities of Bath, Brunswick, Arrowsic, Georgetown, and Phippsburg. It provides fitness programs, games, and music Monday to Friday from 9:30 a.m. to 3:30 p.m. in space donated by Brunswick United Methodist Church. No one is turned away because of inability to pay, she said. 
Programs like BARC are, sadly, "few and far between," said Jessica Maurer, executive director of the Maine Council on Aging, but the need for them—and many other types of elder support services—is obvious: Maine has the oldest population by median age in the country and the largest concentration of baby boomers per capita; a high concentration of working family caregivers; and a high rate of Alzheimer's and other dementias. 
Whether on the islands or on the mainland, "the need for services is ever-present," said Lindsey Beverage, administrator of Southern Harbor House, a recently-opened residential care facility with the capacity for six residents on North Haven. "Statistically, even with many people being independent right now, we will face the challenges of meeting age-related care significantly in the next five to ten years."
Most people want to remain home as they age, and most caregivers want their loved ones to be at home if at all possible, say Beverage and Herk, but times are different now than when taking care of aging family members at home was considered sacrosanct. 
People are living longer now, and living longer with conditions, like Alzheimer's, that require a high degree of care. "Some of our families have been caring for their loved one (with Alzheimer's) for 13, 14, 15 years," said Herk. 
Adult day services like BARC's can help families keep loved ones at home for as long as possible, she said. "I know we play an important role in helping families stay at home longer because we help keep people healthier and more active. And the caregivers need a rest."
BARC is solely a social adult day service program. That means structured social and recreational activities are offered, but not medical-level care. 
Numerous research studies have shown meeting social needs of older adults is as important as meeting medical. A review of studies on the subject, published online by Cambridge University Press in 2017, found that unmet social needs can lead to mental and physical health issues and that participating in volunteer and leisure activities supports well-being and satisfies social needs through the connectedness those activities offer.
"(People) come to us to socialize, to feel part of the community, to enhance the quality of (their) life because a lot of the population that we deal with are often a little isolated," said Herk.
That's the beauty of all the activities offered at BARC—a feeling of participating in community—but particularly with the music programming. Music, as many research studies have demonstrated, has powerful benefits that range from therapeutic to social.
"People that might not remember for sure how many children they have, if you ask them to sing an old Broadway show tune, some old song they know, they remember every word," Herk said. "It makes them feel good. It makes them feel successful."
And when they perform a public concert, like they did as the Harmonaires in late September, which was a benefit performance for BARC, it gives them "a chance to matter," said Sue Spalding, 74, a retired music educator from Freeport who co-directed the Harmonaires' performance with Jane Hardy. 
"This is a population that can be marginalized," she said, but through a performance like the Harmonaires', "they become something that can give back to the community."