Reflections is a monthly column written by Island Fellows, recent college grads who do community service work on Maine islands and in remote coastal communities through the Island Institute, publisher of The Working Waterfront.
I never thought I would find myself craving less alone time.
Last year I longed for stretches of silence; pockets of time I carved out into my day to be alone, to be still. You see, last year, I lived in shared housing with 14 people through an AmeriCorps Program on Cape Cod. Between group projects, house dinners, and the bedroom I shared with three other people, I had to be pretty intentional in finding alone time.
I would often wander to the pond down the street to see what kind of wildlife I would come across that day, or explore the numerous trails that weave through the dunes of the national seashore. During my lunch hour I would take a quick drive to the nearest beach and reflect of the ocean's current mood.
I think one theme of my year was finding ways to be by the water.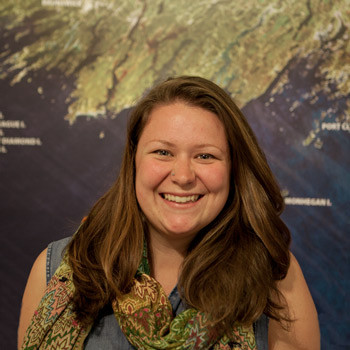 Luckily for me, my fellowship with the Island Institute has brought me to St. George, a peninsula bordered by the St. George River and Penobscot Bay, which brings abundant opportunities to find my happy place by the water.
My first weekend in St. George, I immediately ventured out of my still-unpacked apartment in hopes of scouting out some nature nooks that I could escape to throughout the year. I made my way down the Fort Point trail, I walked out to the end of the Rockland breakwater more times than I could count, and I sent numerous pictures of sunsets to friends and family back in Ohio.
But, the novelty of living alone wore off. When the days grew shorter I found myself seeking out places in nature less and less.
One, because it would get dark pretty dang early in November and December. I wasn't trying to venture back out into the dark and cold once the sun went down.
Two, I didn't necessarily need to seek out my alone time anymore. When I came home at the end of the day it was me, myself, and the occasional book I picked up from the library.
It took some time chasing down a sunrise with a friend to remind me how much I missed the solitude of nature, even if I was appreciating it alongside another person.
This past December I spent part of my winter vacation in Maine showing my friend around my new home. It also happened to be the coldest week of the entire winter. To a couple of Ohioians, that meant we would wear as many layers as humanly possible and hope we wouldn't catch frost bite on our noses. Our wintery adventures took us down snow-covered trails, to frozen lakes, and scenic vistas.
One morning we woke to see the sunrise at the Marshall Point Lighthouse in Port Clyde. After piling on enough layers to restrict movement in our extremities, we made the early jaunt to the lighthouse and were greeted with soft pinks and purples. We were mesmerized by the islands in the distance, peeking out from behind wisps of sea smoke.
I also found the same sense of stillness and peace I sought out last year.
Meredith Ballinger works with the St. George school to improve student growth and development. She is a graduate of Ohio State University with a degree in public health.