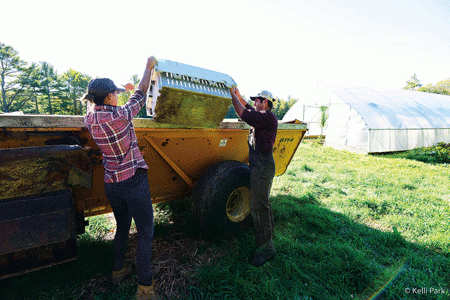 KELLI PARK
Story and Photos by Kelli Park
It sounds like the elements of a macabre ritual—green crabs, a wood chipper, a manure spreader, and 275 acres of farmland.
In fact, it's an initiative launched by Quahog Bay Conservancy of Harpswell in collaboration with Wolfe's Neck Center for Agriculture & Environment in Freeport.
"Sea to Soil: Piloting a Market Solution to Maine's Invasive Green Crab Threat" aims to turn the invasive species, which is blamed for killing softshell clams, into fertilizer.
Quahog Bay Conservancy is a nonprofit promoting marine conservation with a focus on building resilient biological and human communities. Its mission is similar to that of Wolfe's Neck Center. The Sea to Soil project unites the farming and fishing communities and helps the environment by transforming a destructive invasive threat into a sustainable natural resource. 
"We could fish these crabs forever and they're not going away, so we might as well make a market for them," said Nicole Twohig, development coordinator at Quahog Bay Conservancy.
The organization plans to streamline the fertilizer production and distribution process with grant funding, and research before and after soil conditions to increase the potential for market development. The goal is to provide incentives for harvesting green crabs. 
"We've got a team of locals who know this area better than anyone. They've worked the bay their entire lives," said Twohig. "They have the knowledge and they know the natural history, seasonal patterns, trends of species. They know this. It's a model of conservation that works."
Maine has seen a significant influx in the green crab population in the past few years due to rising water temperatures. Because green crabs are highly adaptable and have no natural predators, they are considered one of the world 100 worst invasive species.
Green crabs are not only able to live in water temperatures between 33 and 88 degrees Fahrenheit, but they also can survive for two months without water. During its three-year life cycle, the green crab can leave behind 370,000 offspring, which are capable of improving their food-gathering skills to decimate populations of native species, including mussels and soft-shell clams.
Recent studies by the Downeast Institute and the Maine Clammers Association suggest that less than .01 percent of juvenile soft-shell clams survive beyond their first year because of predators. In 2017, Maine saw the lowest number of clam landings since 1930. 
According to studies conducted by the University of Pennsylvania for Sea to Soil, this invasive species is perfect as a locally-sourced fertilizer.
Tom Prohl, fruit and vegetable production manager at Wolfe's Neck Center, explains that the tissue within the green crab is rich in nitrogen and phosphorous, while the shell itself is high in calcium and chitin, a naturally occurring compound that stimulates biological activity, enhances plant growth, and suppresses soil-borne pests.
The fertilizer process begins with the green crab harvest in Quahog Bay, where the conservancy employs 100 traps. Green crabs are then transported to the farm, where they're exterminated; crabs must be exterminated prior to fertilizer production and distribution because, as an invasive species, they are considered a biosecurity risk.
They are then mixed into a manure spreader with dairy and chicken manure, and spread over 275 acres of hayfields, which feed the farm's dairy cows.
Wolfe's Neck will also conduct controlled year-long studies to analyze the effects on fruit and vegetable production plots, the results from which will be used to promote the fertilizer among local garden and farm markets. Wolfe's Neck Center is dedicated to developing innovative practices in regenerative agriculture and hopes to become more involved with its four miles of coastline by developing educational waterfront workshops in the upcoming year. 
By transforming a destructive force into an element that enriches and fertilizes the earth, the fishing and farming industries are exploring the potential of evolving within the life cycle. Sea to Soil aims to redefine the way we look at invasive species; instead of focusing solely on the impossible task of elimination, this initiative introduces the idea of adapting within our natural circumstances.
"We are solving the problems that the community needs us to solve," Twohig asserts. "We're a unique organization, but the problems aren't unique to the bay. This model could be implemented anywhere."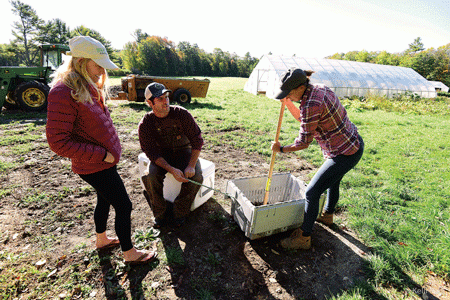 KELLI PARK