Jeff and Audrey Berzinis have no firm conclusions on how to do it.
But they know one thing—they want to preserve the working waterfront nature of their Southwest Harbor property for future generations.
The Berzinises are the long-time owners of Southwest Boat, a marine services yard with multiple buildings, wharf, year-round dockage, 25-ton crane, 250-ton railway, 36,000 square feet of inside storage, machine shop, and welding and metal fabrication. A community sailing center and a marine supply store occupy two of the buildings.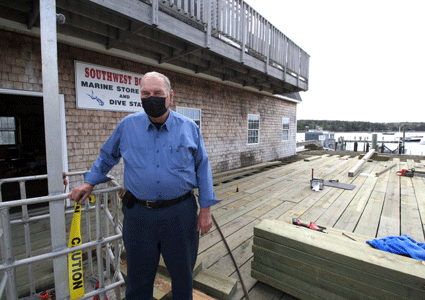 Docks are busy year-round with commercial fishing boats. The U.S. Coast Guard, which has a base two doors down, and the Maine Marine Patrol keep boats there. In typical years, the sailing center's small-boat fleet is often out and about with races and lessons.
Berzinis and his crew were recently busy rebuilding a portion of the wharf and plans were in the works to rebuild the railway and install a freezer unit for bait.
Now in their mid-70s, the Berzinises are thinking about who will take over the thriving operation.
"How do you keep something like this going without it going to big developers of condominiums?" Jeff asks. "We want to know how we can protect our business, the tenants, the fishermen, and the use of our property in the future. Right now, it's the only mixed-use boatyard in Southwest Harbor. We want to retain that."
The property has a rich working heritage. Its build-out as a boatyard began in the early 1900s. Sim Mayo, the chief instigator of Mount Desert Island's "automobile war" (he was arrested for flouting a ban on the newfangled machine in neighboring Bar Harbor), put up a shop, built and repaired boats, and installed naphtha and gasoline engines, according to the Southwest Harbor Public Library Digital Archive.
The property then became the Andrew Parker Boat Yard. In 1925, Parker sold it to boatbuilder Chester Clement, whose designs inspired the "lobster yachts" built by Bunker & Ellis, also in Southwest Harbor.
In 1937, Lennox "Bink" Sargent and Henry Hinckley bought the yard, renamed it Southwest Boat Corporation, and produced large draggers and other boats. Sargent, a Harvard engineering student, and Hinckley, who had a yard across the harbor and was making a name for himself in sailing yachts, were distant in-laws.
During World War II, they employed hundreds of people and turned out hundreds of war boats for the Army, Navy, and Coast Guard, running two nine-hour shifts for more than two years to fulfill government contracts.
"Right now, it's the only mixed-use boatyard in Southwest Harbor. We want to retain that."
Sargent sold his interest in the yard in 1963 and subsequent owners followed.
In the early 1990s, Berzinis—who moved to Maine in 1965 from Quincy, Mass., after some time with the U.S. Navy Reserve and at Northeastern University—was doing contracting work for Bonnie and Tom Sawyer, entrepreneurs and philanthropists on Mount Desert Island and elsewhere. (This past April, Husson University recognized Tom Sawyer for his leadership.)
In 1993, the Berzinises and the Sawyers purchased the yard and renamed it Southwest Boat Marine Services. It was in complete disrepair. New pilings, piers, buildings, and parking were added. The Sawyers opted out in 1998 but the yard continues today with the Berzinises.
"In my case a lot of it was a labor of love," said Jeff Berzinis. "I grew up walking under a pile-supported shipyard. But I do need some new blood in here to take over what we started."
Berzinis noted the location is ideal—tucked into the harbor and calm even in a storm.
One of the biggest things is to maintain the infrastructure, since it's all grandfathered in, he noted.
"I've got to keep that presence," he said. "Every time you turn around, there's someone trying to bring in a condominium. The working waterfront is being jeopardized."
Over the years, Berzinis has been busy with other endeavors, too, including building two mobile home parks. The boatyard is his "last hurrah," as he said.
"It was my passion," he said. "I'm afraid if we don't keep it going the way it is, it will be gobbled up and the use will change." He's putting out feelers for what the possibilities might be.
"I want to keep the place going because it's a mix of maritime activities," he said. "Where else are you going to find that? So right now, my wife of 48 years and I are trying to come up with different plans. I don't know what the answer is."
But he knows it's important.
"It's like a little community," he said.