Blue Raven Gallery at 374 Main Street in Rockland announces its first collaborative exhibition on Aug. 18 with an opening reception 5-7 p.m. featuring the pre-eminent Maine photographer Peter Ralston and his release of a new, limited-edition suite of large prints, The Raven Edition.
The exhibition will include over 50 images, many never before exhibited, as well as his "Pentecost," voted by Down East magazine the "most iconic Maine photograph of all time." This one-man show celebrates Ralston's 45 years of photographically documenting the coast and islands of Maine, his experiences as co-founder of Island Institute, as well as his lifelong connection with the Wyeth family.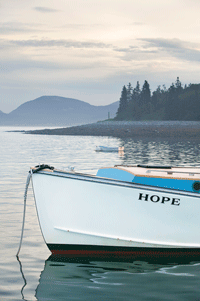 Ralston grew up in Chadd's Ford, Penn., worked for a decade as a freelance photojournalist and then photographing the coast of Maine beginning in 1978, drawn especially to the working communities that define the coast's enduring character. His work has been seen in many books and magazines, featured repeatedly on network television, and has been exhibited in galleries, collections, and museums throughout the U.S. and abroad.
"My photographs are my statement," Ralston says. "I don't pretend or aspire to be cleverly intellectual about what I do. I just poke around the nooks and crannies of this coast, always with my camera. As far as I'm concerned, I'm just storytelling, albeit straight from the heart. These are the places I've been and the people I've met, and sometimes there's metaphor not far beneath the surface."
Jodie Willard, founder of Blue Raven Gallery, is the new owner of the historic bank building located between the Farnsworth Art Museum and Island Institute. As a graduate of Brooks Institute of Photography, Willard has a special interest in photography and collectable fine art photography.
The gallery will also exhibit contemporary art in a variety of fields, including paintings, bronze sculptures in the roof top garden, mixed media, and one-of-a-kind jewelry pieces.
To learn more visit www.BlueRavenGallery.com and subscribe by email, or on Instagram @BlueRavenGallery.