By Laurie Schreiber
The sprawling shops at Freshwater Stone—22,000 square feet on 20 acres in Orland—are filled with the sound of industrial machinery, including wire saws and multiple-axis bridge saws, cutting into massive blocks of granite weighing tens of thousands of pounds.
Digitally operated, the machinery produces slabs and complex curvatures to any specification, with precision, for indoor and outdoor use. That ranges from fireplaces and chimneys to wall veneers and landscape stonework such as walking paths, patios, fountains, and hot tubs. Interior work includes anything from countertops to the complex curves of bathtubs and public fountains. The company fulfills everything from large jobs to specialty pieces for homes, businesses, historical renovations, and public spaces.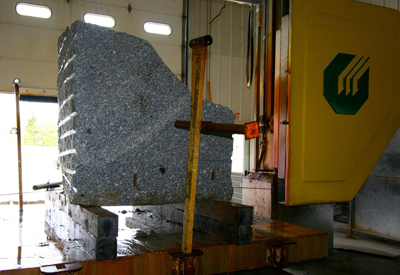 Outside, the acreage is covered with millions of pounds of granite. A second site houses more granite and a 12,000-square-foot warehouse vast enough for "prefab" constructions.
In nearby Frankfort, a quarry on Mosquito Mountain produces the company's signature Freshwater Pearl granite, characterized by swirls and variations of subtle grays. Other sources include Hall Quarry, on Mount Desert Island, which yields a pink-and-tan granite abundantly seen throughout Acadia National Park; and one in Jonesboro that produces a granite tinged with orange. 
The company's owner, Jeff Gammelin, points out distinctions in various stones—pearly patterns here, rose and lavender hues there. Craftsmen are in various stages of polishing and honing pieces for custom fabrications. Water, acting as a lubricant, washes continually over the stones, spilling onto the floor.
Gammelin leads the way to a giant wire saw that operates 24/7 and is today slowly cutting six 4-inch slabs out of a single block. The yard processes half a million to a million cubic feet of stone per year. Most commissions are bread-and-butter projects like countertops, walkway pavers, wall panels, and fireplaces. Others are singular, like a bathtub with curves shaped from a single block for a California customer. Precision cutting and honing take a long time. He points to a set of stones cut into flowing forms for an unspecified client.
"These pieces can take a week or more on the saw," he says. "Then we mill them down and they're sandblasted, which brings out the color."
Gammelin, born and raised in New Jersey, moved to Maine with his wife Candy in 1972 to join the growing "back to the land"  movement of the time. They constructed the home they still live in, from local fieldstone, logs, and bricks. Gammelin realized he had an affinity for organic stone forms while he was building the fireplace. 
"I saw a composition going on," he says. "It had an organic look."
An admirer commissioned his own fireplace. At the time, Gammelin lugged stones himself, hunting through piles for pieces that naturally fit together. More orders came. He hired one tender, then more. Living close to the land and probably not charging enough, his income was less than $5,000. 
"One day, I was talking with a friend about how great the year was," he recalls. "He said, 'You're telling me you made just enough money to buy a used truck.'"
MAINE ROCK TO THE WORLD
Today, Gammelin employs about 60 people in fabrication, architectural stonework, construction, and quarrying. He's invested millions of dollars into machinery. Working closely with homeowners, architects, contractors, and developers, his work centers on New England but can also be seen around the world on projects like a chapel in France, a historic bell tower in Texas, and detailed interiors in Hawaii. Vertical integration of the operations puts the company in a different category from others, he says.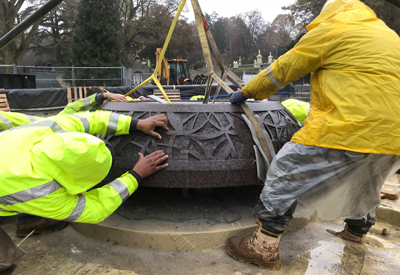 "I don't know of any other company that does the construction and the manufacturing and the quarrying," he says. "We have that ability to read plans and to work intelligently with the designers. People appreciate that, so they come back to us and ask us to work with them on design and development. That's how we get jobs."
His investment in high-end technology has been strategic.
"People know if they design something, there's someone who can do it," he continues.
Freshwater continues to grow. Portland is an attractive market, he says. Last year, Freshwater manufactured paving for Canal Zero, a  downtown plaza complex. 
Stones that grabs his attention have nice hues and patterns and are hard and durable. Freshwater Pearl is well-received, he says. 
"It's not monotone. It's got life to it," he says.
The Jonesboro stone hasn't quite caught on yet, but has great potential for its multi-colored reds, greens and browns. 
"It goes nicely with brick," he notes. "We'll keep marketing it."
Waldo Mountain is home to an abundance of granite remnants that have weathered over time, thus yielding attractive surfaces and softer edges suited for projects like fireplaces.
Hall Quarry operations have been challenged by neighbors in recent years. It's been a source of Acadia's pink granite since the park's inception. Gammelin supplies the stone to other clients as well. 
"If they're successful in shutting down the quarry, we won't be able to get that," he says.
Neighbor challenges, still ongoing, mainly center on noise. Gammelin is trying to address the concerns, by incorporating mufflers and sound-reduction systems on machinery he uses at Hall Quarry.
And yet, he says, misunderstandings persist.
"They say we're blasting," he says. "We don't blast. You don't blast a granite quarry; you'll destroy the rock."
In the meantime, Gammelin and his team are always looking for new ideas. Forty years ago, natural stone forms and organic compositions were innovative and grabbed people's attention. Now, as a leader in the field, he says, "We come up with an idea or a method, a look, a design, a strategy, and we've got a five-year headstart on someone else."
What is it about stones that grab him personally? 
"Stonework is fun," he says. "Although I don't do much physical work anymore, it's physical, it's intellectual, it's creative. The stone itself—it's nature. It's meant to be. A long time ago I noticed, when you go out on a lake in Maine and see the rocky shoreline, every rock looks just right. I look at that as inspiration, just how nice those forms are."