On the morning of Oct. 18, 1775, a British naval fleet anchored in Portland Harbor began bombarding what was then known as Falmouth, Mass. The bludgeoning of Portland lasted all day followed by more insult to injury when the British sailors swarmed the ruined community of about 2,000 residents to set fire to any buildings still standing.
One of the buildings miraculously not in splinters was Old Jerusalem, the wood-built (1740) predecessor of the granite-built (1825) First Parish church on Congress Street. Guarding the church/meeting house was an enslaved black man from Gorham named Mayberry. When he saw a British sailor getting ready to burn the building, Mayberry seized the sailor and turned him over to local leaders in Portland.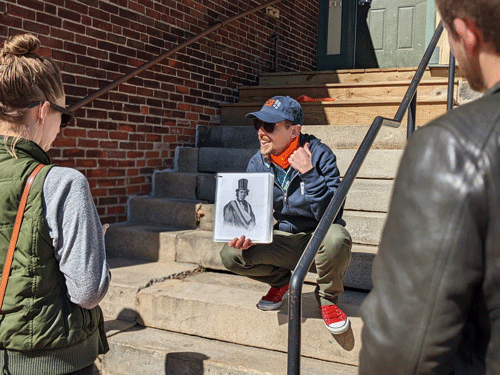 Because of Mayberry's actions, Old Jerusalem was one of the few structures in Portland not obliterated by the time the British naval fleet left the city. Unfortunately, not much else is known about Mayberry, said Dugan Murphy, owner and tour guide of Portland by the Foot. Murphy shared this story and several others during a webinar in May. The webinar, about exploring Portland's black and women's history, was part of Maine Conservation Voters' (MCV) Lunch and Learn series.
Murphy, who refers to himself as a "public historian" because his academic training is not in history but in community planning, fell in love with history when he was in elementary school in Scarborough. Two teachers in particular—Sylvia Tapley in middle school and John Lewis in high school—inspired him to look "beyond the narrative" presented in textbooks for the people who often do not get their due, he said in a phone interview after the webinar.
Telling the stories of those who are unacknowledged even though their contributions were significant is the core of the history tours Murphy offers. When he decided to create his own walking tour company—he had worked for several years as a guide for a Portland-based tour company—he "needed something different from what others were offering and something he could be excited about and feel good about," he said.
His walking history tours are two hours long and focused on routes mostly in the center of Portland, which means there are many stories he can't fit into his tours. He shared some of those stories of unsung heroes during the MCV webinar, such as:
Florence "Flossie" Eastman Williams
Born in Portland in 1892, Williams was the granddaughter of Charles Frederick Eastman, a black man who helped fugitive slaves through the Underground Railroad and was an active member and financial supporter of the Abyssinian Meeting House. Continuing her family's heritage of supporting the community, Williams was respected as a generous neighbor to the mostly white immigrant families on Anderson Street and for her work supporting non-white servicemembers at the community center that later became the Marian Anderson USO Center. She was also well known and respected as a clairvoyant, Murphy said.
Ted "Tiger" Lawry
Born out of state in 1919, Lawry grew up in Portland, where he began a 20-year boxing career on a dare from some friends. He was best known as the only boxer to fight all ten rounds of a match—on two separate occasions—with future world heavyweight title holder Rocky Marciano. The wins for the fights, which went to Marciano, were determined by the decision of the match judges, said Murphy, who noted there was some controversy over the outcome. The judges, he said, were not going to give the win to a black man over the favored white boxer.
Ellen Gould Harmon White
Born in 1827 in Gorham, White, who was white, attended the Brackett Street School in Portland. The building, at 155 Brackett Street, is now home to the Fresh Approach store and is known to many Portlanders as the People's Building. It was there at the age of nine, Murphy said, that a classmate threw a rock that struck her in the face and knocked her out. She remained unconscious for a number of weeks.
In the years following her recovery, she became deeply religious and claimed to see visions and attributed both her visions and religiosity to her childhood injury. As an adult, she cofounded the Seventh-Day Adventist Church, became a well-known advocate of vegetarianism, and a prolific writer.
Want to learn more fascinating stories about Maine people who aren't so well known but were instrumental in our history? Check out these resources:
Watch a recording of Maine Conservation Voters' Lunch and Learn webinar, Exploring Black History and Women's History with Dugan Murphy, at https://www.maineconservation.org.
Take a walking history tour offered by Portland by the Foot. Tours last two hours. Tickets are $35. A portion of ticket sales is donated to the restoration of the Abyssinian Meeting House. Reserve online at https://www.portlandbythefoot.com.
Dugan Murphy recommends reading Maine's Visible Black History by authors/editors Gerald Talbot and H. H. Price, and Voting Down the Rose, a book about Florence Brooks Whitehouse, a Portland-based women's suffragist/peace activist and author. The book was written by Florence's great-granddaughter (and Maine resident) Anne Gass.