Lime green.
That's what I think of when I think of Kirstie Alley. Odd, I know. But when your first encounter is her pulling up in front of the Island Market in a lime green Suburban with a bubble gum pink leather interior you can't get certain images out of your mind.
But it goes well beyond lime green. When Kirstie died unexpectedly last month of cancer Islesboro lost a great friend—she was also a respected and valued community member. And yes, out here, she was simply known as "Kirstie."
They hosted softball games on the diamond on their lawn, ice skating on their pond…
I didn't know her very well. A few chats over the years, a hearty wave whenever we passed on the road. Other friends on the island had deeper relationships and great stories of her kindness, spontaneity, and great love of the island.
Before we moved here I'd never met many celebrities. In more than two decades on Islesboro I've met quite a few, from statesmen and billionaires to cast members from Friends. Kirstie was the first.
I'll never forget that first meeting. The lime green Suburban pulls up to my bookstore, in she swooshes, I'm a bit tongue tied showing her books on interior decorating, and then all is normal. She was normal.
Don't get me wrong, there certainly was a presence about her. It was also the voice. At first, it seemed so out of place here, when we were so used to hearing it on television.
What I quickly began to learn was that the thing about Kirstie was, to me, that what you saw on television or films was how she was in person. Funny, quirky, and kind. Only Kirstie would overnight a Marilyn Monroe costume and wig from Hollywood so she could sing "Happy Birthday, Mr. President" to John Mitchell at the annual talent show to celebrate his retirement as president of the Islesboro Historical Society.
Kirstie and her former husband, Parker Stevenson, spent a lot of time on the island in the early years. They hosted softball games on the diamond on their lawn next to the Alice L. Pendleton Library, ice skating on their pond, and acts of kindness that were personal. I don't think she was one to write a check to a charity and leave it at that. No, Kirstie rented a bus and took as many kids and parents as could fit to the mainland for a movie—and paid for it all. A friend lost a dog, Kirstie found her a new one.
Those are just a few of the memories that were shared on our Islesboro Facebook page in the days following our loss.
She was as integral to this community as any other resident in those years.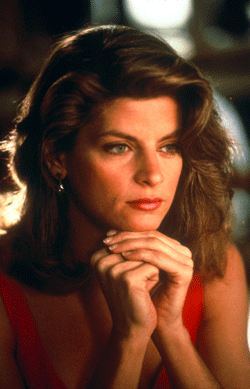 And there was no whiff of celebrity. She waited in line with everyone else at the Island Market and when she was here she always had a fabulous float in the Fourth of July Parade that always seemed to involve water guns. What I found for her and other residents like John Travolta was that it's a place for them to relax, to not be fussed over, and people respect it.
And she respected us. In the midst of the COVID pandemic Kirstie sold her house. It was before vaccines when the pandemic was raging and we were all hyper-sensitive.
Although not personally on Facebook, Kirstie had a friend post a long note on her behalf alerting the island that she was flying privately to Rockland, taking a rental car to the island, had food with her, and was coming to pack things she wanted to keep before the closing. She was being very careful not to do anything that would endanger anyone on the island. She also thanked them for their friendship and kindness over the years.
Kirstie didn't have to do that, she could have come in and gone about her business and few would have known. She felt an obligation to be honest with her community. She didn't want anyone to think she was flouting the rules.
I will never forget that last time I saw Kirstie. It was a summer Sunday morning around 7:30. Quiet at our house, I was enjoying a book and into my second cup of coffee. All of a sudden I started hearing loud music—it was getting closer and louder.
By the time I got up from my chair and looked out the window, the source of the noise was on the street in front of my house. It was Kirstie, in a powder blue retro bicycle with a boombox in the oversized basket, peddling slowly up the road, blasting "My Way," and singing her heart out with Frank Sinatra.
That's how we'll always remember her.
Craig Olson owns Craig Olson Books, a used and rare bookstore in Belfast. He and his family have called Islesboro home since 2001.