Essay by Barney Hallowell//Photos by Amanda LaBell
I wasn't sure we could do it, or even should do it. Resurrecting Islands, the musical written by the late John Wulp of Vinalhaven and Cindy (now Cid) Bullens for its 20th anniversary had been on Waterman Community Center's radar almost since its 15th was commemorated. A lot of ideas were tossed around, from a full reprise to a totally new play capturing the spirit of Islands.
But should we do it? Could the spirit of the original show ever be recaptured? Mightn't it be best just to leave it be?
And would anybody come to see the show without the original cast, without David Cooper (who insisted that he retired) as the central character?
It was Christie Hallowell who got the ball rolling by contacting Aaron Robinson. Aaron had been recruited by Wulp to be the musical director for the original run of Islands in North Haven, and then at the New Victory Theater performance in New York City in September 2001. He left after the New York show and Kris Davisson took over, but Kris wasn't available this summer.
Aaron still lived in Maine, he knew the songs, and could transcribe the music so others could learn them. He was available, but at first, hesitant.
"I hadn't looked at the music in over 20 years," he said, but then agreed to take it on.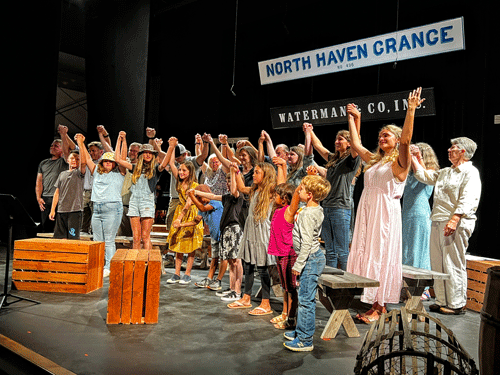 A call for performers and cast members went out in early June, and was met with lukewarm response. Many of the original cast were not available because of work conflicts and personal commitments. A mixed handful of kids and adults came to Aaron's recruitment/organizational meeting, not nearly enough to stage the show.
However, two key people did stepped up: Eva Hopkins, 12 years old in the original production, agreed to assist Aaron, and Roman Cooper, David's son, agreed to take over the narrator's role his father had played.
Aaron doggedly developed the script and gradually, more cast members emerged, so by the time of the first rehearsal, one week before the show was to go on, there were 27 members of the company, enough, Aaron insisted bravely, to pull it off. Many had not even been born when Islands was performed on Broadway.
No teens signed up. Eight adults had performed in the original shows: Roman, Eva, Doreen Cabot, Kate Quinn, Christie Hallowell,
Tobias McKenzie, Stillman Joyce (who came over from the mainland for the rehearsal week "just to work with Aaron"), and me.
We were handed a folder of the songs, and several of us were given scripts, narratives Aaron had put together from interviews he'd conducted, that would give history and perspective to what had happened since the original show played, and would tie the show together in much the same way that David Cooper's role had in the original.
Aaron said we were going to create the show during the rehearsal week, choosing which songs would be included based on what we wanted to sing. Of course, we wanted to sing them all. I suspect Aaron knew that.
We had only four actual rehearsals to prepare for the show, though there were three irregularly attended practices in the weeks prior. Four rehearsals to learn the songs, choose soloists, practice parts, assemble the set, design the lighting, iron out problems, and make the whole thing work. The first rehearsal was a disaster, so much so that the pathologically positive Aaron sat us all down and said,
"This was a disaster." But, he added, "We're going to fix it all by tomorrow."
I went home thinking, there's no way we can fix this. We don't know the songs, we can't sing, the kids aren't paying attention, no one has a clue what's going on. How is Aaron, is anyone, going to be able to fix this?
Well, fix it he did. The next rehearsal gave us a glimmer of hope. We learned the songs. Cast members volunteered for parts and suggested staging. Halla Henry, the stage manager, worked with the kids on the "Boots Song."
Narrations were shortened, tightened. Soloists stepped up, and some beautiful performances were revealed: Doreen sang her "Lonely Room" part from the original Broadway show with Eva Hopkins, Matt Rich, and Keaton Lear, a recruit from Vinalhaven. Tommy Lamont provided an original guitar accompaniment with Eva on "Somewhere I Have Never Been," and Odin Corson energized the whole cast with his self-choreographed version of "Six Mothers, 350 Babysitters."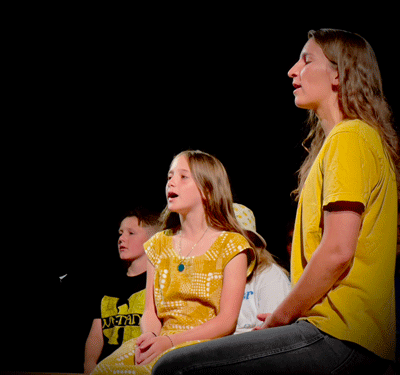 Maybe this wasn't going to be a complete disaster.
Aaron remained determinedly upbeat, willing us to rise to the occasion. At noon on the day of opening night, we held our first rehearsal with the live orchestra. Aaron, as music director, played the Clavinova, with Steve Costanza on piano, Helen Newell on violin, Marta Greenlaw on flute, April Reed-Cox cello, and Tyler Lee on drums. And Cid Bullens, scheduled to arrive on the middle boat, was going to sing with us, unrehearsed, for the opening show. It was a bit unnerving.
As we were about to go on, it was decided that Maddie Hallowell would step in for Cid on "Lucky Star," singing with Henrietta Hamilton, because Cid felt he no longer had the range for that beautiful song. Maddie had never rehearsed "Lucky Star" before she sang it on opening night but she nailed it.
When we took to the stage that night to a full house, I was still very unsure about it. I worried the audience would be disappointed that it wasn't the original show, that our singing lacked the strength and polish of the original cast, that, as hard and diligently as we had practiced, it would still appear to be slapdash to an expectant audience.
Boy, was I wrong! Everyone in the cast came through like seasoned professionals. From the opening chord of "Everybody Looks, Everybody Sees," the cast sang their hearts out, and the audience responded. I could see expressions of joy, excitement, and appreciation on their faces, and even some tears.
Roman spun his own tale and enthralled the audience. Cid said the music he created for Islands was "his greatest legacy." Eva remembered how watching The Importance of Being Earnest and being in Islands set her on a path to becoming an actor and Aaron's assistant director. Odin brought down the house with "Six Mothers, 350 Babysitters," just as Noah Davisson and Greg Quinn had done 21 years earlier.
Islands Revisited wasn't a disaster, it was a triumph! Two sold out audiences gave it standing ovations. David Cooper declared, "It was absolutely wonderful. So good. Roberta and I loved it!"
Foy Brown of "Joy of Foy" fame said it was "the best thing I've seen in 20 years." Cid Bullens wrote, "Thank you for making my songs come alive again. With you all, they sounded better than ever." Some even ventured that Islands Revisited was "every bit as wonderful as the original."
I think even John Wulp would have been proud.
Barney Hallowell has lived on North Haven year-round since 1972 and was the principal of North Haven Community School for 21 years.