The staff of the Penobscot Park dining room and lunch counter in Searsport meet the gaze of the Eastern Illustrating & Publishing Co. photographer's camera in the accompanying photo. Their serious faces are frozen in time on a glass plate negative.
The tables are set and the shelf behind the counter is full of goods like soda, snacks, and cigars. Most of the people have the look of that time period with their pompadour-style hair and boater hats. However, the young woman on the right seems more modern, or at least timeless in her beauty, as if she has been teleported back in time to be a muse for historians.
Tourism has been a major industry in Maine since the late 1800s when "people from away" started coming to the state to enjoy its natural beauty, with Bar Harbor being one of the most popular destinations. They arrived primarily by steamship or train with money to spend.
The company saw an opportunity to create a tourist destination that would rival Bar Harbor…
When the Bangor and Aroostook Railroad opened its Northern Seaport Line to Searsport in 1905, the company saw an opportunity to create a tourist destination that would rival Bar Harbor and developed a resort at Kidder Point just across from Sears Island, where guests could arrive by train or steamer.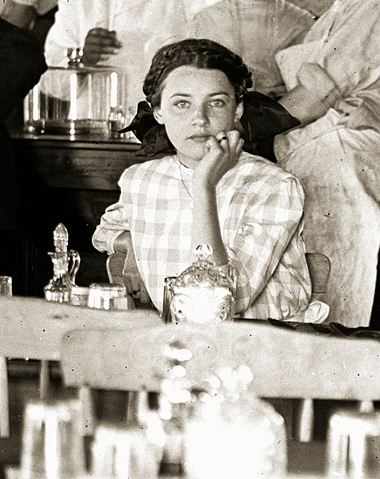 Penobscot Park opened for business in 1906. An advertisement in the Republican Journal in July 1910 boasted: "The only public bathing and boating place in Waldo County. Come and try one of D. R. White's FAMOUS SHORE DINNERS. Large dancing pavilion with good music. Swings, ball grounds, bathing, boating and fishing. We guarantee to please!"
These amenities attracted summer people as well as local residents. The dances attracted bands from outside as well as within Waldo County. There were even plans to turn Sears Island into a first-class resort.
Unfortunately, the success of Penobscot Park was short lived. The harbor was too small for some of the larger boats, World War I forced it to close for several years and, most significantly, the arrival of the automobile to the masses meant tourists were not limited to steamboat or train stops when deciding their Downeast adventures.
The pavilion existed into the 1920s, eventually becoming a dance hall. Some of the small cottages were relocated as houses around Searsport. Today Sears Island is once again being considered for development, and, while that decision gets debated, the island continues to be in its natural state.
Kevin Johnson is the photo archivist at the Penobscot Marine Museum in Searsport.
The museum is open Monday-Saturday, 10 a.m.-5 p.m. , Sunday noon to 5 p.m. through Oct. 15. New exhibits include "Rusticators On The Water" and "Working The Sea." For more information, see PenobscotMarineMuseum.org.