Long-time Port Clyde fisherman Randy Cushman is getting good results with his experiments to reduce flounder bycatch by increasing the mesh size of his net.
It's a bit of a balancing act. He's aiming to find the right mesh size that will decrease bycatch of juveniles but still retain marketable adults.
"You don't know where that fine line is, where you'll lose your catch," he said. "It's scary. Once you've built the net, you don't have a spare and you're stuck with it."
Cushman has been fishing for 35 years. His bread-and-butter is flatfish, mainly American plaice (also known as American dab) and grey sole, which he finds 25-50 miles offshore.
"It's  just a question of finding the highest concentration," he said.
The flatfish resource is growing leaps and bounds, he said. "With dabs, last year I saw as much, if not more than, my father ever did."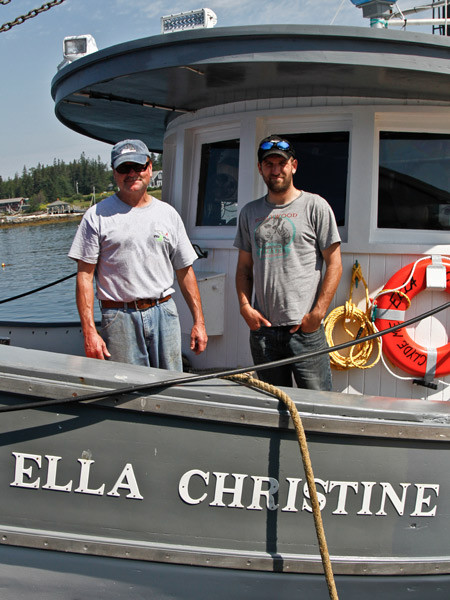 PEACH FREDERICK
Years ago, he recalled, he switched from 4 ½-inch to 5-inch mesh before the larger size became required by law.
"We could still catch the fish we wanted, and allow the juveniles to escape," he said.
When the industry began fishing on a quota-based system, juvenile discards were counted against quotas, which reinforced the need to not catch juveniles, he said. Leaving more juveniles in the ocean to mature and spawn was also good for the resource, he said.
Typically, he had to discard 2 percent to 5 percent of the catch. But in 2015, he built a net that had 6-inch mesh for its body and 6 ½-inch mesh for the cod end—the closed end of net that retains fish—and had 2 percent in juvenile flounder discards.
The results improved again in 2016: With a 7-inch cod end, he had 1.3 percent discards. He's also eliminated chafing gear, which reduces the escapement of small fish through the mesh of the net.
"Last year, I was pretty clean. I was excited about it," he said. "It does allow more juvenile fish to escape, when they get to the end of the net."
For 2017, he  built a new net with 6 ½-inch mesh for the body and 7-inch for the cod end, a half-inch increase all the way around over the regulated size.
"So I'm hoping I'll be down to less than 1 percent," he said. "If I get in the neighborhood of one-half of a percent, I'll be real happy. But the reality is, it's a fine line: You start losing some of the adult size. You have to weigh one against the other."
NET EXPERIENCE
Making a net is no small task. Each one takes 150 hours of labor, he said.
"They're very complicated," he said. "There's a lot of material—rubber, chain, floats, wire, rope, shackles. It takes a lot of experience to build one."
Four years ago, he installed an electronic monitoring system on his boat, the Ella Christine, in conformance with the federal government's requirements to help track catch and bycatch. The system inspired him all the more to work out an optimal net design, since it can help him document results.
Cushman has been working with the Maine Coast Fishermen's Association, The Nature Conservancy, and the Gulf of Maine Research Institute on the project.
The Nature Conservancy kicked in between $1,000 and $2,000 to help Cushman purchase materials for his most recent net, said Geoffrey Smith, the nonprofit's Gulf of Maine program director. The organization also has been field-testing electronic monitoring systems—to support compliance with regulations—and Cushman is part of a cohort of fishermen in Maine, New Hampshire, Massachusetts, and Rhode Island doing the testing.
MCFA has been helping fishermen install electronic monitoring systems on their boats. Cushman welcomed the system, said MCFA Executive Director Ben Martens.
"He was trying to figure out, 'How do we get my data into the data stream?'" Martens said. "So we started thinking about using the cameras to verify his observations."
The results are no entirely clear yet, Martens said.
"He's catching more fish because there's more fish in the ocean. So as a percentage, his discards have gone down."
Cushman and MCFA also are tracking his fishing grounds to correlate data with place. That's expected to feed into a better understanding of how stocks are doing, said Martens.
"What Randy is catching wouldn't have a huge impact on the stock assessment or the overall health of the species," said Martens. "But the bigger piece is building a business that makes sense. The market doesn't want baby fish and, if we can let them grow larger, they're worth more money, consumers want it, and it's better for the ecosystem. Understanding what's being caught and how it's being caught is important for the entire fishery, and that's what's important about the electronic camera work. Randy thinks the future of the industry is in making sure everyone is 100 percent accountable for what they catch and what they throw over."
The fishery is complicated these days, said Cushman.
 "We've lost our infrastructure," he said. "If I went fishing like I used to in the old days, I could fill the boat pretty quick, but the market couldn't handle it. We've got to get the infrastructure rebuilt, especially for flatfish, which are healthy. And then we could get more young people stepping in."