The ship's operation manager heard Capt. Joe Litchfield before he even reached the wheelhouse. It was midnight. The space smelled of cigarettes and coffee. Amadeus Mozart's Eine Kleine Nachtmusik began its crescendo, creating the soundtrack of the Amelia Earhart expedition.
Spencer King traced Litchfield's features in the black, lit only by the lights on the dashboard. The old man was cut from the mold of a salty dog with a white beard, permanent squint, and staggered walk. His voice was gruff from five decades of shouting across the deck. Wind be damned; Litchfield was going to teach his deckhand how to listen to Mozart.
"OK, we are going to do themes," Litchfield grumbled. "A, B, A, B, C, D, C, D. You're going to hear it now and you wait a little while and you're going to hear this again, just in a different key."
Litchfield was steering a research vessel in search of one of the ocean's biggest secrets: The location of Amelia Earhart's missing Lockheed Electra airplane. This was one of three expeditions to try to find the plane, just a snapshot of a lifetime on the sea for Litchfield, now 75.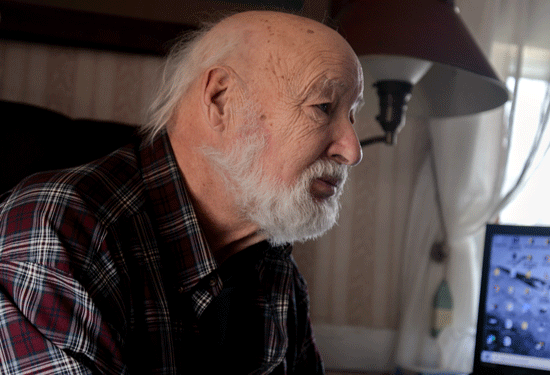 He pondered the memory sitting in a maroon armchair, the same living room from his childhood during summers on Peaks Island. He chuckled about what a sight that must have been for King, now a retired navy officer.
"I'd listen to music mostly in the mornings and then on my night watch, I'd listen to books," Litchfield said.
His house, built in 1824 and one of the oldest on the island, is half decorated with mariner memorabilia Litchfield collected over the last five decades and half with photos of his most loyal crew, a copper Brittany Spaniel named Dorymate. She was fast asleep on the sofa.
"She's famous [on the island], but she's given me a complex because people walk right by me and they go right to Dory," Litchfield said with an impish smile. "She's getting her belly rubbed, I don't even get my ears scratched. That's not fair."
Outside on the lawn sat a soiled turquoise and yellow rowboat named Little Queen which belonged to his father and was one of the first boats Litchfield ever used. He said at seven years old, he had been determined to see what he thought was the end of the world, which really was Outer Green Island. Grabbing the rowboat, a PB&J sandwich, and a drink called bug juice—named after its attraction for insects in the hot summer sun—he was prepared for whatever the ocean threw at him.
"I wanted to just see what was out there. Which I did," Litchfield said. "I've always been around boats. I love boats. I just don't know what it is, it's in my blood. I don't like it at all on land."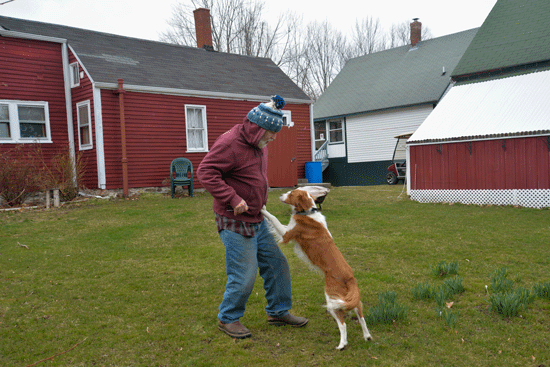 The whole island began searching for the little boy and when someone finally spotted him, they told his mother. She was not too happy. She and her husband already had a lot on their plate, taking care of Joe's three brothers. But her fate was set: this would be a frequent occurrence. She would lose one too many blueberry pies to the seagulls while watching him struggle to get back on land.
In his 30s, Litchfield became a fisherman after someone offered him a half-share of a dogfish boat in Portland which pursued the small spiny sharks. Litchfield said this was about as low as you could go in the fishing industry because fishermen are only paid by what they catch and sharing half of that was a big pay decrease. But he was ecstatic.
He eventually earned enough to buy his own Maine-built wooden trawler which he named Sarah-Sea after his daughter with his first wife, Wendy, a Peaks Island school teacher.
~ ~ ~
His boat had a crew of four, but he often enlisted the help of a couple fishermen buddies he met at the Friendship Bar—although Litchfield believes it was more accurately the "Battleship Bar." Forty years later, they still meet over coffee and corned beef hash at the Porthole Restaurant & Pub, reminiscing about Portland's glory years in the 1980s.
"He dropped a dredge on me," Litchfield said, pointing an accusatory finger at Capt. Keith Lane.
"He wasn't obeying orders," Lane retorted. "I had to drop the scallop dredge on his head. Straighten him out. Took care of him."
"Still hurts," Litchfield joked. The old sailors went back and forth, laughing about the conditions they put up with to make ends meet and pointing out the aching ligaments that remind them of that work.
Litchfield credits Lane with convincing him to get a captain's license. He sold Sarah-Sea and moved to Alaska after he and his first wife separated. He stayed there 26 years and remarried, fishing for months at a time in Dutch Harbor to catch flounder, codfish, and pollock, depending on the season. He rose quickly up the ranks, becoming captain of a 230-foot boat catching about 80 tons of fish in two hours.
The profits were astronomical. Litchfield said he could make $100,000 in three months, but it was hard, dangerous work. Fishing in icy waters with unforgiving wind led to the loss of many of his friends.
"You're always pushing the edge of what you can do and what the boat can do," Litchfield said. "It's not a way to make a living, it's a way of life."
Once Litchfield earned enough money, he started to take jobs with research vessels that allowed him to travel to places like Fiji, Australia, and New Zealand. Eventually, the company he worked for was hired by Nauticos—an underwater navigation and search analysis corporation. Their current project was to find Amelia Earhart's Lockheed Electra.
Elgen Long—the first person to fly around the world over both poles—had spoken to nearly every person connected to Earhart and developed a theory of where she crashed in the Pacific Ocean in 1937. WGBH's Nova documentary series decided to focus an episode on him, but wanted to corroborate his findings, and reached out to Nauticos.
"Not only did we think it made sense," David Jourdan, founder and president of Nauticos, said in a Zoom interview from Titusville, Florida, but "We thought, I think we can find this plane."
Jourdan recalled how nervous the scientists felt, wanting to make a good impression with the crew of the boat they hired, manned by rugged and tough mariners like Litchfield. It didn't start well. While tossing a bucket of water overboard, the wind blew it back onto the ship, soaking Litchfield, who was smoking a cigarette.
Jourdan said the scientists were mortified. To their surprise Litchfield "looked up at us and gave a kind of grin, and said, 'You know, that's what I like about the ocean, you never know what's going to happen out here.'"
To search for the airplane, the ship trailed a sonar with 20,000 feet of cables. At the end of a survey line, it usually took six to eight hours to turn the vessel and get all of the wire straight for the next pass.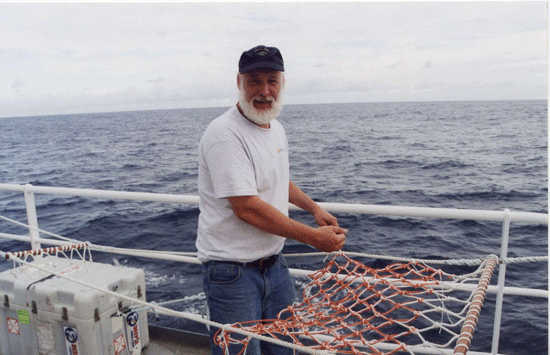 Litchfield, accustomed to wrangling trawler gear to reach the most optimal fishing spots, said he could reduce the time by half. He yanked the wheel in one direction and then spun it in the other, over and over.
"We called it the back turn, but it's really Joe's turn," King recalled. "It saved us hours every time we finished a survey line and we had dozens of these so it virtually saved days of time that we normally would be just turning."
The search area is 6,000 square miles and so far 3,600 square miles have been searched in three expeditions, the last in 2017. If the team can come up with the $3-$5 million for another voyage, Litchfield expects to be going with them.
But now, it is just Litchfield and Dorymate in their Peaks Island cottage. His children keep tabs on him as does most of the island community, helping him take care of the garden in the backyard and walking Dorymate.
"I had regrets, but it was the right decision for me. But it was a selfish decision," Litchfield said of his life at sea. "It cost me two wives and a lot of little league games and brownie meetings, stuff like that. But what good would it be if I was home and being miserable?"
Litchfield rose stiffly from his chair and pulled back the curtain to watch his daughter, Sarah, working in the garden. After all this time, he said his relationship with his kids has been better than ever.
"I've always had this thing about life," Litchfield said. "You'll regret the things you didn't do more than the things you did do. I actually believe that."