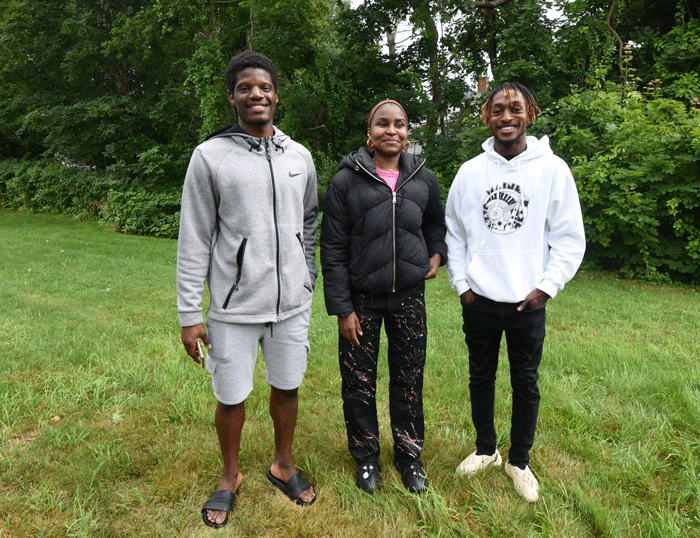 Islanders are no strangers to helping their neighbors. But residents of one Casco Bay island have been going above and beyond by opening their doors to newcomers.
Families on Peaks Island have been welcoming New Mainers—recent immigrants—into their lives and into their homes in a grassroots effort to build community with their newer neighbors. The zeal with which this endeavor has been embraced in the last year has catalyzed a change in the community that will last for years to come.
Candace and Mike Myers welcomed Chadai Gatembo, 18, into their home on Peaks Island in June 2022 after meeting him at Portland High School, where Candace had recently started working with multilingual learners after retiring from teaching high school Spanish in Topsham. As an unaccompanied minor from the Democratic Republic of Congo, Gatembo was living at a teen shelter when he expressed a desire to be part of a family in Maine, at which point Candace invited him to visit the island for a day of bicycle riding to the beach.
Gatembo recalled asking about living with Candace when he realized they had similar personalities.
"When she wants to do something, she's going to try and try to do something. I am the same," he said.
Candace was moved to consider a longer relationship with her new friend.
"A lot of people like us have kids who have been out of the house for years. Then you start wondering," Candace explained. "We were going to Florida every winter and that's nice, but what is my purpose? What am I doing? We see this need that we can fill. We've got room. We've done this before. We've had kids. These kids need us."
The couple invited Gatembo to stay as long as he wanted.
"I stayed for one week, two weeks… then I stayed," said Gatembo. "They consider me like a son. Here, on Peaks Island, I have everything I need. This is the best thing that's happened to me since I've been in the U.S."
It was a difficult transition because of the language barrier, but he quickly found his footing on the island, and within six months began to feel at home, immersing himself in island life with bicycle rides, soccer, pickleball, and learning the ropes on a lobster boat through a program offered by Luke's Lobster.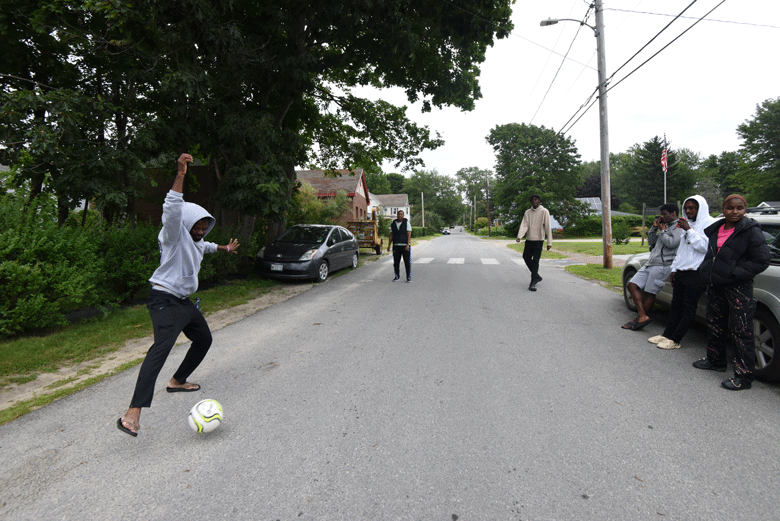 And Gatembo and the Myers have served as a model for other families.
"We haven't advertised anything and I'm just amazed at how, when people see these kids, they ask themselves, 'Can I do it?''' said Candace.
Susan Seraichik and her husband Pete have welcomed two African youths into their home on a temporary basis.
"We've always had people in our spare rooms—exchange students, exchange teachers, political candidates," she said "We just don't like to have empty bedrooms."
Several families were ready to open their doors in the summer of 2022.
"Chadai wanted to help the other kids find places, but a lot of them were afraid to make the leap," Candace said, attributing the hesitation to differences in language, food, and culture, and apprehension about the ferry, the water, and dogs.
"Last year at this time, we were all ready. We had the families, but we didn't have anyone living with them," said Candace. "You saw people getting used to the idea on both sides—islanders seeing that it was working and coming forward, and, on the other side, kids at the shelter knowing kids out here."
Then, with the changing of the seasons, came a change of heart. "Finally, in November, it seemed to happen right away," said Candace and things quickly began to fall into place.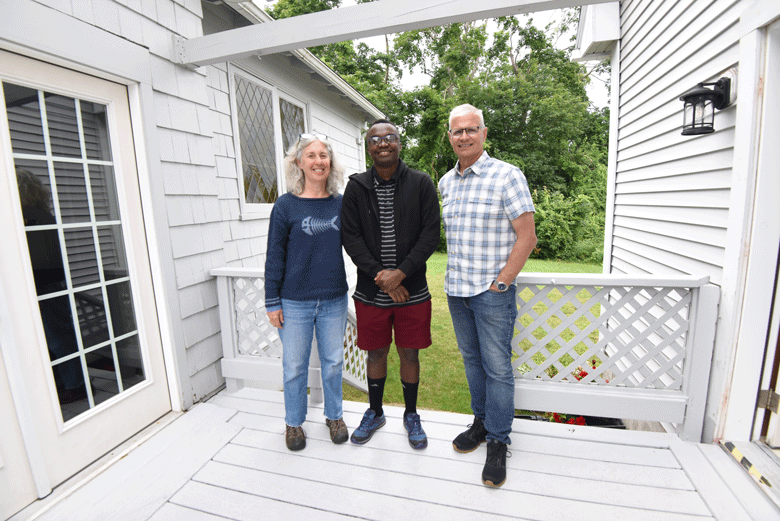 Since then, through word of mouth referrals and grassroots networking, several families on the island have been providing long-term, permanent housing for African youths, while other families have been providing temporary housing and support services, including a taxi fare fund for those living on the backside of the island and English classes on front porches.
"For a while, it was like we were new mothers again. We would check in with each other and ask, 'What do you do about a bank account? How do you get one without a Social Security number?" said Candace. "I call the network 'American Families with African Children.'"
This laid the foundation for building relationships in ways that have extended beyond housing.
"Some of these kids have families back in Angola and are OK with just living with a family for now to learn about the culture, like an exchange student," said Candace. "But others are like, 'No, I need a new family. I'm alone in the world.' The island is a great community for healing, especially for those who have suffered community trauma."
For some, the family connection has been immediate.
"When I met Isaac [Rodriguez] on that first day in December, it just felt right. We had a great time on that first night. He never left," said Dan Fisher.
In his six months on the island, Isaac Rodriguez, 18, has struck a chord with islanders thanks in part to his musical talents. He plays in two local bands, including The Hedgehogs and Paper Roads, and performs at a variety of local venues. He recently received a scholarship from the Peaks Island Music Association and Portland High School to attend Maine Jazz Camp at the University of Maine/Farmington to continue developing his skills as a musician.
"When they play at Jones Landing, everybody whoops and hollers. He makes people sing along. He says, 'Sing with me!' He's a natural, not just as a musician. He's a performer," said Fisher, who attends Rodriguez's performances as often as possible.
"The one that always gets me choked up is John Lennon's 'Imagine,'" said Fisher. "That's the one where everybody says, 'We only want to hear Isaac sing.' He's got a voice like you would not believe."
Food also has been a universal connection, with dinner on Tuesdays with the Cooking Club, a gathering of islanders who prepare and share dishes based on a different theme each week.
"My favorite is Feijoada, a black bean stew from Brazil," said Rita Mena, 20, who lived in Brazil for a year after leaving Angola. "You can eat it with rice and eggs. That one is the best!" Mena also cooks Angolan and Congolese food.
The island immersion has helped in learning English across a variety of contexts, from the ferry to the streets to community festivities.
"The people around here are so friendly. They talk to them on the ferry and everywhere on the island. They are constantly speaking English with them," said Candace. "Their English has just shot up so fast!"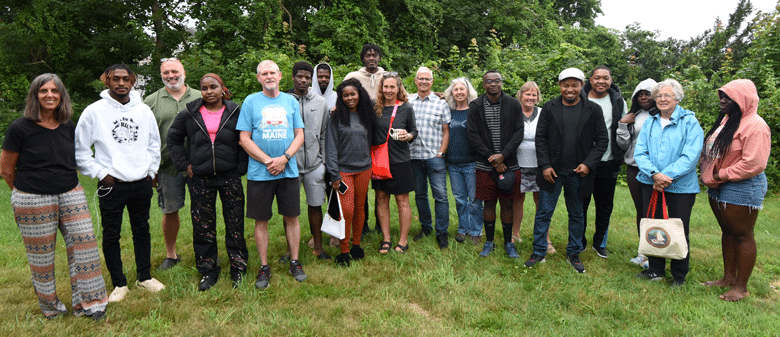 Bill and Patty Zimmerman have been offering one of their family homes to African families for two-year periods in an effort they call The Launching Pad.
"We wanted to prove that there were some nice, generous people in the world, rather than people saying, 'No, you can't come to our country,'" said Patty Zimmerman. "It's not for everybody. We've had many families come out who didn't want to live here. Some people are afraid of the water and the ferry."
One of the goals in providing housing is to boost the population of the island school, which serves Pre-K to 5th grade with 38 students.
Although island life is not for everyone, the decision to move to the island a year ago came easily for the Mabuie family of Mozambique.
"When they asked me if I was interested in this house, we said yes. They said, 'You need to go see the house and after that, you can decide,' and I said, 'No, everything on an island is good. Everything on an island is beautiful. I want to move to the island,'" said Saute Mabuie, 40, who, with his family, made the move without ever having been on Peaks.
Mabuie's daughter, Nicole, 15, shared in her father's enthusiasm from the beginning. "I couldn't even believe that we'd be living on an island one day! I'd never been on an island before!"
Ten island families are providing short- and long-term housing for African youths in Portland.
"These kids are going to be great participants in our society and make it so much better. That's the push for me," said Candace. "My hope is that it spreads to the mainland."