Elia Nichols had a huge maple tree stump in his yard. It was crying out to be used for some purpose, but he didn't know what to do with it. Then he heard about the Maine Maritime Museum's open shop.
Since March of last year, the museum has opened its boat shop on Monday nights to anyone who wants to work on woodworking projects.
Nichols wrangled the stump onto a trailer attached to his van and crossed the river to the museum in Bath. There he found all the woodworking tools he would ever need (and then some) plus expert help in the form of Kurt Spiridakis, the boat shop's manager, museum volunteers and other people working on their own projects at the shop.
By late November, he had been to the museum's open shop nights four times and had begun the process of slicing his colossal tree stump into four tables. "It's a test of patience, sort of," he said about his ongoing project, but he's already thinking ahead to future projects, such as taking his canoe to the shop to put on gunwales. "You have tons of clamps, right?" he asked Spiridakis.
Being a boat shop, there are tons of clamps, among other essential tools of boat building and woodworking. The boat shop's primary purpose, said Spiridakis, the museum's director of watercraft and traditional skills, is to educate and excite people about traditional boat building. To that end, the boat shop is used for building small boats through a variety of educational programs. There are boat building workshops for adults, but the museum's premier boat building program—now in its 22nd year—teaches traditional boat building skills to middle school students.
The insulated boat shop is a fully-outfitted woodshop.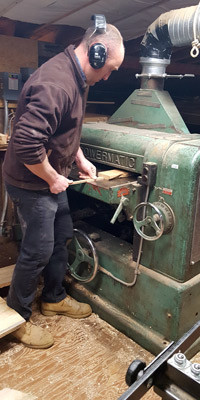 STEPHANIE BOUCHARD
"We have big tools that can do big things that are beyond the scope of the home owner-woodworker; the hobbyist woodworker," said Spiridakis. For example, the shop has a 24-inch planer for shaping wood. A hobbyist woodworker might need such a machine twice a year. "It would be prohibitive for someone to buy that," he noted, or have the space to store it.
Being able to use tools like the planer, the 16-inch joiner, giant band saws and drum sanders are certainly a big draw, but so is the space the 70-foot by 30-foot boat shop offers. Even when there are small boats being worked on in the shop, there's plenty of room for doing other projects.
One such project that Bob Meyers of Bath worked on didn't really require the expertise of those in the shop or even the tools. Meyers needed space. He and his wife ordered a bureau for their grandson that required home assembly. It turned out to be massive, Meyers said.
"It was pretty straightforward, but if I'd had to do it at home, it probably would have been laid out on the living room floor or something and it would have taken several days and I would have lost parts and been really irritated and frustrated."
Instead, he took the bureau parts to the boat shop, spread them out in a corner and got to work. An hour-and-a-half later, the bureau was done.
"I have a work bench at home, but, of course, it's always full and it's cramped in the basement," he said. "It's really nice to have a big space to work, to not have to look for tools, and have somebody help you when you get into a jam."
Many folks who show up to open shop have projects in mind, but you don't have to have a project when you walk through the door, said Katie Meyers, the museum's marketing and communications manager and Bob Meyers' daughter. Spiridakis or shop volunteers will help you come up with a project. "It's a good opportunity for people who are interested in learning woodworking skills to just come in a try it," she said.
Open shop is a drop-in event, so no pre-registration is required. A flat fee of $20 gives you access to the shop and all its tools. Cost of materials, such as wood or nails, is extra. Before you can use any power tools, you'll have to sign a liability waiver, and safety training is required, even if you have experience using the tools.
IF YOU GO:
When: 5 p.m. to 7:30 p.m. Mondays
Where: The boat shop at Maine Maritime Museum is located next door to the Donnell House on the museum's campus. There's a small parking lot there or you can park in the museum's main lot at 243 Washington St. and walk up the hill to the boat shop.
How much: $20 flat fee plus cost of materials used
For more information: Call 443-1316 or go to www.mainemaritimemuseum.org/events/open-shop