By Tina Cohen
Cape Breton and its famed scenery and roadway—the Cabot Trail—caught our imagination and became a place we had to see. Not too far from Maine (especially by ferry), we could bring our Chocolate Lab and pull a small camper behind our truck. On arrival at the welcome center, a ginger-haired man in a kilt handed us a map and that seemed right: Nova Scotia means New Scotland.
But along with Celtic and Gaelic claims on the place, it is shared with Acadian French-speaking and First Nation Mi'kmaq. Added to the English word "welcome" are failte, bienvenue, and pijila'si.
Everywhere on Cape Breton, performances of live music are the gateway to experiencing the cultures and languages. And always, they are intended to be interactive, with audience participation. The gatherings may be called ceilidhs ("kay-lees"), kitchen parties, or square dances. Festivals are a great way to share the fun, especially from June to October. Cape Bretoners speak of a joy in their life and you can feel it in the music.
CIRCUMNAVIGATION
We began our circumnavigation on the western shore, where the Gulf of St. Lawrence laps the coast. Judique provides the perfect introduction with its Celtic Music Interpretive Center. Further up the coast, Mabou is home to the Red Shoe Pub, owned by the Rankin sisters, all talented Celtic musicians. They feature live music nightly. There's a Gaelic presence in the area, too. The Glenora Distillery makes whiskey and the pub features music twice daily.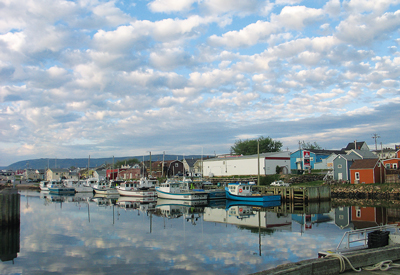 After the Cabot Trail kicks in halfway up the coast, the French-speaking fishing town of Cheticamp offers not only local seafood but lots of live Acadian music. We camped just above Cheticamp in the Cape Breton Highlands National Park, through which the Cabot Trail continues. The town is close enough to grab groceries or a meal, check out the colorful lobster boats tied up in the harbor, and enjoy night life with bands and dancing.
During the day, we explored various hiking trails. A must-do is the Skyline Hike offered at sunset with a guide; it requires a sign-up at the Cheticamp campground. The Skyline trail begins in forest and ends on exposed rock cliffs, climbed via stairs and decks looming above the water with a westward view—hence the reason to go at sunset. The guide provides information during the hike, as well as safe guidance back at dusk. You might well meet a moose here!
After Cheticamp and Pleasant Bay, the Cabot Trail climbs into wilderness as it heads across to the Atlantic side. This stretch of the road is simply spectacular—high above the water, the views breathtaking. By the time we reached Dingwall, we were both exhausted and exhilarated. Luckily for us, the only goal that evening was to meet Alex and Susan Dunphy at their Hideaway Campground and Oyster Market, and enjoy some bivalve mollusks.
We spoke of Maine as well as Cape Breton, as they'd visited Damariscotta for oyster growing advice. Our next stop was Ingonish Beach where we stayed at Broad Cove, another Parks Canada campground. Many of the area restaurants and hotels, like Keltic Lodge Resort, offer live Celtic and Acadian music regularly, and even if you're not staying there, coming for the music is welcomed. 
We next headed inland towards Bras D'Or Lake where we camped overlooking St. Ann's Bay. Kluskap Ridge Campground is owned and operated by two families, members of the First Nation community of Membertou. This campground is designed not just to allow proximity to a natural site considered sacred, but to encourage all who stay to learn more about the indigenous culture. Craft classes, nature walks, storytelling and singing, drum circles, a sweat lodge, and customized tipis are available. We were inspired to also visit the Membertou reserve in Sydney, and learn more at the Heritage Center about First Nation life and history.
Yet another kind of history we explored was in Baddeck, a town on the lake, which is a recognized UNESCO Biosphere Reserve. We toured the museum highlighting the inventions as well as personal life of one-time summer resident Alexander Graham Bell, who kept a second home there as it reminded him of Scotland.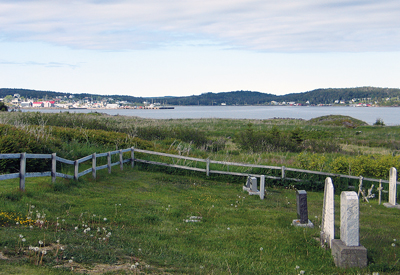 Among the hills outside Baddeck, a few notable establishments provide food and drink steeped in terroir. Chanterelle Inn not only features locally harvested mushrooms, but lobster, mussels, vegetables, and fruit, all imaginatively prepared. Down the road is Big Spruce Brewery, making organic and delicious beers with hops grown on site, and featuring the famed Farm-to-Fork food truck and live music in summer.
We didn't get seats at the Bite House, a highly touted spot with room for 12 at dinner, but the nine-course meal served in a rustic farmhouse sounds amazing. Also in this area is the Gaelic College of Celtic Arts & Crafts. Music lessons, Gaelic classes, and performances are offered here and open to the public.
It was hard to leave Cape Breton behind. As we folded up maps, we reflected: We may have started the trip thinking the dramatic, wild landscape was our destination—what beaches we walked, trails we hiked, vast expanses of water we looked out on, campgrounds we visited—but it ended up the best thing was being in a place where cultural diversity thrives.
Thanks to Mark Barber, of Destination Cape Breton Association, and Pam Wambaugh with Tourism Nova Scotia. They generously supplied answers, referrals, and suggestions. Those helpful websites are cbisland.com and novascotia.com.
Tina Cohen is a seasonal resident of Vinalhaven.