Since the early 20th century, the Maine Seacoast Mission's Sunbeam has called at the state's easterly islands, providing health care, food, spiritual counsel, and fellowship. More recently, the nonprofit has dropped anchor in Washington County.
In fact, 90% of the people the Mission serves are in Washington County, a region often described as one of the most impoverished in New England.
The Mission's EdGE Program has been active at seven elementary schools there over the last 21 years. And the nonprofit also hosts student and family activities in Cherryfield, along with operating a food pantry, and in the warmer months, tackling housing rehabilitation on about 15 homes each year.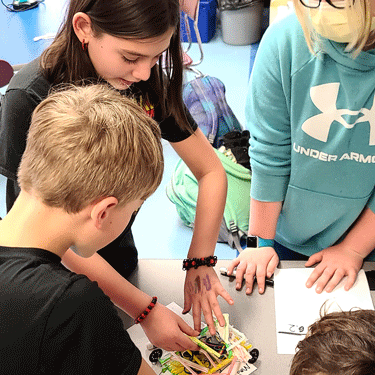 That Cherryfield location will now be home to an expanded campus, as the Mission kicks off a $1.8 million fundraising effort to:
• expand the food pantry and add a welcome center in one building
• add a commercial kitchen for community meals in another building
• add a pavilion to replace temporary outdoor shelters
• build three rustic retreat cabins, including one that would be equipped to serve as temporary emergency housing year-round
• improve an ice skating rink, ropes course, and 2.5 miles of trails
• improve pedestrian access.
John Zavodny, the Mission's president, explained at a March 16 event in Cherryfield that the goal is to make the 63-acre campus more flexible to better serve programs and improve conditions for staff. A master plan was created for the Weald Bethel Community Center, Downeast Engagement Center, and EdGE Center, the latter named for programming established by the late Ed Greaves.
The EdGE program, along with other endeavors, provides a broad reach in Washington County. The Mission offers in-school and after-school programs in Beals Elementary, Cherryfield Elementary, D.W. Merritt Elementary in Addison, Harrington Elementary, Jonesport Elementary, Milbridge Elementary, and Rose M. Gaffney Elementary in Machias. It also works in secondary schools and provides those students with post-secondary guidance, partnering with high schools in Hancock and Washington counties.
Isaac Marnik, who heads up the EdGE programming in the elementary schools, said students spend 30 minutes each week from October to May with Mission staff, working on leadership skills. After-school programs are voluntary, focusing on such subjects as arts, robotics, and digital photography. Goals aim for team building, positive communication, and leadership, he says.
Physical activities are also an important component of the programming.
The Mission pays to transport participating students home if they stay for the after-school programs.
Secondary students are offered tutoring, mentoring, and guidance toward post-high school education and training, as well as scholarships, says Dakin Hewlett, the Mission's secondary and post-secondary program director. For 11th and 12th grade students, staff provides guidance on building resumes, applications, college essays, financial aid, and job interview skills.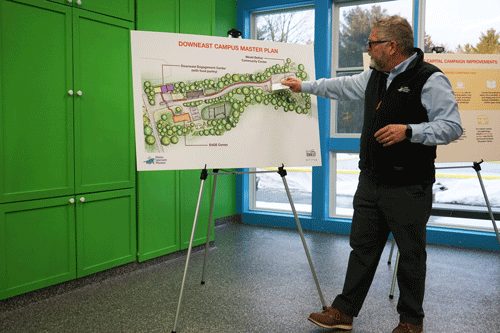 Programs are designed to be seamless, engaging students when they start school and continuing through early adulthood. The Mission also awards 25 college scholarships each year which can be renewed, so there may be 100 students drawing funds each year.
Mission staff point out that Washington County does not have a YMCA facility, so hosting children and family activities in Cherryfield provides those amenities. The Cherryfield campus also will host summer camp activities for area children.
"One of the things I've heard over and over again as we do our listening sessions," Zavodny said, "is 'support for our children to play.'" In addition to offering safe play indoors and outdoors in Cherryfield, the Mission will give $5,000 to each of the seven elementary schools it works with to improve playgrounds.
Beyond the education work, the Mission strives to fill the gaps in family life, with staffer Stephanie Moores working at finding food, gasoline, heating fuel, and other essentials to keep home functioning.
"We want to keep these kids fed and warm," she said. Moores also works with families on budgeting and working through social service networks.
All programs are free, though summer camps include a nominal fee.
EdGE programming is designed "to help students make informed choices about their futures and develop the resources and skills to be successful—and happy—in life," according to the Mission's website.
The Mission hopes to begin the work on the Cherryfield campus later this spring.