By Laurie Schreiber
More than three million visitors flock to Acadia National Park and Mount Desert Island each year. That leaves employers with an acute need for seasonal employees.
But where are those employees going to live? The island's thriving vacation rental market makes it all but impossible to find affordable summer rentals for seasonal employees.
In recent years, some businesses have tackled the problem by purchasing residential properties in and around Bar Harbor to house at least a portion of their employees, and even provide transportation when necessary.
But the town, park, and businesses are exploring new options. That includes a dormitory concept that's recently been under review by town officials and a proposed public/private partnership by Acadia National Park.
At Witham Family Hotels, David Witham owns nine lodgings in Bar Harbor and three in Ellsworth. 
The company also owns residential properties—duplexes, single-family homes, and a small apartment building in Bar Harbor—that house about 200 employees in total, or about a third of its workforce during peak season. 
But it's never enough. Witham said growing demand drives him to constantly look for additional residential properties. Work-visa regulations require him to provide housing for foreign employees. And many resident employees are unable to find affordable housing near their jobs; some commute as much as an hour. 
As a residential-property buyer, Witham finds himself competing with vacation-rental investors in a market with skyrocketing prices: Per bed costs that were roughly $20,000 a few years ago are now double the price, he estimated. Even when he offers top dollar for properties, sellers occasionally turn him down in favor of buyers looking for year-round homes.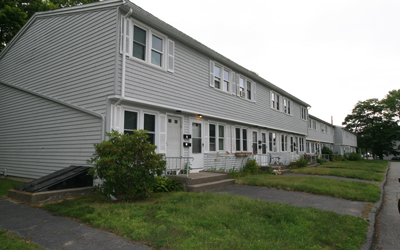 "We want to be good community stewards," he said. "They don't want us in their neighborhoods and, quite honestly, we don't belong there. I am very much sympathetic to this sentiment. So we need to get out of these neighborhood—but we need somewhere to go. To that end, we need help through zoning."
As a result, Witham several years ago approached Bar Harbor's planning board about crafting a zoning amendment that would allow construction of employee dormitories on hotel properties and other appropriate areas in town.
"The model is based on colleges, which also have seasonal housing needs," he explained. "The dormitory model made sense for this type of employee housing, because it's seasonal."
Dormitories would be a win-win that would restore housing stock to year-round use and provide employees with affordable options within walking distance of their jobs, Witham said. His goal, he added, is to place the company's residential properties back on the market as affordable family homes. To that end, he's been looking into a partnership with Island Housing Trust, a nonprofit working to advance permanent workforce housing, 
Witham envisions building small dormitories at his hotel sites or on land the company owns elsewhere in Bar Harbor. The proposed amendment included a provision that would allow additional construction at some hotel sites that already meet maximum lot coverage.
"If I identify three or four hotels where I can get eight or ten employee beds on site, that would be three or four houses that could go on the market," he said.
Although the dormitory amendment was rejected by the town council earlier this year, it had previously been endorsed by the planning board. Part of the problem, the council said, was the inclusion of the downtown residential zone among the zones where the new uses would be allowed. 
After the council vote, Witham said that particular zone's inclusion was an oversight.
"I am hoping the town is willing to form a committee of local townspeople, business owners, and planning staff to help formulate a plan that brings about a positive change that benefits many," he said. 
Ocean Properties, which owns four hotels in Bar Harbor, also supported the amendment, said the company's local operations director, Eben Salvatore. 
Ocean Properties sees similar pressure. With nearly 800 employees, it houses nearly half in properties it owns in and around Bar Harbor. That includes homes, an apartment complex, and a former downtown office building divided into units for 40 people. Earlier this year, Ocean Properties purchased the former Sonogee Rehabilitation & Living Center. While there are no firm plans for the property, employee housing is one idea in the mix, he said.
Acadia National Park is exploring public-private partnership to develop housing on park land. The housing would be shared with the park and possibly other seasonal employers. Park land at the edge of downtown Bar Harbor has been identified as a possible location. If the project moves forward, Acadia would be the first National Park Service unit to provide employee housing through a public-private partnership.
Ski resorts see similar pressures. Last winter, Sunday River took an innovative approach when it rented an entire lodge that provided beds for 115 of its 1,500 winter employees.