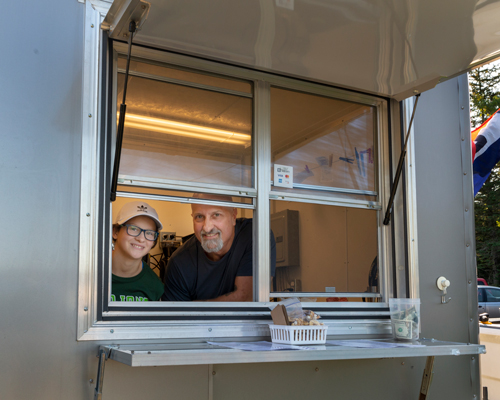 By Jennifer Helman//Photos by Dale Joyce
Living on an island requires resilience, patience, creativity, and an entrepreneurial spirit. But some islanders take that to a whole new level.
Gary Rainford, owner of Coffee Love, explains the mindset perfectly: "When you live in a place like this and there is something you need that doesn't exist, you learn to create it yourself." And that's exactly what he and his daughter, Meri, did.
Sustaining a business in a place with fewer than 400 year-round residents is a bit Quixotic. But with the summer-time boom of visitors, it can be a great seasonal option. The Rainfords saw a need and did something about it. 
At the age of 8, Meri's desire to start earning her own money and her dad's love of coffee came together to create Ferry Fare. Rainford built a small counter that resembled an old-fashioned lemonade stand, put it near the ferry line, and sold coffee, tea, and homemade baked goods to passengers waiting their turn on the boat.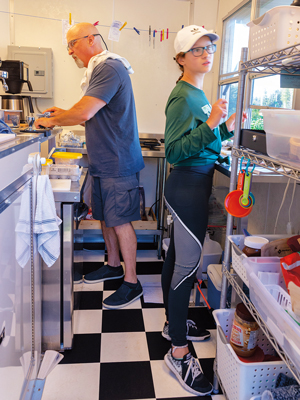 In 2018, with Meri committed to her new business, they incorporated and purchased a small food trailer. It took longer than expected to retrofit the truck and get all the licensing in place, but they opened the new business under the name Coffee Love in June.
Rainford considers their first year under the new moniker a success. They served gallons of hand-roasted Guatemalan coffee, dozens of egg sandwiches and baked goods, and their Chai latte was a fan favorite. They don't plan to make any major changes to the menu for 2020, but may add some smoothies and will be packaging beans and ground coffee for sale.
Although she's only in seventh grade, Meri has been intricately involved in the entire process. Between working directly with a designer on their new logo, obtaining a home kitchen license, totaling daily receipts, and working the food truck, she feels she and her dad pretty evenly manage the business.
For safety reasons, she doesn't work the grill or the espresso machine, but should be able to step into those roles in the next couple years. She hopes to hire a friend to work the window, allowing Dad to step back.
When asked what advice she might give to other people considering starting their own business, the 12-year-old summed it up simply with, "Be ready for hard work."
In an unrelated industry, Jason Joyce recently branched out as a charter boat and water taxi captain. Joyce comes from a long line of fishermen and currently operates a successful lobster boat. Three years ago, he started an oyster farm with his cousin and he is the only licensed arborist on the island.
"My mom said her father used to operate his own taxi and tour guide service. I'd like to think I get some inspiration from him and my dad," Joyce said.
Swan's Island Charters provides tours, and passengers can choose to go whale, seal, and puffin watching; see area lighthouses; enjoy a guided tour on the way to restaurants on neighboring islands or the mainland; or completely customize an experience.
The business offers intimacy, with a maximum of six riders. The other distinction is in the boat itself.  The former U.S. Coast Guard boat Defender can cruise at about 36 knots, more than twice the speed of a typical lobster boat.  The design allows it to get much closer to shore, and it can run at night, relying on a thermal camera and special lighting.
While the undertaking has been fun and profitable for Joyce, the driving force in purchasing the boat was to help others, and he remembers the day he made up his mind.
Joyce received a call from the sheriff about a boat in distress near Marshall Island. With the nearest coast guard boats in Southwest Harbor and Stonington, 20 miles in either direction, Joyce and a couple fisherman jumped in a lobster boat to see if they could help. They arrived too late to save the captain, but the scene left Joyce shaken and committed to finding a way to aid their neighbors.
He recounts several stories where he got calls of boats adrift, campers stranded on a nearby island caught in an impending storm, and other distress calls. He also taxis high school kids back home from Mount Desert Island after sporting events. Emera and the Department of Transportation have contracted with him to provide emergency transportation when they can't get trucks across on the ferry.