Reflections is a monthly column written by Island Fellows, recent college grads who do community service work on Maine islands and in remote coastal communities through the Island Institute, publisher of The Working Waterfront.
I've been taking lots of walks. Without a vehicle, this is inevitable, but it's also been a way to get to know this island.
I got to Vinalhaven in December. It felt big to me then and still does in many ways. It was exciting to have so much new land to explore, and with a mild winter, I took to the woods and the shore, trying to put myself in the context of this place.
The early winter days were punctuated with afternoon walks to Lane's Island. I enjoyed the exercise, scenery and poetry that arose from them. I would often see one resident day after day and if not, I would see her cleated tracks in the snow. It was nice to feel connected to someone, even if it was only by following their footprints.
I think of where others have been, how some of their tracks have been covering this rock for generations, some a few years, and mine just a few months.
I grew up on Great Cranberry Island and went back out for a visit recently. There was a comfort in revisiting the landscape of my childhood and walking through the woods, which at one point had felt huge and still exist in my memory as such. It was nostalgic.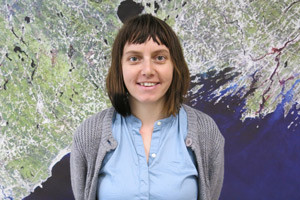 Without that deep knowledge of the island and the community of Vinalhaven, I've felt, in some ways, unqualified to interject myself into the community within the role of the fellowship. My work has been a lot of listening and learning.
Sometimes I wish that my work looked like that of a mechanic, or a builder. That there was something tangible at the end of the day that would measure the results of time spent—the car starts; there's now a wall. My work as a fellow infrequently looks like this and it is something that I've been craving.
I started going to knitting circle early on in my time on the island. I expected to feel intimidated and was surprised when I didn't. The group was very welcoming, especially considering I didn't really know how to knit. Week after week, their patience with me was heartwarming. It was nice to have something to do with my hands, something that showed productivity in an obvious way and feel part of a group of talented women.
For the first couple of months, I would inevitably leave Monday night knitting circle and by Wednesday be stuck on my project, having messed up and unable to fix it. I would wait until Monday, when within 15 seconds one of the ladies would show me what I'd done wrong and correct it. Finally, luckily, things clicked during the big blizzard. I would mess up, be able to fix it on my own and keep going. I knit up a storm that storm. I felt accomplished, I had made something. Something that hopefully wouldn't unravel immediately.
For me, two years doesn't feel like much time to gain context in a new community, let alone build something that won't unravel after the fellowship is over. But I go forward, listening, learning and gaining perspective from those who have a deeper knowledge.
I continue to explore, to get to know this rock we live on. Even just months later, I go back to these places and have more context, more knowledge, more connection. I'm building context for this place and my role in it; discovering my own story within this new island and I'm sure creating what will someday become nostalgia.
Hillary Savage works with the Vinalhaven School and Partners in Island Education on school programs, adult learning and parent support programs. She is a graduate of the University of Maine, Machias with a degree in interdisciplinary fine arts and creative writing.