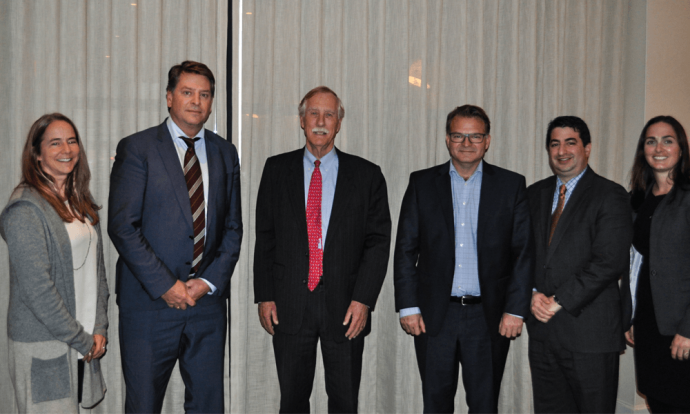 A Norway-based company is planning to build the world's largest land-based Atlantic salmon-raising operation in Belfast, the firm's CEO and founder said Tuesday, Jan. 30.
Erik Heim of Nordic Aquafarms spoke at the University of Maine's Hutchinson Center in Belfast, flanked by Gov. Paul LePage, local legislators, and city officials, explaining that an initial investment of $150 million is planned. A full build-out would represent an investment of more than $400 million and as much as $500 million.
The first phase will bring 60 jobs to Belfast, and later, a total of 120 to 140, Heim said. Nordic Aquafarms will recruit internationally, nationally, and locally, he said. The company was established in 2014, according to its website, and currently operates in Norway and Denmark. In Denmark, it built what is now the largest fish tank in the world, Heim said, holding 1.3 million gallons.
This year, the company plans to study the 40-acre site it is purchasing off Route 1 south of the town center and pursue the necessary permits.
"If everything goes well, we are in construction in 2019," he said.
Heim said peak production would top out at 66 million pounds annually. The market is viable, he explained, because the U.S. currently imports most of its seafood. By raising salmon here, shipping costs are cut and a fresher product can be delivered to domestic customers.
And demand will grow, he added.
"The world has to double its seafood production in the next 30-40 years," Heim said.
The plans call for multiple tanks to be constructed, the largest one holding 2 million gallons.
Though the company had searched along the coast for six months, Belfast was chosen because of its access to clean freshwater and seawater, and its community assets. The parcel of land it is purchasing was owned by the Belfast Water District, and is adjacent to the Little River Reservoir, which is no longer used for the city's water supply.
"Believe me, we've been looking all over the place. It wasn't easy to find what was needed," Heim said.
Sea-based salmon farming was begun in Maine in the 1980s, but was plagued by concerns about fish excrement and excess feed pollution, and about fish escaping and mating with and contaminating the native Atlantic salmon population.
"Everything we produce is produced inside the building," Heim said, so fish cannot escape. The company treats and recycles all its waste.
"We use no chemicals nor medications because we do not have sea lice or parasites," he explained. "They do not get into the facility."
The plans call for using renewable energy at the plant.
"We are trying to create a showcase here in Maine about the future of seafood farming," Heim said.
Speaking at the announcement event, Gov. Paul LePage said the proposal "fits right in" with the state's "fishing, farming, and forestry" traditions. "I'm sure the folks in the city of Belfast are as ecstatic as we are at the state to have you here," he said to Heim.
LePage referred to Maine's burgeoning relationships with northern Europe, especially through Eimskip, the Icelandic company that operates the port facility in Portland.
Helping Nordic Aquafarms with the logistics of coming to Belfast were Maine & Co., Ransom Consulting, the state's congressional delegation, and the city's economic development and planning staff.
Peter Delgreco of Maine & Co. described Heim as "an incredible businessman and corporate and civic citizen" who would enhance the Belfast community.