In August 2016, something unexpected washed up on a private beach in Wooster Cove on North Haven island—a whale carcass.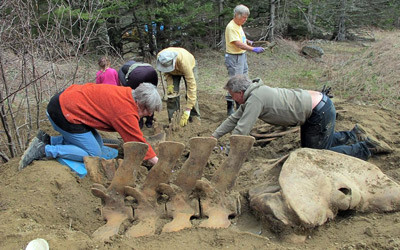 PHOTO: JOE STONE
Just what caused the minke whale, a young adult female, to die at sea will forever be a mystery. But thanks to a dedicated group of teachers, students, and community members, its skeleton will provide an opportunity for hands-on, cross-curricular learning for years to come.
The rearticulation of the skeleton will be completed by North Haven Community School's high school science elective class, taught by Lisa White. This will be North Haven Community School's fourth marine mammal skeleton re-articulation since 2005. Under former diversified trades teacher Terry Goodhue's guidance, students cleaned and assembled the skeletons of a white-beaked dolphin, harbor porpoise, pilot whale, and harp seal, creating museum-quality displays. Three remain in the school, while one is viewable in Rockland.
Goodhue said the educational value of these projects has been substantial.
"There's the physical contact with the bones that support these big mammals that are always in the news these days," he said. "It gave time for kids to come up with questions about who is this animal, where does it live, questions about diet, behavior, habitat, populations, things like that. They really have time to wonder about that, and they start to get familiar with it a little bit."
After the whale carcass washed ashore, the town quickly notified Allied Whale, College of the Atlantic's marine mammal lab, which worked in concert with community member Chris Koerber to conduct a necrospy and begin removing the flesh from the corpse, all with an eye to retaining the bones for the school to use in a fifth re-articulation.
"I sort of became the island point person for the project," Koerber said. His life-long enthusiasm for marine biology, and a previous seal necropsy he conducted with students and support from Allied Whale, guided his involvement.
Allied Whale's Rosemary Seton and a team of volunteers studied the animal and recorded observations such as the level of decay, a bullet wound in a rib, and some missing bones from the tip of a flipper, though the level of decomposition was too high for a cause of death to be determined.
Then the dirty work began.
"We got a little less than half the flesh off the whale," said Koerber. But the Allied Whale crew had to leave the next day, and for lack of help in the busiest season on island, Koerber tackled the rest of the whale flesh himself a few weeks later.
"I have a very hard stomach but there's something about decaying marine mammal that has a unique, powerful sour odor and that combined with the greasiness and the amount of liquid and the fact that it's a whale… I really ended up having to crawl into the pile, into the animal, and what I did basically is debone it," Koerber said.
The bones, once freed, were transported by four-wheeler, with help from road crew member Aaron Cabot, to a pile of dirt-contaminated sand in the state sand pit, where they were buried in hopes the remaining soft tissue on the bones would decompose.
MAPPING BONES
"We'd gotten the idea to put down a tarp so we don't lose any of the bones," Koerber said. "I organized the bones so they could be mapped and dug up some day."
That organization paid off 20 months later, when on April 27, students from pre-K through eleventh grade, teachers, and community members gathered at the pit to exhume the bones for cleaning and re-articulation.
High school science teacher Lisa White, whose science elective students have been preparing for the re-articulation since this fall, led the charge, with Koerber and Goodhue present to lend their expertise. Digging through the soft sand, middle school students were the first to find the dome of the whale's skull, placed as a landmark with groups of ribs, phalanges, and other small bones nestled alongside for protection. Excitement grew as vertebrae and mandibles were exposed, and hands and clamshells replaced shovels and trowels for more delicate digging. The oily reek was present, but muted.
The bones were trucked to the school and power washed and now are arranged in the North Haven Community School's garden in a rough approximation of their anatomical positions. The students' next task is experimenting with chemical applications to gently clean the bones. They will then be drilled and assembled along metal armatures. White said she anticipates the work will continue into the winter.
"I'm very grateful I signed up for the class, it's been wonderful," said junior Josiah Hansen, who plans to continue his work with the whale in his senior year. In addition to the obvious marine biology, chemistry, and anatomy and physiology connections, the project has given students the opportunity to write grant applications and even build their fine art portfolios with sketches of the skeleton.
White said a steering committee of community members is assisting with fundraising efforts, in case the grant applications students submitted don't yield the funds needed to construct a display case for the whale. A community survey indicated most respondents hope to see the whale on display outdoors at the school, which will require a UV-proof case and sturdy timber frame.
School board and steering committee member Kenny Corson has offered to mill wood for the display case.
"This project falls perfectly in line with NHCS's hands on approach to learning across all grades and multiple subjects," Corson said. "It is projects like this that excite and invigorate the student body as well as the community about what we can accomplish when we work together."
Courtney Naliboff teaches at the North Haven Community School.