Ben Lovell didn't plan to return to North Haven and open a brewery after graduating from Bowdoin College, but after spending time in New York, he returned to his island home to work as a stern man on a lobster boat.
"It was the off season and we had nothing left to do. We brewed the most god-awful home brew, but we loved it and drank every drop," he remembers. Practice made perfect, and after a particularly good batch, Lovell's sister Liz had a revelation.
"We had just had a home brew batch that had come out really nice and she was like, you know, 'We should totally start a brewery,'" Liz said.
To see whether commercial brewing was in his blood, Ben took a job at Sebago Brewing Company in Portland. He worked his way up from the bottling line to assistant brewer and truck driver, and decided that he had indeed caught the brewing bug.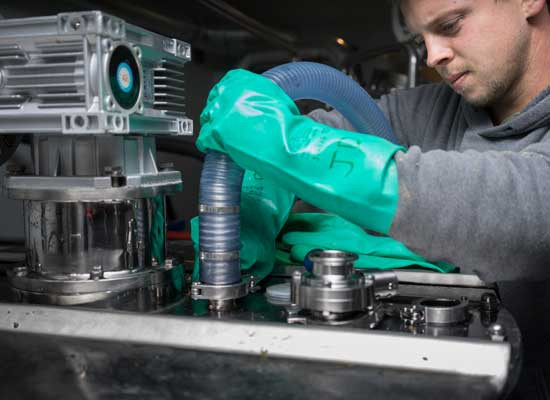 WILLIAM TREVASKIS
With his best friend and "taproom Czar" Jesse Davisson, captain of the F/V Windfall, and his sister, Lovell started the North Haven Brewing Company, a microbrewery and taproom, which began brewing test batches in early November ahead of a full opening in the summer of 2017.
The team began working on a business plan two winters ago, figuring out the feasibility of opening a brewery on an island. They consulted with Monhegan Brewing Company, Maine's first island brewery.
"They were so helpful to us in writing the business plan," explained Liz, the self-described resident micromanager. The Monhegan business fielded questions from the North Haven group.
When Ben and his partners learned of a space opening underneath Calderwood Hall, the former home of businesses from a breakfast restaurant to a gift shop, the North Haven Brewing Company came one step closer to reality. The brewers worked closely with Calderwood Hall owner Cecily Pingree and her father Charlie Pingree to renovate the space in line with the brewery's needs.
A glass half-partition separates the brewery, filled with gleaming silver vats, from the taproom, a cozy space with black wooden chairs and small tables. A ledge table, custom made by Davisson's brother, lines one wall. The brewery juts into the hill on Smith Street, evoking a modernized hobbit house.
Once the space was finished, the waiting game began, Liz explained.
"The process you go through is you have to apply for your federal permit first, the brewer's notice, and then the state Department of Agriculture and then the liquor license. It took us a lot longer than we expected," she said.
North Haven Brewing Company was originally scheduled to open in the summer of 2016, but Ben—credited on the brewery's website as "mastermind"—said the delay allows friends and family in the year-round community to be the first to taste the brewery's offerings. A pale ale, brown ale and IPA will be in regular rotation, with plans for a rotating seasonal offering featuring North Haven ingredients.
The brews will be available at North Haven and Vinalhaven restaurants, and select mainland locations, but no wide distribution is planned. Soon, Maine's second island brewery and taproom will have customers lining up at the custom wooden taps to fill their growlers with a real taste of North Haven.