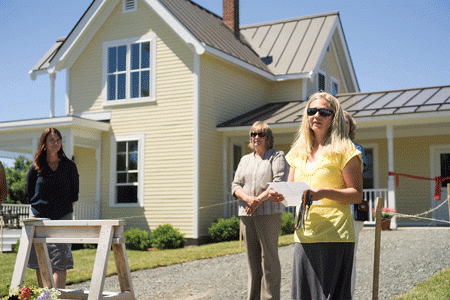 WILLIAM TREVASKIS
Thanks to over 400 donors, $3.4 million has been raised for the construction and endowment of Southern Harbor House, North Haven island's eldercare facility.
Hannah Pingree managed a joint campaign for North Haven Sustainable Housing and Southern Harbor Eldercare Services (SHES), called Caring for our Elders. North Haven Sustainable Housing acted as fiscal agent for the project, and recently transferred ownership of the property to Southern Harbor Eldercare Services.
"The majority was for building the building," Pingree said. "It also funded construction of the apartment on site for staff, and funds a small 'seed' of an endowment for SHES."
Pingree said $200,000 of the capital raised will begin an endowment to fund operations of the eldercare facility and provide financial support for low income residents. Southern Harbor House will not consider ability to pay as a factor in residency applications.
"We're focused on serving the community of North Haven, certainly," said Southern Harbor House administrator Lindsey Beverage. "The process is that certain people could be private pay, certain residents would be Medicaid eligible. The reimbursement from Medicaid does not cover the expense of the daily rate, and SHES is committed to annual fundraising to cover whatever that shortfall may be."
Pingree said a local non-profit, which wished to remain unnamed, has given a $25,000 annual grant for the first five years of operation to assist with funding.
"SHES will keep working to increase endowment over time to reduce ongoing fundraising. Most small rural nursing homes have the same issue; the state doesn't pay enough to take care of people the way they should be," Pingree said.
In addition to allowing older residents to remain on island, Southern Harbor House has added jobs to North Haven's economy.
"We are currently in the process of expanding our team, and we will have probably five employees when we open, and as our census grows, we'll expand that to include probably one or two more part time positions, including per diem positions to cover overnight staffing," Beverage said. 
Southern Harbor House consists of additions and renovations to an existing structure, donated in 2015 by summer resident Mary White. The building is in the punch list stage of construction, and will soon be ready for its first residents to move in.
At a ribbon-cutting event on July 7, Southern Harbor Eldercare Services board president Kathi Lovell attributed the project's success to the community's belief in a safe place for aging on island.
She said she looks forward to the community's continued involvement in the facility as visitors or volunteers.
"We already have the school," she said. "Laura (Venger's third and fourth grade) class is going to set up one of their weather stations here, so the kids will come down."
Administrator Beverage echoed that goal.
"We're looking to totally engage with the community, so whether we're hosting events here or taking residents to events that are happening within the community, we're looking forward to becoming part of that greater circle and having a lot of exciting, engaging things that are happening here where people want to come here," she said.
In her remarks at the ribbon-cutting, Pingree thanked volunteers who have done everything from laying sod to digging post holes.
"We'll need volunteers and support forever," she said.