"We've finally slowed down a bit," laughed Dana Durst, two months after giving up a 12-year career as an instructor in psychology and education at the University of Pittsburgh. But that slowing down has her diving into changing linens, cleaning rooms and managing guest books as part of her new profession as inn proprietor.
Durst and her husband, Jay Brown—a photojournalist who is trading subjects such as pre-fame Kurt Cobain and the Black Keys for lobster boats and the scenic splendor of coastal Maine—bought the historic Inn on the Harbor in Stonington from long-time proprietor Christina Shipps, herself a transplant from New York City and Tokyo after a career in the top echelon of an international fine jewelry manufacturing company.
Durst and Brown's arrival resulted from a three-year search.
"Pittsburgh is a wonderful city, but neither of us felt like we were thriving," said Durst. "And we were looking to do something together. I had always had this idea to have a bed-and-breakfast."
After research and a training session for folks interested in owning B&Bs, they identified a Portland broker who showed them places around upstate New York and coastal Maine. By "coastal Maine," they were thinking, of more on-the-beaten-track places, like Camden.
"Our broker said, 'You should look at this place in Stonington,'" recalled Brown. "We looked at the map and said, 'It's an island sitting out in the ocean. Who's going there?' So we didn't look that first time. We looked at upstate New York, didn't find anything, started looking at Maine again. Our broker said, 'I really want you to look at the Inn on the Harbor.'"
This time, Brown studied the numbers and found the inn made good money.
"We still couldn't figure out why," he said. But to please their broker, they agreed to visit. "We got there, and said, 'Oh, yeah. Now we understand.'"
What the couple found was a charming fishing village miles down the Blue Hill peninsula on Deer Isle and a Main Street of small historic buildings.
Four of those little buildings comprise the inn. According to whatwasthere.com, the buildings were Fred E. Webb's shoe store, the Central Grocery Store, the post office and Charles W. Brimigion's barber shop. Shipps said she's heard the shoe store was barged to its location.
The inn evolved, said Shipps, as the first owner, calling it The Captain's Quarters, acquired the buildings one by one.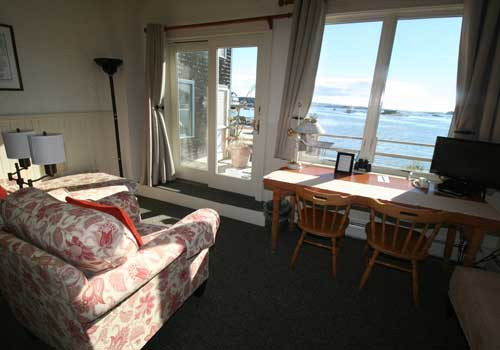 LAURIE SCHREIBER
Shipps stayed at The Captain's Quarters when she visited her aunt and uncle—Evelyn Kok, an artist, and Jan Kok, a professor. Eventually, Shipps bought the inn and a house and relocated. The inn was in considerable disrepair. She changed its name and began renovations.
"It needed new electric, plumbing, furniture, deck, everything," Shipps said. The project was a success and she started other businesses, then decided it was time to sell the inn.
"The inn was a fine-tuned machine," she said. "The staff was wonderful and knew what to do, and we had a tremendous amount of repeat guests who were extended family. So it didn't need me anymore."
The fine-tune was perfect for Durst and Brown.
"The inn is in great shape. It just needs some maintenance and upgrades," said Durst, as she gave a tour that starts in the narrow lobby and dining area, formerly the post office and now equipped with antique counters, desk and hutch. Wide-plank flooring, worn by decades of footsteps, leads from the street through to a large back deck supported by pilings and surrounded by the sparkling sea, lobster boats plying the water in the distance, the air redolent with the salty tang of rockweed.
The back deck is a communal place of wooden staircases, small upper-story decks, and silvery cedar shingling. Nine oceanside rooms on two stories have double-doors or picture windows; inside, overstuffed couches, chairs, and desks face the harbor, beckoning guests to hours of gazing. Four village-side rooms overlook Main Street.
Shipps finished the rooms with half-height blond paneling and paint. Fireplaces in several rooms are refaced with brick and marble. Furnishings include antiques such as bedsteads, end tables, rugs, and trunks. The former barbershop still has the original tin ceiling and walls, built-in shelving and a tiny closet, all speaking of yesteryear, and a private deck. Each room is named after windjammers, such as Stephen Taber and Mary Day, which sail through the Deer Island Thoroughfare.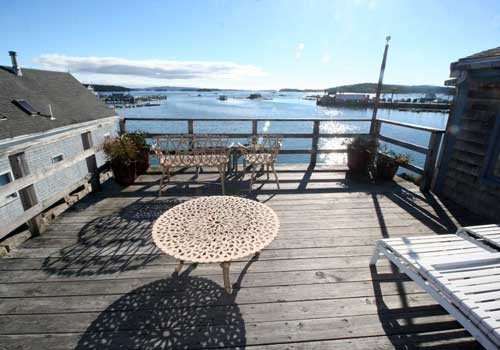 LAURIE SCHREIBER
Upgrades will include new pilings on the main deck (view the inn's Facebook page to watch progress). Durst and Brown enjoy cooking, and plan at some point to upgrade the kitchen. In the meantime, they expect to expand the menu to include tapas, and to get a liquor license.
Operating year-round, the inn draws guests in the winter for various reasons. A writer from Washington, D.C., enjoys relaxing here. There are business travelers, and city people who bring suitcases full of books. Everyone from local tourists to world travelers arrive during the high season. All year long, the area is popular with artists and photographers.
"Since we've been here, we've had two or three photographers a day who use the inn as a base to take pictures of the coast," said Brown.
In Pittsburgh, Brown and Durst had a house on a quarter-acre lot, and a big garden.
"We kept thinking we were looking for a big, traditional, Victorian house and a yard where we could grow herbs to make breakfast," said Durst. "So it's almost like we got everything we thought we didn't want when we got here—a lot more rooms, no land to garden. But it's everything we want, and more."
For more information, see: innontheharbor.com.