For years, Stephanie Pemberton and her husband discussed leaving Indiana, but weren't sure where to go. That changed when Pemberton, a psychiatric nurse practitioner, accepted a three-month assignment at a Midcoast medical facility.
"My husband and kids visited on Thanksgiving and we made the abrupt decision right then and there," says Pemberton. "The kids just got here on New Year's Eve."
Today the Pembertons are happily settling into life in South Thomaston where the children, ages 8 and 13, have started school. As a family, the Pembertons love camping, hiking, and fishing, and look forward to learning how to ski. They're enjoying the Maine lifestyle, and Maine's people, too.
"When you speak to new Mainers, they say they wanted a different life, and Maine and the people have made it happen."
"I feel like the people are just much more friendly and laid back here," says Pemberton. "The lifestyle is more balanced."
The Pembertons didn't leave Indiana because of the pandemic, but their family and others like them are part of what the Wall Street Journal calls "The Great Pandemic Migration," and it could be the answer to reversing Maine's entrenched population problems—more deaths than births, and not enough immigrants, particularly young ones.
By a fluke of timing, the 2020 decennial census could not capture the full migration picture, but another data point released this month, the U-Haul Growth Index, shows a surge of one-way trucks driving Downeast last year, making Maine the eighth highest growth state in 2021. A similar report from United Vanlines, also released this month, shows Maine with positive growth, and almost 20 percent of inbound people younger than 44 years of age.
In her work with the nonprofit Live + Work in Maine, engagement director Katie Shorey sees the inbound migration firsthand. Shorey last year organized a string of meet and greet events for new residents, and spotted a shift in the demographics. By a show of hands, she asked, who is coming back to Maine, and who is a brand new Mainer?
"It was fascinating to see there were more new Mainers than boomerangs," says Shorey, who defines a boomerang as someone with a previous connection, such as summer camp or family, that draws them back to Maine.
New Mainers, like the Pembertons, are moving here for other reasons.
"They want simplicity, they want to take advantage of the outdoors," says Shorey. "When you speak to new Mainers, they say they wanted a different life, and Maine and the people have made it happen."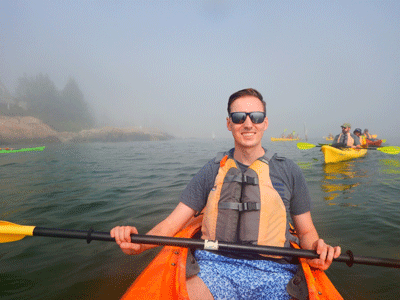 Griffin LeClair attended one of the meet and greets, having found his way back to Maine in 2019. LeClair's parents are both Maine natives, but he was raised all over the country when his father served in the Army. After serving six years in the Army himself, LeClair moved with his wife, a Maine native, back to the Midcoast.
LeClair, who works as a project manager, and his wife, a teacher, could live and work anywhere they want. But he doesn't anticipate leaving Maine for a host of reasons, not least of all because they now share their home and yard with two dogs, two cats, ducks, guinea fowl, and 15 chickens.
"I've lived in big cities, I've lived near cities, and I've traveled," says LeClair. "It's nice to not have the traffic and not have the hustle and bustle."
Pemberton doesn't miss the hustle and bustle, either, and has found Maine's lack of big box stores to be a positive, not a negative.
"It's refreshing that there are very few chains here. If I need something, it's nice to be able to support a small business owner," says Pemberton. "I feel like it simplifies life. We really enjoy that aspect of things."
New Mainer Melissa Razdrih says she finds no significant downsides to living in Maine. Together with her husband, parents, and seven-year-old daughter, Razdrih last summer moved from Tampa, Florida, to Machiasport, where the family found a seaside duplex and now live side by side in the rural Downeast fishing community.
For Razdrih, the minor inconveniences of living 60 miles from the nearest city are far outweighed by other perks she and her family have found living in Maine.
"We have not regretted moving at all," says Razdrih, who, when pressed, will say she sometimes dreams of easier access to Mexican food.
"The other day I was debating driving an hour in the snow for Taco Bell," she says, laughing. "I liked being in a place where you can find diverse foods.
But here, I love seeing how Native culture is mixed into everything, too. What we've lost in contact with some cultures, we've gained in other ways."
Living Downeast, Razdrih says she has gained a connection to her community, the kind of connection that is hard to find in a big city.
"I feel like I meet more people here," she says, recalling a recent town meeting, where the mood was warm and conversational. "I love the transparency, the accountability, the people knowing people. You don't have that in big, crowded places."
Speaking from experience, Shorey says building connections in their new hometowns is the best way to help new Mainers become lifelong Mainers.
"Retention is equally as important as attraction; we need people to stay," says Shorey. "And we want to help people find their community because that's what helps people to stay."