By Laurie Schreiber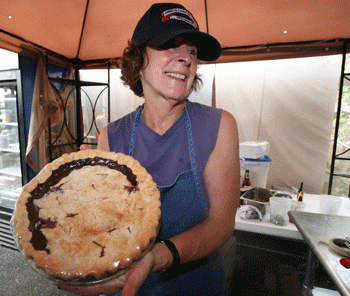 LAURIE SCHREIBER
On a sunny June noon at a food truck called Ted's Take-Out, Shae Stanley was taking an order for a chicken wrap from a frequent customer while her husband, Ted Stanley Jr., prepared the grill for a lunch rush.
Overlooking the marina at Northeast Harbor, the truck was the perfect second act for the couple, who retired two years ago from more than 40 years running Abel's Lobster Pound a few miles away, at the head of Somes Sound.
"We loved every second of it," said Shae. 
Under the Stanleys, Abel's was a family affair. Established in 1939 by Henry R. Abel, the restaurant was next run by David Beal. In the 1940s, Ted Jr.'s father, Ted Stanley Sr., worked there as a youngster. Stanley Sr. grew up to run the business, bringing in his son along with numerous cousins and other family members to take care of day-to-day details like cooking lobsters and baking pies. 
"But it got to the point where he thought to do something, just him and me," Shae Stanley continued. "We're just older."
When the Stanleys retired from Abel's, the restaurant sat closed in 2017. Now it's hopping again. And it's still a family affair—but a different family.  
The restaurant and the adjacent Henry R. Abel & Company Yacht Yard are owned by William Stewart, the owner of a summer home on Somes Sound. Stewart reached out to Glenn Squires—a real estate agent who is also director of the Mount Desert Island Community Sailing Center—to see if he could find someone to get the restaurant up and running again. Squires thought he had a prospect, but it fell through.
But Squires and his wife, Kelsea Carr-Squires—a nurse employed by Conners Emerson School, in Bar Harbor, for the past five years—were interested.
"We said, 'Is this something we want to do?'" said Carr-Squires, who explained she's long wanted to have an enterprise that could involve her whole family.
They recruited her mother, Carmen Sanford, and a friend of the family, Dakota Hatton. Sanford retired last year as practice manager with the Women's Health Center in Bar Harbor. But she and Hatton have also long cooked for August Moon Catering, also in Bar Harbor. Hatton is a chef who grew up in the profession, thanks to his father, who ran two restaurants in Rockland.
"I'd heard lovely, great stories about Dakota," Carr-Squires said, then laughed. "And I think my mom thinks of him as another child. And now he could easily be like a brother."
Abel's features rustic stonework, cedar shingles inside and out, wood ceilings, huge picture windows overlooking the water and, down a grassy slope, a separate lobster shack with outdoor picnic tables. But after a year empty, the place needed some spiffing up. Business planning and rehab began over the winter; everyone's been flat out since April—painting, landscaping, new fencing, sanding and refinishing the floors and furnishings, redoing the lobster cooker masonry, hanging new décor, installing a new dishwasher, reflowing the layout. The opening was held mid-June and made for a busy weekend.
Carr-Squires and Hatton have been on-site pretty much all the time. Sanford arrives early morning to bake pies and stays on to help where needed, and Squires arrives evenings, after the sailing center closes, to pitch in. Their daughters Izzy, 16, and Scarlett, 11, help with hostessing and bussing. Carr-Squires' brother, Blay Carr, pinch-hits with dishwashing.
"So it's a real family entity. I love that feeling. I love it that we're all in it together and that we really care about it," said Carr-Squires, who also wanted to let the world know how much she loves her non-family crew, too.
The restaurant itself is a tradition for many area families, going back generations.
"We've had, so far, three or four birthdays," said Carr-Squires. "One man was turning 92. He had been coming here forever. They remember it as a kid, then they bring their children and now their grandchildren."
Located right above Somes Sound, the restaurant gets some of its customers coming in by boat; they tie up at docks and moorings made available by the yard. 
"They come here for dinner, then go back to their boats," she said. "And we get a lot of to-go orders from boaters."
The plan is to be open seven days a week for lunch and dinner, through October. 
"We feel like people really wanted it to be open, and we're doing that," she said.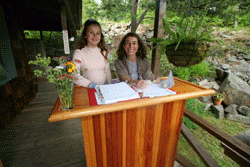 LAURIE SCHREIBER