The Otter has replaced the Mink.
No, it's not spy code language, but rather the big news on the Stonington and Isle au Haut waterfronts.
The nonprofit Isle au Haut Boat Services put the new Otter into service in August, replacing the long-serving Mink, which will remain as the winter and back-up boat.
George Cole, who runs the boat that links Isle au Haut with the mainland, said the decision to purchase a new boat came after thinking about the future of Miss Lizzie, another boat in the fleet.
"Miss Lizzie's a wooden boat built in 1967," Cole said. "It's a big expense to keep sound."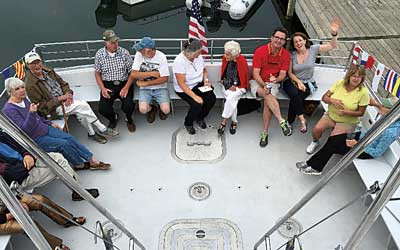 COURTESY FANNIE ALLEN
Hoping to keep the boat running for another ten years, a marine survey was conducted and he asked three boat yards to estimate the cost of the necessary upgrades. Costs ranged from $150,000 to $250,000, "over and above normal maintenance."
Miss Lizzie was sold to Steve Pagels, who operates a schooner and other vessels in the Mount Desert Island area, to serve as the Winter Harbor to Bar Harbor passenger ferry.
The mailboats are worked hard, carrying passengers and freight to the island, since the Maine State Ferry Service does not serve Isle au Haut. The Mink makes four round-trip voyages a day through much of the year.
"Normally in the summer we run five times a day, round-trip," Cole said, plus harbor tours and sight-seeing trips.
One-way trips for the service, which is how they are documented for the Coast Guard, are estimated at 1,800 per year.
The decision was made to purchase a new boat, and Wesmac Custom Boats of Surry, owned and operated by Steve Wessel and his wife, former Isle au Haut resident Linda Greenlaw Wessel, was tapped for the job. The Otter is a Wesmac Super 46, powered by a 803-horsepower Caterpillar engine.
Cole wouldn't disclose the exact cost of the new boat, but said it was "close to seven figures."
The boat service became a nonprofit in 2002 through Cole's efforts. Previously, it had been run as a for-profit business by an island resident.
"We've been planning this for four-and-a-half years," he said of the boat purchase. The Island Ad-Vantages newspaper reported that financing included help from Friends of Acadia, Maine Coast Heritage Trust, the state Department of Transportation, and, according to Cole, "40 friends."
A celebration of the new boat was hosted on the island. The Rev. Ted Hoskins blessed Otter, and demonstration rides were given.
"I think it was fantastic," Cole said of the celebration. 