Stories Our Grandmothers Told Us
Edited by Wayne Newell and Robert M. Leavitt
Resolute Bear Press
Review by Carl Little
In his introduction to Kuhkomossonuk Akonutomuwinokot: Stories Our Grandmothers Told Us, Wayne Newell notes that the traditional Passamaquoddy stories he and Robert Leavitt collected "create a bridge between the knowledge and memories of elders—my generation—and the world of today's younger people."
In the face of loss of language and cultural history, these tales also provide a connection to a rich past filled with fantastic, often otherworldly creatures, both human and animal.
As a kind of overture to the tales, the book's first section features an account of life in Indian Township in the 1920s written by Mary Ellen Stevens Socobasin in 1979. The diary-like "Maliyan," Newell writes, "reveals our standards of living and how the first changes from outside came into the community."
A number of stories involve Koluskap, a powerful figure sent by the Creator to teach the Wabanaki people how to survive.
We read about barebones living conditions, day-to-day activities, holidays (Halloween and Christmas), and the inauguration of a new chief at Pleasant Point (the men vote by throwing their hats near the candidate they prefer). The birth of a child and the death of an elder cover the full spectrum of life.
Many of the ensuing stories read like fables. "Mahtoqehs naka Malsom" stars a wily hare and an easily duped wolf eager to eat him—a blend, if you will, of Aesop and "Little Red Riding Hood," but with its own engaging twists and turns. Faye Hoban's charming illustrations recall George Herriman's Krazy Kat comic strip.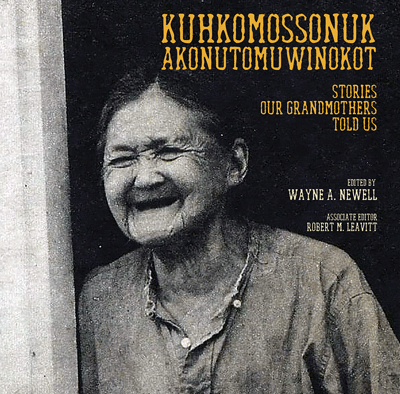 A number of stories involve Koluskap, a powerful figure sent by the Creator to teach the Wabanaki people how to survive. "Koluskap naka 'Siwiyi" recounts his journey to free his grandmother Muwinesq, the she-bear, and his younger brother, Nimaqsuwehs, the sable, from kidnappers. At one point in this marvelous tale, a large whale carries Koluskap across the ocean to Yarmouth, Nova Scotia. He eventually rescues his relatives—and is merciful to their captors.
Other stories have a less happy ending. Scary children's stories, like Grimm's fairy tales, can help youngsters better deal with a sometimes-cruel world—and to be cautious when faced with evil. These Passamaquoddy stories, some of them featuring violence, serve a similar purpose: to make young ones aware that the world isn't all "peaches and cream," writes Newell. Ghosts, devils, and wicked creatures keep us all on our toes.
The text is provided side-by-side in Passamaquoddy and English. Newell explains how the inventive storytellers would form words by combining "a number of meaningful roots." The bilingual text gives readers an opportunity "to understand how the language creates another, parallel world." Several stories end with a simple sign-off: "That's all."
The collection is richly illustrated with vintage photos and numerous paintings and line drawings by Hoban, Carole Thomayer, Roger Gabriel, Lea Suta, and Leavitt (who also took the photos of Elizabeth Newell in the act of storytelling). The cover photograph shows the laughing Alice Sockabasin, one of the storytelling grandmothers.
The book came out in February 2021; Newell passed away in December. In her overview of Newell's life in the Bangor Daily News, reporter Abigail Curtis highlighted his humble beginnings—he grew up in a two-room tarpaper shack on Passamaquoddy Bay—and how he overcame poverty, legal blindness, and discrimination "to become a pioneering chronicler of his heritage."
Among many accomplishments, Newell helped develop the American Indian studies program and Wabanaki Center at the University of Maine. He also wrote and edited several hundred books, many in his native Passamaquoddy language.
"I've written about 400 books," Newell joked in 2007, "but only about 600 people can read them." Many more people will read—and delight in—this extraordinary collection of stories.
Carl Little is regular contributor to The Working Waterfront. He lives on Mount Desert Island.