When someone who has never rowed before steps into a rowing shell on Megunticook Lake in Camden as part of Megunticook Rowing's Learn to Row program, their eyes widen as they exclaim, "Oh, my gosh, this is tippy!" said Anna Goodale, the organization's executive director and head coach.
There's lots of nervous and excited laughter all around, but by the end of the four-day program, she says, they're hefting the equipment and moving the boat out on the water with confidence.
"One of my favorite parts about coaching is seeing the transformation that can happen," she said.
"I don't think there's anyone on the planet that wouldn't benefit…"
—Muriel Curtis
Lots of people in Maine row canoes, row kayaks, row rowboats, but the community rowing programs offered by a number of mostly nonprofit rowing organizations in the state are about more than teaching the mechanics of a particular style of rowing or the thrill of competing in races or getting a full-body workout. At its core, say devotees, community rowing is about connection and growth.
"It's just this beautiful dynamic of partnership and cohesion, I think—and that translates on and off the water," said Goodale, who won an Olympic gold medal in rowing in 2008.
What people learn from rowing together is how to work together and how to make decisions and mistakes and own those, said Muriel Curtis, executive director of Station Maine, a Rockland-based experiential learning and community rowing nonprofit.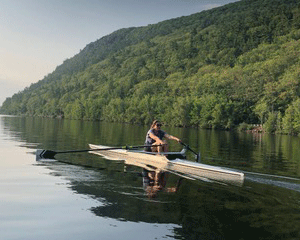 "That's really worthy if we're talking transferrable skills," she said. "I don't think there's anyone on the planet that wouldn't benefit from that."
Community rowing isn't all serious personal development, though. It's really growth through having fun, said Jen Southard, board president of the Portland Community Rowing Association.
"It's an experience to be on the water, to be in synchronicity with other people," she said. "When you actually move the boat together, it's just a beautiful feeling."
Southard came to community rowing as an adult with no prior rowing experience. "Most community rowing programs really are in the spirit of bringing new individuals into the sport," she said, and to that end, many of them offer both competitive and recreational opportunities so there is something for those who want to take part in a competitive sport and something for those who want a more low-key experience.
While many community rowing programs are nonprofit organizations that charge a fee to participate, most also offer sliding scale rates or scholarship programs so that everyone who wants to row can. Some also offer winter rowing or virtual or in-person rowing on rowing machines. Most supply their own boats and equipment.
Check out the list below for some community rowing programs.
Megunticook Rowing, Camden: Offers all ages rowing (nonwinter season); in-person and virtual rowing with rowing machines (December through April); private lessons. Fees vary depending on the program. The hour-long Learn to Row introductory session, held once a month, is free. For more information: https://www.megunticookrowing.org, row@megunticookrowing.org
Station Maine, Rockland: Offers experiential learning rowing programs for youth and all-ages community rowing year-round. Programs are free. For more information: https://www.stationmaine.org/communityrowing, muriel@stationmaine.org
Portland Community Rowing Association, Portland: Offers rowing for those age 14 and older; virtual rowing with rowing machines is offered in the winter season, November to April. The Learn to Row program was been temporarily suspended last summer due to the coronavirus pandemic and may be again this summer. Check with the organization about this year's on-the-water season. Fees vary by program. For more information: https://www.rowportland.org, row@rowportland.org
Come Boating!, Belfast: Offers year-round rowing for all ages (winter rowing is for qualified rowers only). Membership required to row. Annual membership fees are $25 for individuals, $45 for families. For more information: https://comeboating.org, info@comeboating.org
Midcoast Rowing Association, Brunswick: A variety of rowing programs are available for youths (ages 12 to 18) and adults (19 and older), including a three-hour introductory session. Membership fees vary. For more information: https://mcrarowing.org