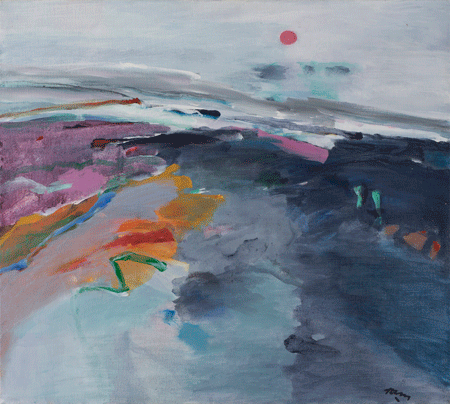 Four couples, eight painters, one island: That's the essence of the Monhegan Museum of Art and History's 2023 show "Counterpoint."
In a period stretching from around 1950 to the early 2000s, each of the featured married pairs—Geraldine and Reuben Tam, Jan and William McCartin, Arline Simon and Marvin "Moe" Oberman, and Lynne Drexler and John Hultberg—traveled from New York to Monhegan to pursue their artistic practice.
The show's title, as museum director Jennifer Pye and independent curator Susan Danley explain in the exhibition catalogue, refers to the "stylistic juxtapositions" found in the work of these creative couples. While aesthetic overlap occurs here and there between the work of wife and husband, each artist followed her/his individual vision.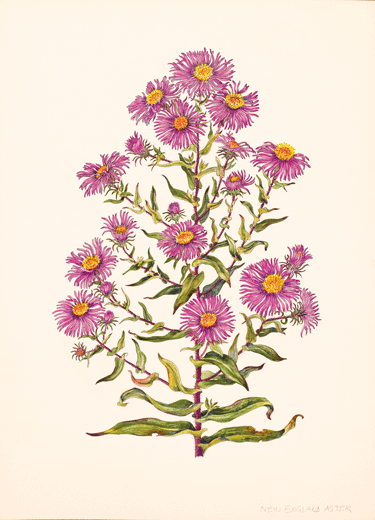 No better example is there of this counterpoint than the Tams.
The Toronto-born Geraldine, daughter of Chinese émigrés, took up botanical illustration during her visits to Monhegan, producing exquisite watercolor studies of various plants. In the tradition of Kate Furbish and other earlier botanist artists she brought precision to her renderings. (Her family recently donated more than 200 botanical paintings and 500 sketches to the Monhegan Museum.)
By contrast, Reuben Tam, originally from the Hawaiian island of Kaua'i, produced bold expressionist canvases inspired by the wild and rugged Maine terrain. In Alan Gussow's groundbreaking book A Sense of Place: The Artist and the American Land, which turned 50 last year, Tam listed some of his favorite places "where the forces of nature are in active operation," among them Monhegan: "the drowned coast, the region of fog, grandeur and intimacy, the edge of land, and the sea."
That's the landscape that has proven irresistible to so many artists, including those in "Counterpoint." When Arline Simon, lifelong resident of Yonkers, N.Y., painted Smutty Nose, she offered three stacked views of the islet at the mouth of Monhegan's harbor, each with a distinct color scheme. Her husband, Bronx-born Marvin Oberman's "Sunset August 20th, Fanfare for Whitecaps" offers an equally energized island view.
As was the case with several of the other couples in the show, Simon and Oberman met through art: they both attended Cooper Union in New York City. Over the years they collaborated on a regular basis. One of the highlights of "Counterpoint" is their designs for island enterprises and events, including the Monhegan Brewing Company's Crow's Nest IPA and the 1996 Chowderfest.
Jan and William McCartin also riffed on Monhegan motifs.
Jan, daughter of Canadian immigrants, sometimes included figures in her landscapes, as in the oil pastel "Bill in a Landscape (Monhegan)." William, whose parents came from Ireland, turned to an abstract-geometric vocabulary to conjure the island's character. His "Interstice III" might be a response to a patch of light in Cathedral Woods.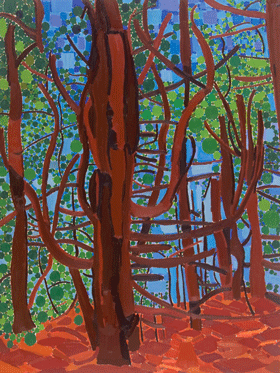 Last but certainly not least, Lynne Drexler and John Hultberg carried on a tumultuous relationship while creating art that drew on the energy of the Abstract Expressionists with whom they rubbed elbows. The Californian Hultberg was a long-time fixture of the New York art scene, praised for his semi-surreal landscapes, some of them based on Monhegan views.
Originally from Newport News, Va., Drexler walked the line between representation and abstraction. Her painting "Tree of Age" reflects that blend of the real and the imagined. In recent years Drexler's art market "stock" has soared, with a few of her pieces fetching a million-plus at auction.
In a wonderfully appreciative essay in the show's catalogue, Emily Grey, the museum's curator of exhibitions, offers the stories of the four artist-couples, of their lives on Monhegan and elsewhere, how they interacted and made the island a major part of their creative lives.
"When you live here," Grey quotes Drexler, "you learn to see who you really are. You are very close to nature and nature clarifies you to yourself."
All eight artists in this must-see show shared these sentiments. Monhegan was their muse and much more.
Carl Little curated "Avian Artistry: Treasures from Maine Collections" at the Wendell Gilley Museum in Southwest Harbor.