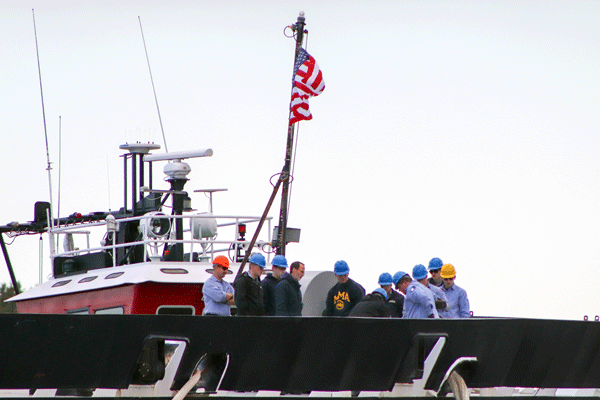 PHOTOS: COURTESY MAINE MARITIME ACADEMY
Maine Maritime Academy students, officers, faculty, and crew departed Castine on April 19, aboard the training ship State of Maine as part of the college's summer sea term. This cruise is the first of three training evolutions with a second cruise starting in July and a third in November.
The cruise that began in April will include port calls in Boston, Norfolk, Virginia; and New York. The original itinerary included a stop in Port Canaveral but that was cancelled so the ship could avoid strong storms along the East Coast.
For students, the departure was a long-awaited milestone and one that had been put in jeopardy by the pandemic. As part of their final preparations, all students, officers, and crew aboard the vessel completed three rounds of testing and quarantined before departure.
Due to ongoing safety precautions, shore-side liberty will not be granted during port calls, but scheduled stops will provide excellent training opportunities the chance to re-supply and the voyage will enable student to meet sea time and instruction requirements
The 500-foot, 16,000-ton State of Maine, originally commissioned as the USNS Tanner, served as a Navy oceanographic research vessel before being converted in 1997 to accommodate the training needs of the college. The fourth vessel to bear the name State of Maine, the ship is a capable and excellent platform for training future professional mariners.
The ship is scheduled to return to Castine on May 21. Friends, family, and fans are invited to follow the ship's journey through the cruise blog at cruise.mainemaritime.edu.