Walking With Ghosts
By Gabriel Byrne (Grove Press, 2021)
Since reading Gabriel Byrne's recently published memoir Walking With Ghosts, I've delayed watching the newest HBO season of In Treatment in favor of first re-watching the previous three, which aired 2008-2010. Those star Byrne, who won a Golden Globe for his portrayal of a therapist.
It occurred to me to wonder if his role as Dr. Paul Weston, seen in sessions with clients, may have helped develop qualities in his writing—a candid and comfortable contemplation of memories, dreams, and "walks with ghosts." Byrne opens himself up to readers the way someone sitting with their therapist might, sharing personal, stream of consciousness grappling with who he is, what he feels, and what has shaped him. This is no star-studded tell-it-all, nor even a linear life narrative.
Byrne can sometimes be brutal with forthright descriptions.
And how, you might ask, is this author and award-winning actor (The Usual Suspects is a fan film favorite) related to Maine? Byrne calls Rockport home, with a house on a hill by the shore. His family spent the pandemic months hunkered down here, and it is where he and his wife, Hannah Beth King, a documentary filmmaker, are raising their young daughter, and where Byrne—when not off working in movies—is writing his next book, a novel.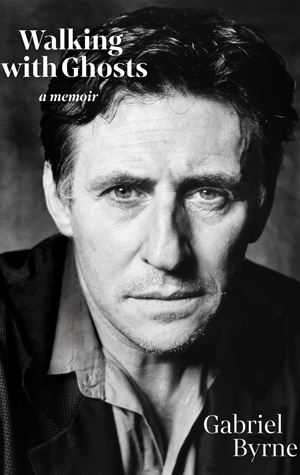 Born in 1950, Byrne grew up in metro Dublin in an Irish-Catholic family. His father built barrels at the Guinness beer distillery. Byrne was recruited to studying for the priesthood as a youth; it was an esteemed vocation and one with an academic component that held appeal. Yet, among the priests he wanted to learn from and please were some capable of exploiting their roles as moral authorities to take advantage of the vulnerable.
He was groomed with their praise: "He liked that I was a shy boy and that I was his favorite pupil and that is why he liked to have me near, in the front seat." Confronted with sexual predation, childhood innocence is a liability, offering no protective counter strategies. We read, in very understated but undeniable ways, how Byrne experienced their abuse. Needless to say, Byrne left that calling behind. Only when he tried acting did he experience a "fit," something that felt right to do.
His past alcohol abuse is also woven into this picture, and Byrne can sometimes be brutal with forthright descriptions. Finally, he is pushed to the point of disgust with his drunkenness, his self-delivered oblivion. It is an accomplishment to be proud of, his now 20 years-plus of sobriety.
Along with drinking, denial and avoidance were ways he used to escape the past. Byrne's creative life also allowed for "stepping into a dream, where time is altered by imagination." He describes himself now as no longer "afraid of what's buried in there." He muses, "For so long I blamed myself. Ashamed and guilty that I had done something wrong."
Years later, locating a priest he had been seduced and violated by, he makes a phone call to confront him. But the priest was old, enfeebled, seemingly unaware who was on the other end of the call. Byrne backed off, foregoing the extraction of an apology or the satisfaction of facing down an abuser. But what he did get was the opportunity to experience himself as someone willing and able to hold an abuser accountable. He knew he had deserved better.
It's that kind of success that most earns my respect for Byrne. His story suggests we could accept those challenges, too—confronting our past and summoning the courage and curiosity to walk with our ghosts.
Tina Cohen is a therapist who has a seasonal home on Vinalhaven.