This column marks the launch of an occasional feature by renowned art writer Carl Little on images of Maine's working waterfront.
When Marsden Hartley returned to his native state in 1937, he was determined to become "the painter from Maine." Born in Lewiston in 1877, he had spent time in Berlin, the south of France, Bavaria, the American Southwest, and other places hither and yon. In generally poor health, more or less fed up with the New York art scene, he was ready to head north.
Hartley fulfilled his mission with paintings that now rank among masterworks of 20th-century American art. They include images of Georgetown Island, Vinalhaven, the Bagaduce River, Mount Katahdin, and Old Orchard Beach.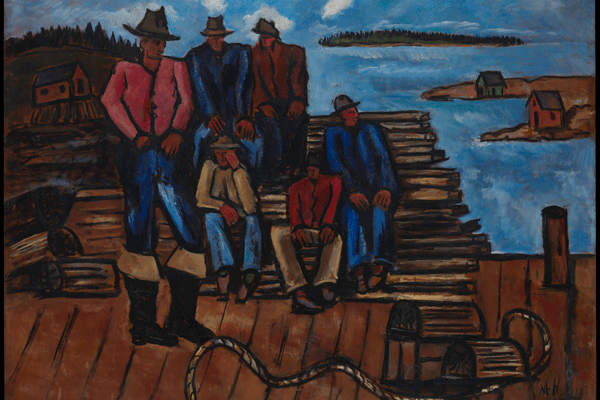 When fellow painter Waldo Peirce drove him Downeast to Corea in 1939, Hartley found what turned out to be his final home. He returned a year later and took lodging with the Young family, setting up a studio in the church across the street. He would spend a part of the following three summers there before dying of heart failure in the Ellsworth Hospital on Sept. 2, 1943.
That quintessential coastal village offered Hartley new subjects, including the local fishermen. And his work in Corea led to fame: In acquiring Lobster Fishermen in 1942, the Metropolitan Museum of Art signaled his stature as a major American artist.
Hartley was, so to speak, primed to paint this subject from his sojourns in Nova Scotia in 1935 and 1936. There he had become close to the Masons, a family of fisherfolk. He admired their rugged self-reliance and respected their fraught relationship with the sea (two sons drowned in a storm during his stay).
While the Nova Scotia paintings offer semi-likenesses of individuals, Hartley's Maine lobstermen are nearly featureless. Dressed in work clothes, each wearing a hat, they are not heroic figures, yet their simple postures speak to a self-sacrificing attitude. One man looks off as if to check the weather, another rests his forehead on his hand. Only the standing fisherman seems confident, his fingers hitched in his belt, his large boots imposing.
Hartley places the men on a wharf with lobster traps to indicate their livelihood. The landscape beyond is pure Downeast: on one side, a house surrounded by pointed firs, on the other, two points of land with shacks, an island, and a blue sky with wisps of clouds.
"These men are part of—are one with—their environment and their work," observed Donna Cassidy in her ground-breaking study Marsden Hartley: Race, Region, and Nation (2005), adding, "they are a community."
Through this forthright yet humble tribute to Downeast fishermen, the "painter from Maine" introduced museum goers from around the world to a particular place and people—and to the working waterfront, a fragile yet enduring part of our state's heritage.
To learn about Hartley's life and art, visit the Bates College Museum of Art's Marsden Hartley Legacy Project: bates.edu/museum/marsden-hartley-adventurer-in-the-arts/.